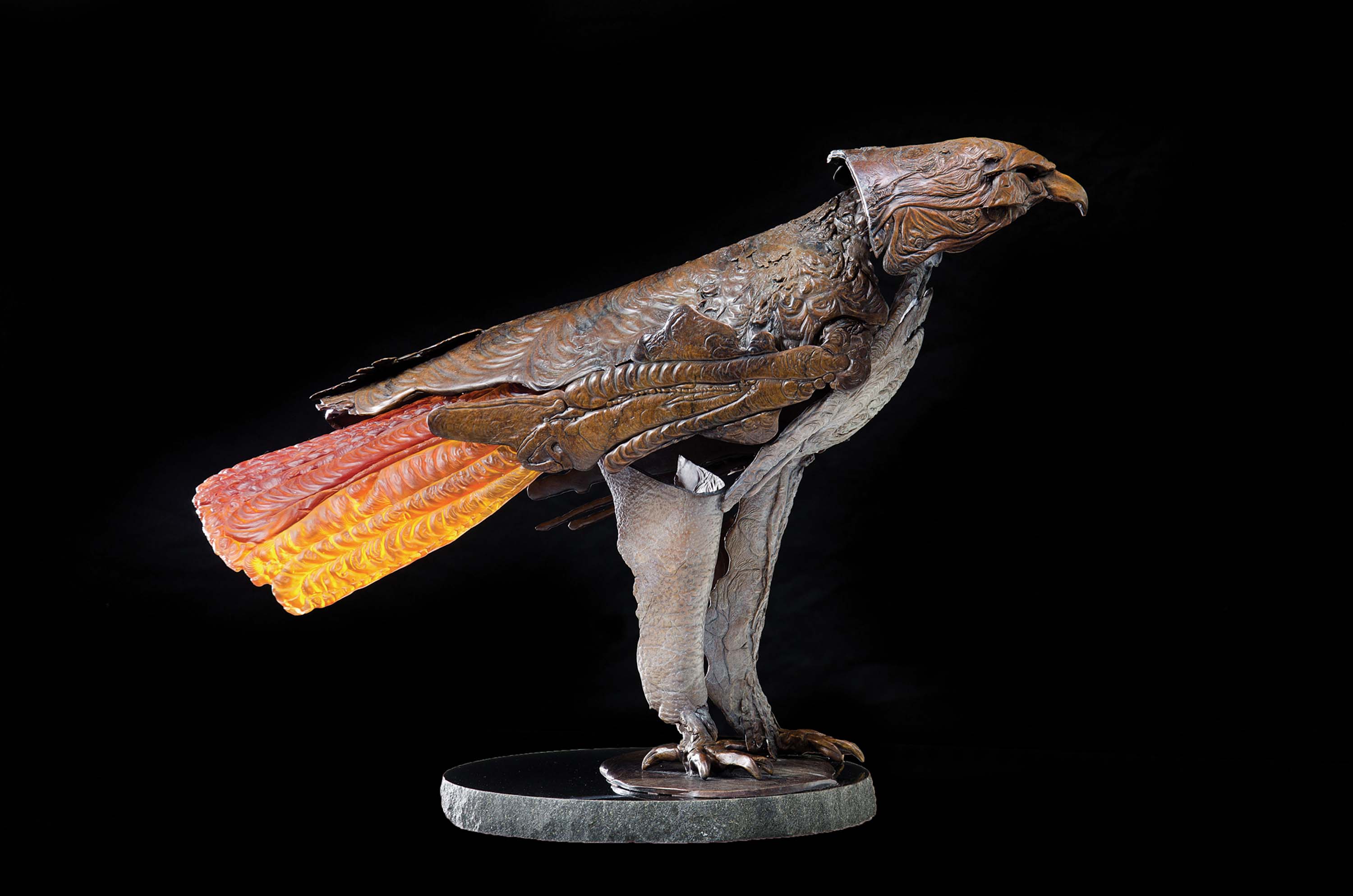 "Red Tail" | Lead Crystal and Cast Bronze | 29 x 10 x 19 inches
04 Aug

Ones to Watch: Danae Bennett Miller
---
Danae Bennett Miller's sculptures encapsulate movement and life, both the frailty as well as the impact of eternal duration. Miller's work flows with a poetic balance of what you see and what is implied. Playing with the heaviness of bronze, she imbues it with the lightness of air and glass.
Sculpted directly with wax and cast in bronze, each piece is one of a kind. Once the molten bronze is poured, the wax is lost. She doesn't make molds. Her unique process, which involves creating the wax sheets she uses to sculpt with, gives the alloy an ethereal quality, not often found in cast bronze.
"I love working in the wax," she says. "It gives a fresh- ness to the piece that is only achieved with direct contact with the materials. The wax has a lot of texture because of the method I use to create the wax sheets. Working with wax for over 30 years, I've found blending various types of hard and soft sculpture waxes allows me to manipulate the texture of the wax."
Each flat sheet of specially poured wax is manipulated into a sculptural form, cut and shaped and stretched.
"It has to be worked when it's warm," she says. "I'm also a printmaker, so when I'm creating the pieces I do a lot of freehand sketches. The texture is a component I want to add to the piece to give it more depth and energy. The texture is not recognizable as a tool mark, it has its own life. Like water."
Each sheet of wax is poured in her studio, the free- flowing wax shaping itself as it hits the wet concrete surface in her studio. She bends and heats it, as needed, letting the form speak in its own language. In the end her sculptures incorporate as much negative space as bronze.
"The negative space is as important as the positive spaces," she says. "I've always been attracted to the light and airy feeling and bronzes are seen as heavy, dense and solid."
Miller's work is far from typical. She stretches the wax in ways that couldn't work in the traditional clay method.
"I had limitations with clay and it impeded my ability to create long skinny necks, feathers and wings," she says. "It was hard to create thin pieces. I'm always trying to balance my vision and getting there, being patient."
She also uses the lost wax process for casting glass, which she then incorporates into the bronze.
"Like a bronze mold, with a small opening, the liquid glass is poured into the mold," she says. "The cast glass has a softness as opposed to blown glass. I was very attracted to thinking about light and the way the light bounced off the texture when the glass was shaped. Combining glass and bronze adds another level of lightness."
Danae Bennett Miller is represented by J GO Gallery in Park City, Utah; Coda Gallery in Palm Desert, California; and Tumalo Art Company in Bend, Oregon. — M.C.