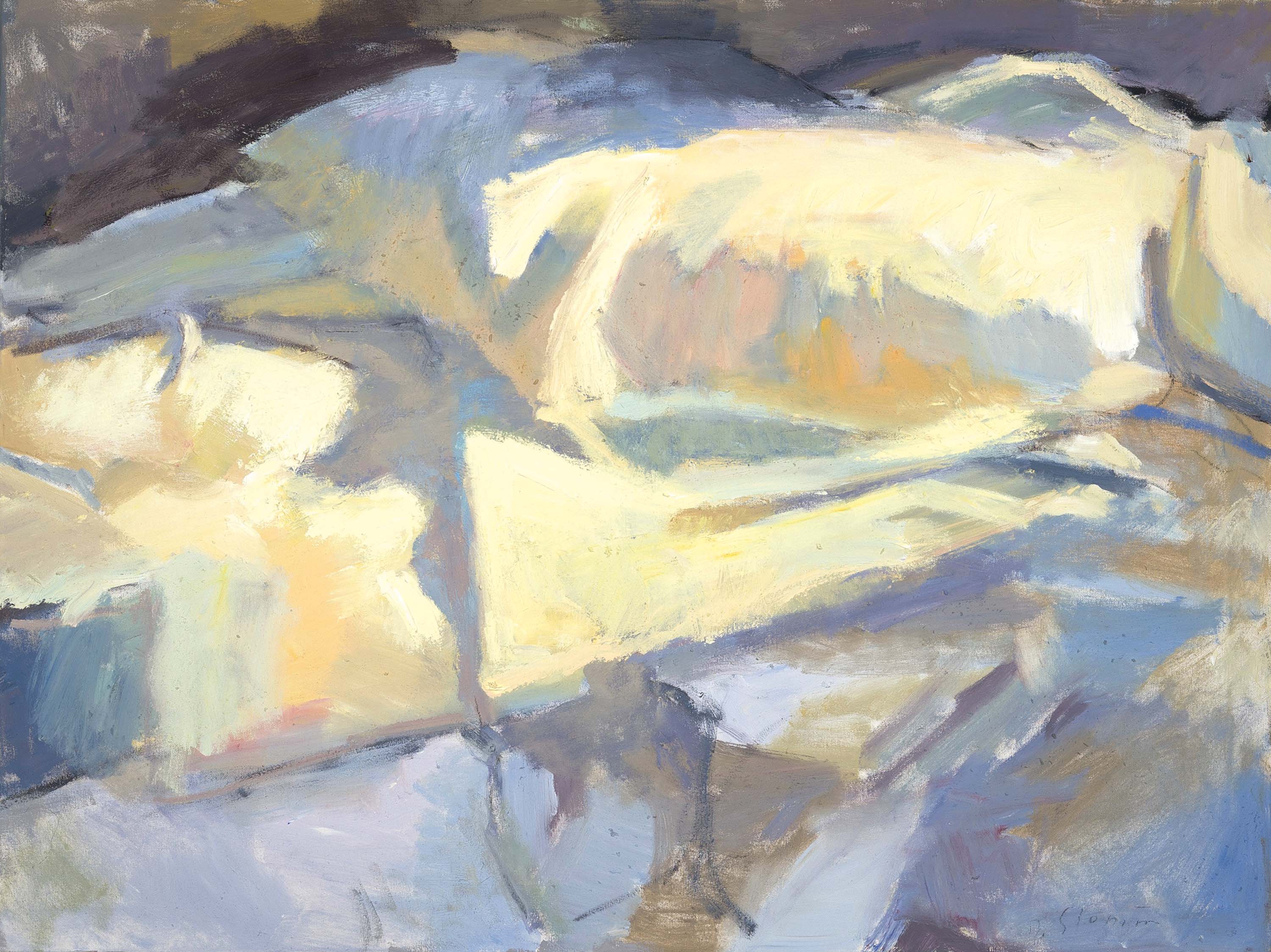 "Unmade Bed" | Oil on Canvas | 30 x 40 inches
04 Aug

Ones to Watch: David Slonim
---
David Slonim's hypnotic landscapes call to mind a vivid impression of reality without the hard dressings of absolutism. His work is part of the conversation, not the subject. And we the viewer are enhanced by the experience.
"I started out as a plein air painter and the longer I painted and the more I studied the more fascinated I became with abstraction.
Now I'm more interested in interpreting nature rather than representing nature," he says. "That's been an ongoing process. What I want to do is take and use the raw materials in nature for building a harmony on the canvas."
Based on his observations, inspired by the elemental world, his paintings are like memories that pull at you with an inner sounding. Because they come from someplace real, not dreams, not imagined worlds, they become an inherent force.
"If I were to draw from the shapes in my head I don't think I could come close to the variety that nature presents," Slonim says. "Based on what I've seen in the wood-lands, the variety of mood and value nature provides, that's what I use as a starting place. I don't see an end to the variations of these themes."
Slonim's paintings build landscapes from abstractions and pieces of color. Like many artists, he takes his inspiration from the Masters — Cezanne, de Kooning, Johns, Wyeth and Gerhardt Richter — but he also draws on their power and audacity.
"While watching a video of Gerhardt Richter, I realized that there on video was a man smearing paint just like I do," he says. "If he candoit,Icandoit. On the video you see him paint over multimillion dollar pieces. Completely destroying what he had. And he destroyed it with courage. That was big for me."
For Slonim, it's all about pushing his limits, taking his work further and further — even if it means taking it too far.
"If you're not creating bad paintings from time to time you're not doing it right," he says. "I'm taking risks most of the time. I'm taking risks and finding the joy in it. When you share that with people, they get a sense of it."
With his paintings there's room for your mind to wander, to rest and meander. "I want people to come to it at different times and experience it a little differently," he says. "I'm not intending to tell you everything I know about trees. I don't want to show off my technical skill. I want the joy, the beauty. I want the image to be compellingly beautiful and refreshing when you look at it. I don't want anyone to think about the artist at all." David Slonim's work is represented by the Simpson Gallagher Gallery in Cody, Wyoming.