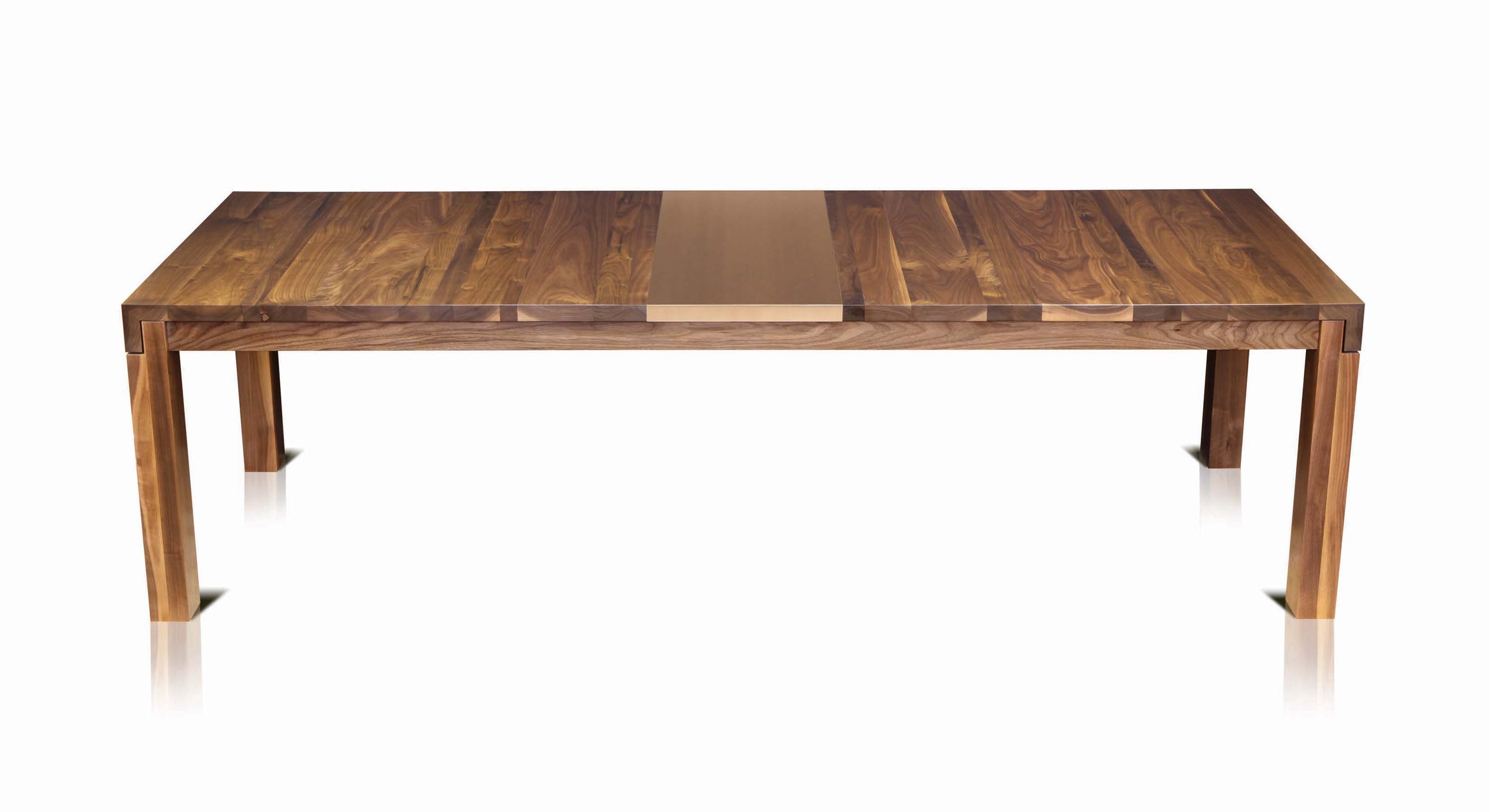 "Latitude" (dining table) | Shown in Eastern Black Walnut and Polished Bronze | 96 x 42 x 29.5 inches
19 Oct

Ones to Watch: Florian Roeper
---
Across the bay from San Francisco, Studio Roeper is abuzz creating handcrafted furniture and interior doors that strike a balance between art and function. Raw earthy tones are juxtaposed with clean contemporary lines to create functional forms that stand as individual works of art.
"My goal is to create pieces that follow modern design principles, yet are also infused with artistic spirit," says senior craftsman and founder of the company Florian Roeper.
Although Roeper uses wildly different materials, such as etched bronze, zinc or copper, and a diverse array of salvaged lumber, no single material is overpowering. Instead, each carefully planned element serves its purpose as Roeper works to establish a relationship between them — to make them "quiet, yet still interesting or dynamic."
For example, in his recent Candy collection, gold leaf treated with black lacquer complements the luxury of soft brown leather. It's bold and expressive, yet the individual components are discovered instead of shouting for attention. And when a design is successful, it is just subtle enough, he explains.
"The materials themselves, they all have their own level of expressiveness. If I can, what I try to do is read that and I just need to be aware of what the materials are saying. How much leather can these pieces tolerate or at what point will there be too much walnut?" he explains. "It's become like a science lab in my studio. I keep experimenting until I find something delicious to eat or something where the chemistry just works out."
His ability to achieve this balance partially stems from his personal history. Roeper was born in Heidelberg, Germany, raised by a German father and Italian mother, and he has lived all over the world.
"This is why I am so curious and interested in mixing materials, because it is an expression of who I am as an individual. It speaks to my background and when, for example, I'm spending time in Germany I can put on my American lens and look through. And then when I'm spending time in the States, it's the reverse," Roeper says.
In addition, Roeper draws on his multidisciplinary training in sculpture, furniture design and graphic design. His work is also heavily influenced by architecture and he is inspired by the purity of certain architectural shapes, such as Romanesque arches, contemporary skyscrapers or the clean lines of the Bay Bridge — simple, honest structures that are clear to read without too much ornamentation or facade.
Studio Roeper opened in Alameda, California, in 2003. All works are customizable, made-to-order and are available exclusively at Studio Roeper.