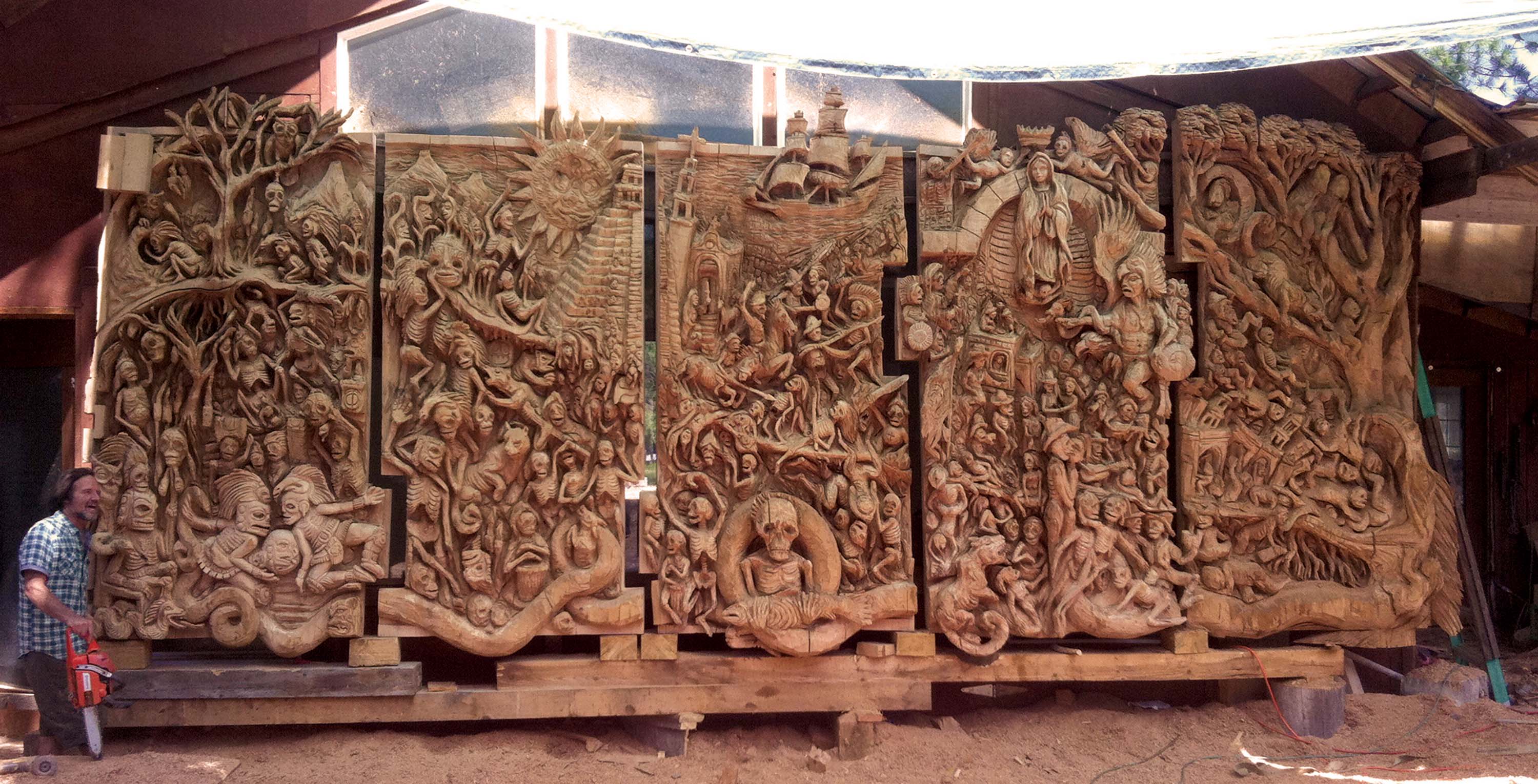 Armstrong works on the Mayan creation myth wall mural, Aria, in Las Vegas.
04 Aug

Ones to Watch: J. Chester Armstrong
---
Master woodcarver J. Chester "skip" Armstrong discovered his craft through a series of life events that recently came full circle.
In the 1970s, he visited the Yucatan Peninsula and was moved by the beauty and permanence of the Mayan temples that represented a civilization long gone. "I realized that it was the craftsmen that created a durable reference of their civilization, and I realized I wanted to be part of that durability," he said. "One thousand years later, a sculpture still stands. And that was my 'Aha!' moment. I realized right then and there that I wanted to participate in that world and create art that lasted."
Returning home, Armstrong dedicated himself to learning the technical aspects of carving, developing tools that suited his purpose and setting out on what he describes as a life-long learning process.
Now, 40 years later, his work, which ranges in size and subject — from human figures to animals, furniture, chandeliers and totem poles — can be found in hospitals, airports, churches and the homes of many collectors, including Burt Reynolds, Clint Eastwood and Olivia Newton John, among others. Two years ago, in a moment too meaningful to feel serendipitous, the Aria Resort and Casino in Las Vegas commissioned him to create a 25-foot-wide installation depicting the Mayan creation myth and the Day of the Dead celebration. Just like the temples that inspired his artistic journey, the wood-carved mural will represent a storyline with permanence as a grand installation. "I've come full circle in my process," he said.
Armstrong was born and raised in Berkeley, California, attending university there and earning degrees in poetic theory and philosophy. For 35 years, he's lived near Sisters, Oregon, where he finds local wood for his sculptures. A common theme in his work is the use of multiple expressive figures interacting to create a dialogue.
It's a reference to the unity of life, that despite separatism we are still one. He also seeks to convey movement and emotion to the viewer.
"If you love certainty, I would stay away from sculpture," he said, explaining that he discovers the piece as he sculpts and that the art of carving is spontaneous because each chunk of wood, with its grain and knots, is unique and those elements are incorporated in the design. He uses chainsaws and 30 to 40 other tools to shape the sculptures, which are finished by hand. "You ride the bronco the best you can ride, even as the horse changes."
Armstrong is represented by Old World Fine Art Gallery in Taos, New Mexico; The Signature Gallery in Scottsdale, Arizona; Turpin Gallery in Jackson, Wyoming; Navarro Gallery in Sedona, Arizona; Cogswell Gallery in Vail, Colorado; Mountain Home in Evergreen, Colorado; Rich Haines Gallery in Park City, Utah; Simic Gallery in Carmel, California; TAW Gallery in Bend, Oregon; Coldwell Banker Realty in Sisters, Oregon; and the Lawrence Gallery in McMinnville, Oregon.