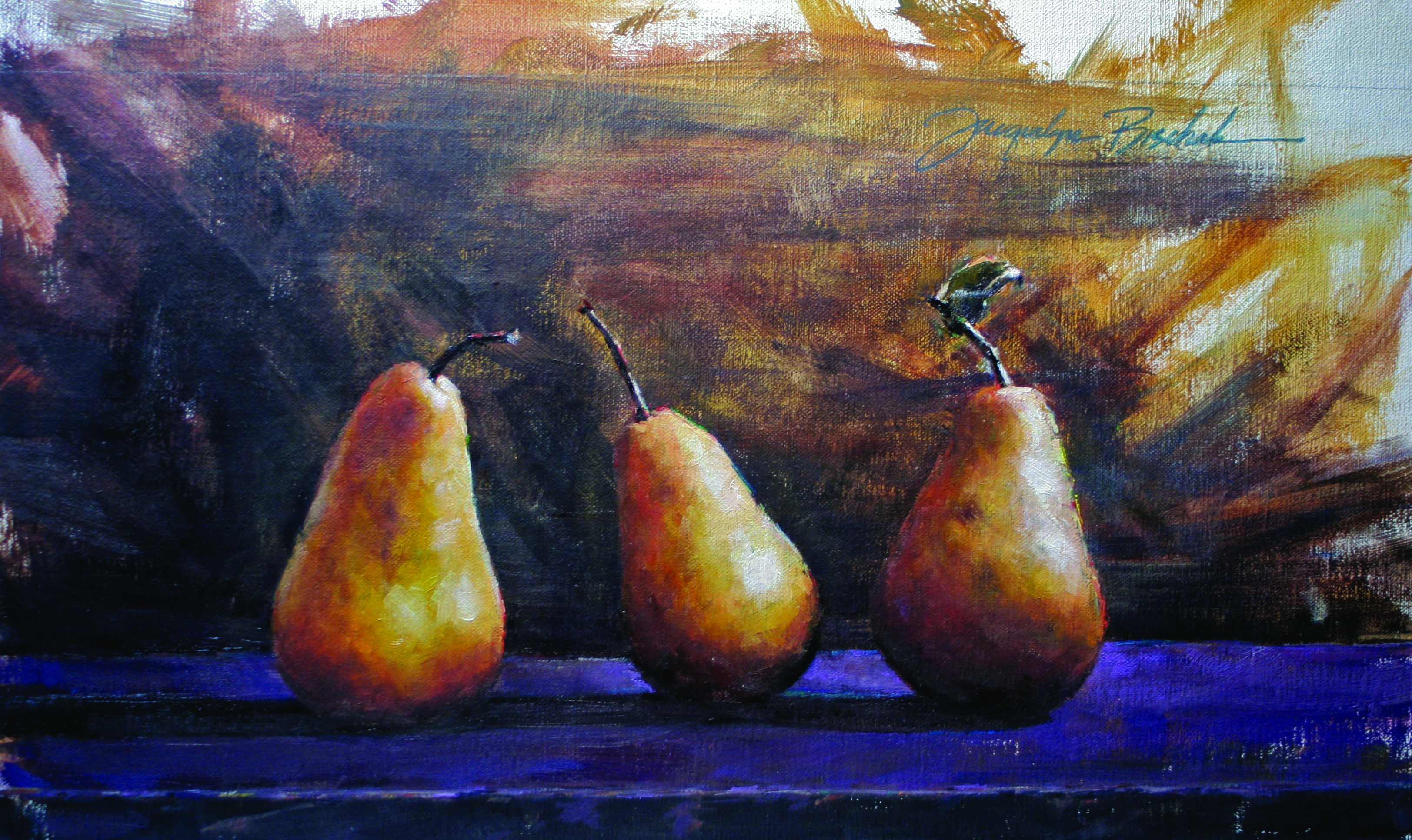 "Two of Three in a Pear" | Oil on Linen Panel | 16 x 12 inches
01 Dec

Ones to Watch: Jacquelyn Bischak

With an eye toward truth, oil painter Jacquelyn Bischak's figurative and still-life works reflect not only what she sees in the world but they manage to convey the feeling of beauty as well. Implicit in her work is the delicate balance of what is there and what we actually see. Subtle harmonies of color and exacting brushwork as well as the sensitive handling of textures enhance the intimacy of her paintings.

"I draw upon my experience with Abstract painting through a powerful use of chroma (the intensity of a color) I learned in Abstract art, using it directly from a tube rather than diluting it," Bischak says. "Hue, brushwork and flow come into play to enhance my work technically."

Bischak reminds the viewer that art is examined through our many accumulated experiences and beliefs.

"Paintings can trigger powerful emotional responses touching the human spirit — life may be many things, not always pleasant, and touching the human spirit is work I take seriously," she says.

To get to that point, Bischak uses models, but she chooses them deliberately.

"I connect with them and that makes me take very seriously what I get back from them," she says. "I look for that moment in the model's eyes, or my own eyes in a still life, that moment of thought that transcends human expression. I know when it's there, no question; I put it down as quickly as possible until I'm done. A lot of times I have to stop myself before I go too far and I have to start over."

Some of her awards include Top 12 Finalist 2012 Raymar, and Best of Show in 2011; Driehaus Award – Midwestern Artist, Driehaus Foundation, Chicago, Illinois; and 2010, 2009 Top 10 Fine Art Views National Competition. Her work has shown in the Midwest Museum of American Art, Elkhart, Indiana, and the Dennos Museum Invitational Exhibition Traverse City, Michigan.

Jacquelyn Bischak is represented by the S.R. Brennen Galleries in Santa Fe, New Mexico, Scottsdale, Arizona, and Palm Desert, California, as well as Astoria Fine Art, Jackson, Wyoming.