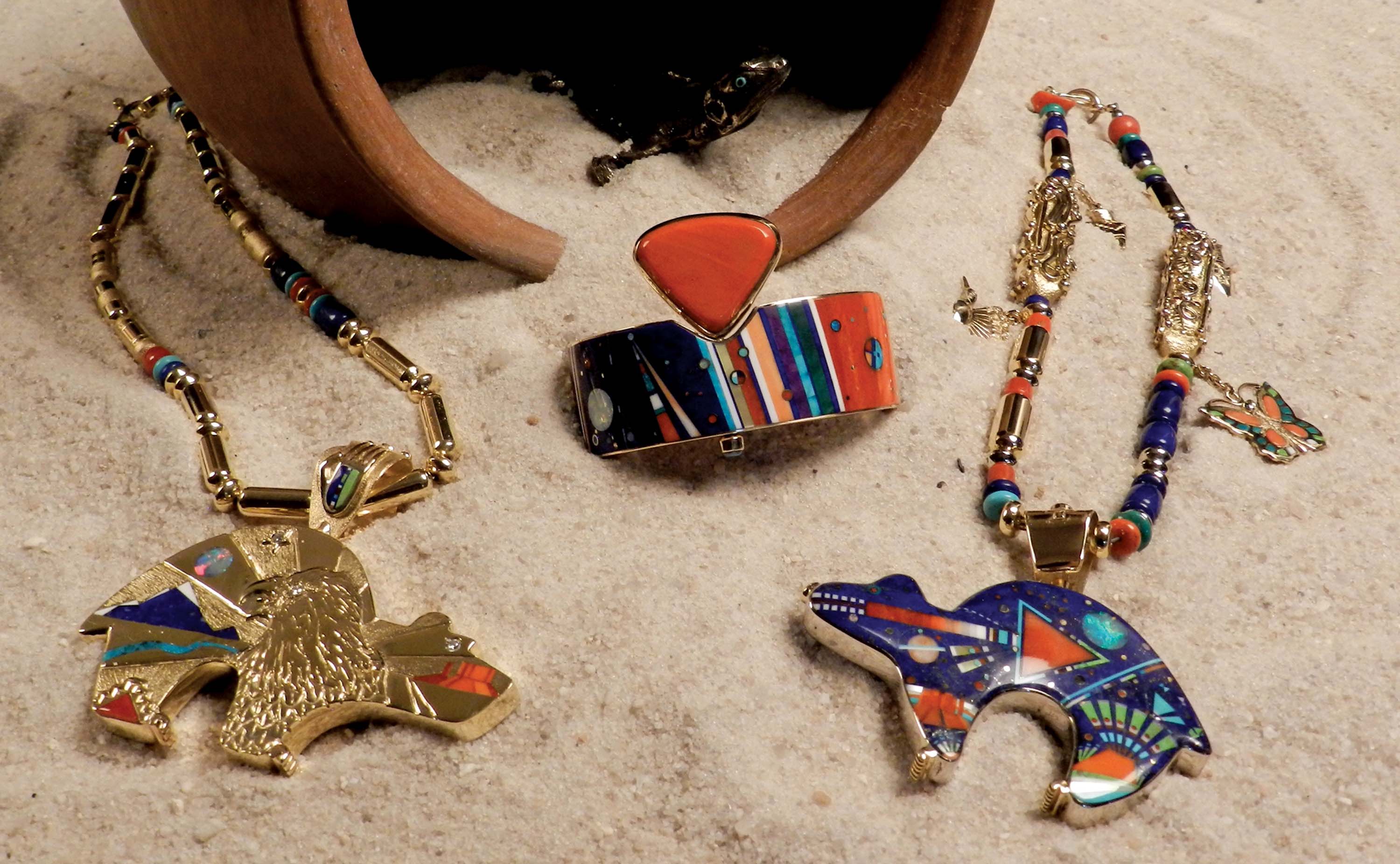 The necklace on the left, a reversible inlayed "Monument Valley Bear" pendant with bald eagle overlay, is 18-karat yellow gold with handmade gold beads. In the center, the 14-karat gold women's cuff bracelet is inlayed with coral sunset and lapis night sky. at right, a 14- and 18-karat gold reversible inlayed bear pendant with monument Valley and lapis night sky lifeline incorporates a hummingbird charm, inlayed butterfly charm, arrowheads and handmade beads.
04 Aug

Ones to Watch: Jeweler Jesse Monongye
---
As a highly respected inlay artist in the Navajo and Hopi traditions, jeweler Jesse Monongye is also one of the most collected. His work is complicated and yet it speaks simply from the heart. Harkening back to the stories he heard from his grandmother, his work reflects not only those stories, but the sights and sounds of his childhood and elders.
"My grandmother lived to be 105, and my grandfather lived until he was 115 years old," Monongye says. "Everything has its meaning and its purpose. I design in those areas and make them look beautiful."
Some of his chosen subjects are turtles because they represent his grandmother, who told him that the turtle leaves home crawling and when he gets old he comes home crawling as well.
"Frog is always water people," he says. "They predict the changing of the world. When the frog is gone you know the water will be gone."
But his favorite piece is the dragonfly necklace with both diamonds and inlay work.
"It shows the modern world with different techniques of inlay," he says. "The dragonfly evolved from the water and went on to live on the land. My grandmother said the dragonfly is like us: We live in our parents in the water and then we evolved out of there to breathe air."
Besides the traditional symbolic shapes and creating jewelry specifically designed for his customers, he also likes to step out of those confines to make more modern statements.
"I'm trying to be a leader in the jewelry and arts so younger artists can see that it can be done," he says. "To show the next generation that it's time for a change."
These days, Monongye leans toward coral, lapis and green turquoise. And, of course, 18-carat gold as well as diamonds.
"Designing jewelry is always walking on the edge," he says. "Like fishing, sometimes the bait doesn't work. You learn to take risks. I've been around over 40 years and I know what a fad is and what's going to last."
His work resides in many museums, including the Heard Museum in Phoenix, Arizona; Northern Arizona Museum in Flagstaff, Arizona; United States Department of the Interior Museum in Washington, D.C., Museum of Man in San Diego, California; Denver Art Museum in Denver, Colorado; Cooper-Hewitt Museum in New York, New York; The Museum of Modern Art in New York, New York; Smithsonian National Museum of the American Indian in Washington, D.C.; and the American Museum of Natural History in New York, New York.