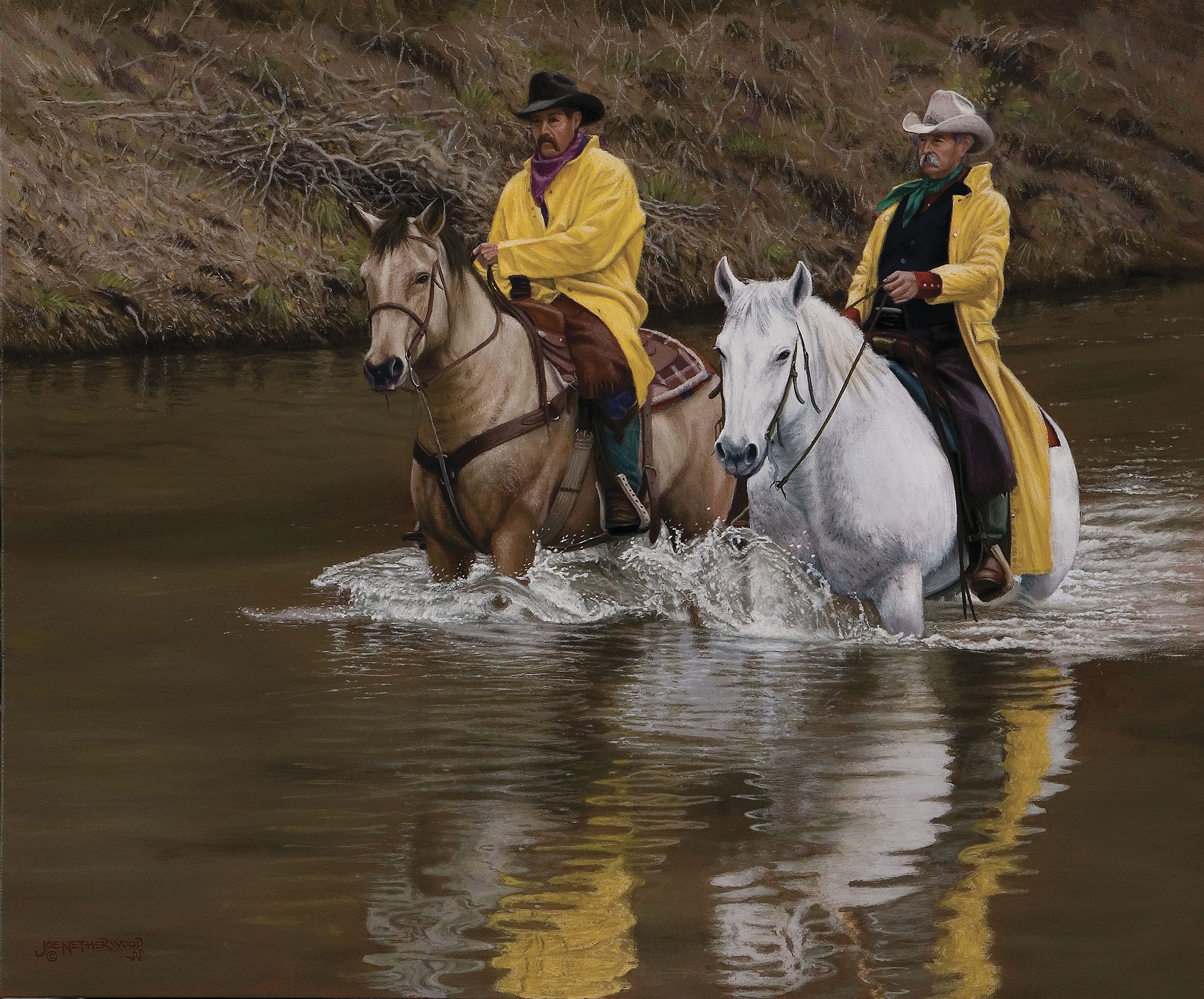 Good Man to Ride the River With Oil on Belgian linen | 20 x 24 inches
30 May

Ones to Watch: Joe Netherwood
---
Oil painter Joe Netherwood documents the individuals of the American West as both icons of Western culture and contemporary studies of society as filtered through his training as a draftsman, illustrator and graphic designer. By bringing in his unique sense of humor, Netherwood harnesses a singular perspective on the West.
His paintings offer influences of both the past and present. His extensive research into life in the West informs his work, finding inspiration in the historic region and the ideals of a young country. His discerning sense of style and color and wonderful handling of the paint mark Netherwood's work as well as the individuals he portrays.
Netherwood's paintings have been juried into the C.M. Russell Museum's The Russell: The Sale to Benefit the C.M. Russell Museum, and the Western Masters Art Show in Great Falls, Montana. Other invitationals include several to The Phippen Museum's Miniature Masterpieces exhibits; American Art in Miniature at the Gilcrease Museum, Tulsa, Oklahoma; The Best and the Brightest Fine Art Show at Scottsdale Artists' School, where he won second prize in oils and was invited to participate in the Beaux Arts exhibit; and the Briscoe Western Art Museum's Night of Artists exhibition in San Antonio, Texas.
His work, Iron Man, was featured in the Ranching & Rodeo: The Historical Connections exhibition at The Phippen Museum, Prescott, Arizona. His paintings have been exhibited at The Phippen in their Buffalo Soldiers, Vaqueros and Friends Show. His work is collected nationally by Dick and Ginny DeVore, Wichita, Kansas; Jim and Sharon Hale, Medina, Minnesota; Mike and Sheila Ingram, Paradise Valley, Arizona; Larry and Peggy Jones, Wickenburg, Arizona; Ken and Deanna Zylstra, Scottsdale, Arizona; and Joe and Nancy Masterson, Barrington Hills, Illinois.
Netherwood's work is also part of The Pearce Museum's permanent collection, Navarro College, Corsicana, Texas, and the Black America West Museum's collection, Denver, Colorado.
He is represented by L Bar Western Art Gallery in Stephenville, Texas, and Netherwood Western Art in Scottsdale, Arizona.