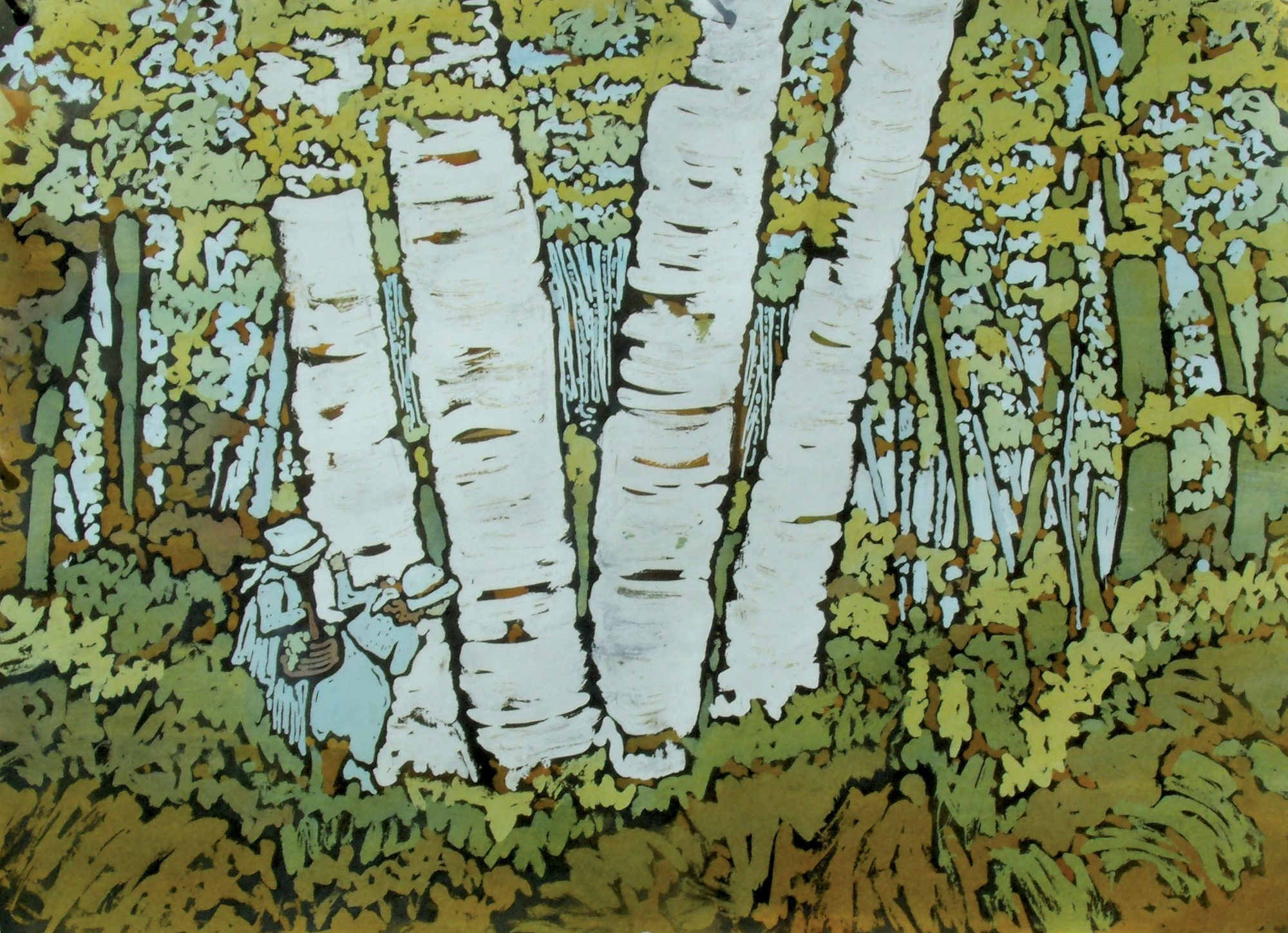 "Hidden" | Batik | 23 x 15 inches
07 Jan

Ones to Watch: Kristine Allphin
---
Kristine Allphin's chosen medium is a combination of ancient textile dying and painting. She still calls it "batik," because she uses the traditional style of a dye wash and wax, where each dip into a color bath produces a hue that is layered, one color on top of another. Think of the fabrics from India or Thailand.
"I start with the primary colors of blue, red or yellow and then move on to the secondary colors — you have to give up some control — you can't have a batik with purple and yellow because those two colors won't work together," she says. "It forces me to stay within the rules of color theory. I have to work with how the colors blend."
Instead of fabrics, Allphin uses paper to give her work a more painterly feel. By using paper she can get many more color combinations. On cloth, seven dye baths is pushing it, but with paper she cut down the time needed between dyes.
According to Allphin, being a fine art painter was never on her radar, but when she began to play with batik on paper and discovered her passion for prairie grass, everything fell into place.
"I freelanced as a graphic designer and was a stay-at-home mom, but I was always fascinated with batik," she says. "I wondered how far this medium could go. I was really fascinated with the process and bringing illustration to batik."
Once she began working with the technique, she was determined to figure it out. "I was able to dedicate 60 hours a week to teach myself the recipes and the process. If you don't have the temperature right, the dye doesn't take. I dove in."
She continued to create work and one day entered a juried art exhibit. Sending off a few images, she didn't think about it until she found out she'd won Best in Show.
"That led to invitations which led to exhibits and many more awards," she says. "In the last four years it has really taken off." It was her subject matter as well as her technique that seemed to speak to people: the prairie grasses of Nebraska.
"We have nothing but prairies in Nebraska," she says. "I fell in love with them, the different colors, and how when you look across the landscape you see nothing but texture." Once she began to concentrate on them, people began to recognize her work and take notice. "It turns out there's a lot of people out there who are prairie grass enthusiasts. I'm doing something people know in a way they're not familiar with."
Allphin doesn't just create prairie grass landscapes, she studies them, photographs them and spends a lot of time out in the prairies. "I've found with my exhibits, the galleries always wanted to do a reception," she says. "But I insisted that they make it about bringing awareness to prairie grasses and conservation … and that's very appealing to a lot of people."
Her work has been exhibited in the Museum of Nebraska Art in Kearney, Nebraska, and the Longwell Museum in Neosho, Missouri. This spring she will be at the Stuhr Museum in Grand Island, Nebraska, and a hospital in Hastings, Nebraska, commissioned a foyer installation. In 2015 she was selected by the Nebraska Arts Council for an eight-person exhibit in Omaha.
Allphin is represented by Anderson O'Brien Fine Art in Omaha, Nebraska.