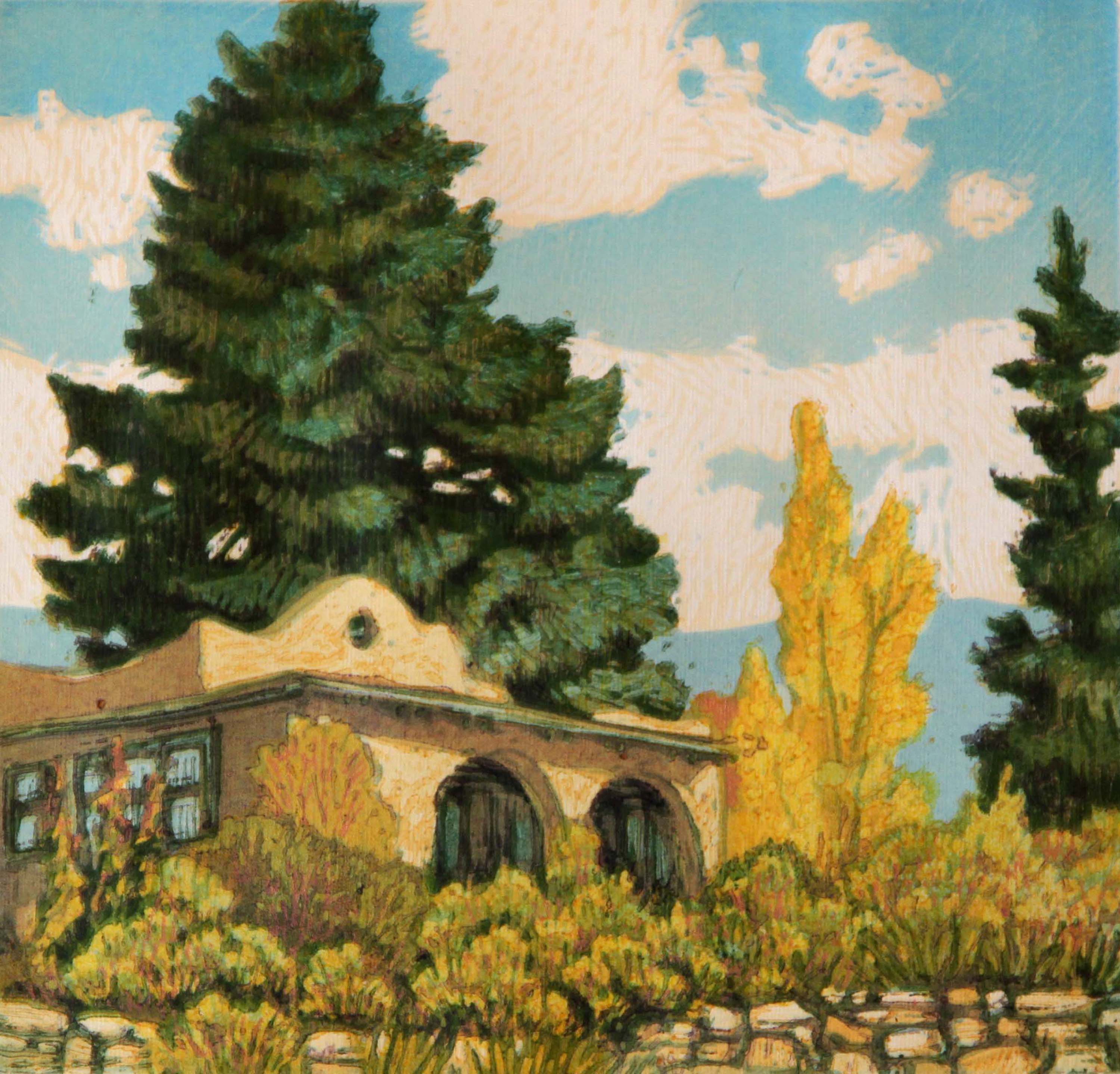 "Couse Studio" | Reduction Woodblock | 9 x 9 inches
19 Oct

Ones to Watch: Leon Loughridge
---
Traditionally, woodblock prints are prints made from single carved blocks of wood. Leon Loughridge turns that idea on its head.
"I'm continually carving and changing colors throughout the process," he says. "They are edition prints, but using the 'reduction woodblock process' I tend to approach it with a painterly approach to woodblocks. As in a painting, I'm always assessing and evaluating as I go."
Loughridge uses three blocks, each one adding more and more details to the piece as he goes, more and more colors.
"The blocks are re-carved between each color run," he adds. "There can be 15 to 20 color runs to create a single image. I can't go back and reprint because I've carved away that image as I go, so when I'm done I'll count how many prints I have and that's the number of editions there will be for that image."
All of Loughridge's pieces combine plein air watercolor painting from his hiking.
"I enjoy the muted colors I see in the Southwest; that's what really sparks my interest in the work," he says. "When I'm out hiking and come across a view above timberline, clouds moving across the mountain … I see it as an abstract composition and I just have to capture it."
Loughridge's work is held in several corporate and public collections and museums including the Wichita Art Museum, Wichita, Kansas; the Georgia Museum of Art, Athens, Georgia; the Colorado University Library, Boulder, Colorado; the Denver Art Museum, Denver, Colorado; and the Denver Public Library, Denver, Colorado.
He is represented by American Legacy Gallery, Kansas City, Missouri; Breckenridge Gallery, Breckenridge, Colorado; Gerald Peters Gallery, Santa Fe, New Mexico; Goodwin Fine Art, Denver, Colorado; Mary Williams Fine Art, Boulder, Colorado; Great Southwest Gallery, Colorado Springs, Colorado; and the Vail International Gallery, Vail, Colorado.