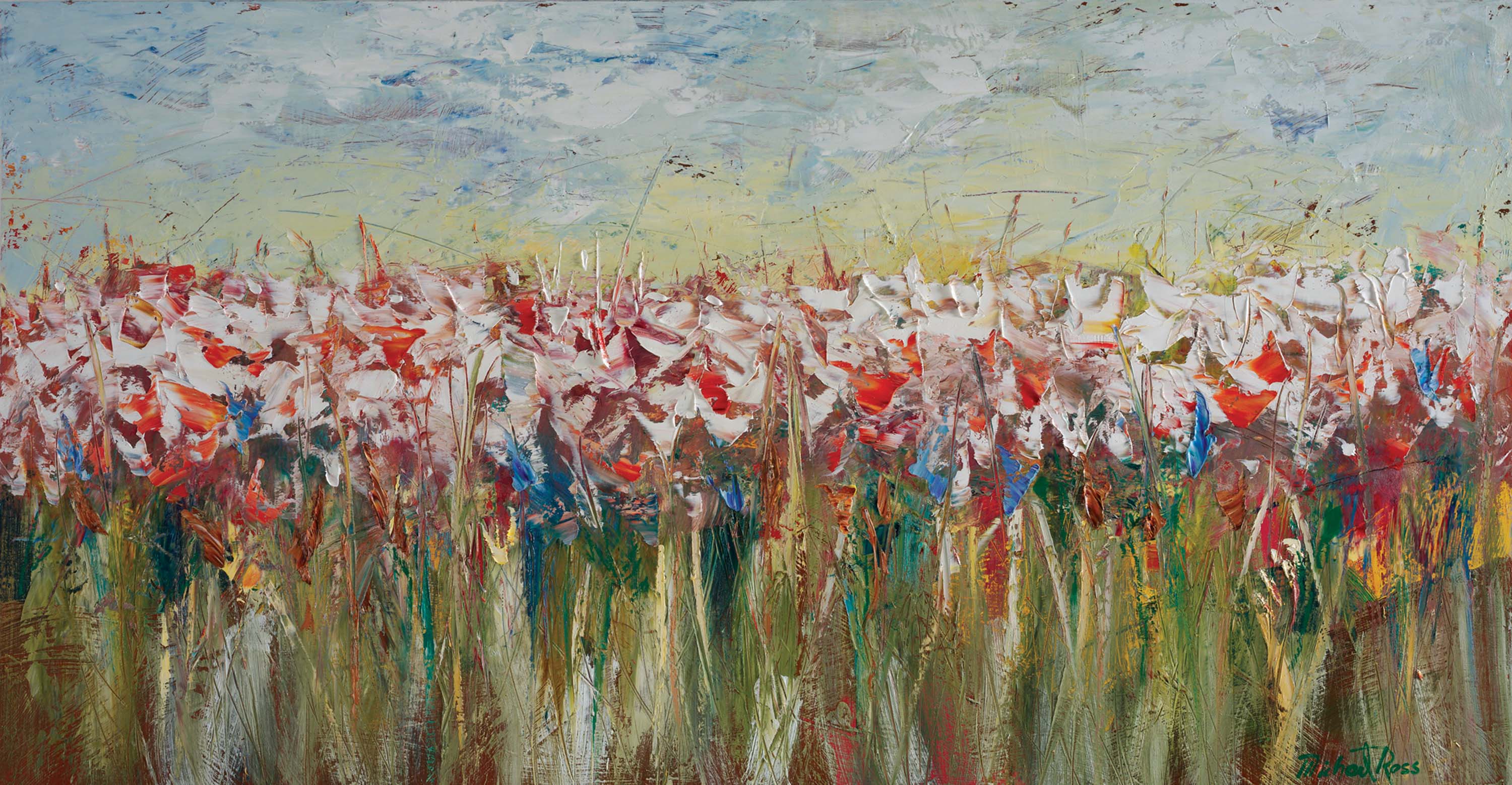 "Wild Meadow" | Oil on Canvas | 36 x 72 inches
01 Feb

Ones to Watch: Michael Ross
---
Post-Impressionist oil painter Michael Ross' work references both his love of the high-desert landscape and his passion for Abstract painting, creating a contemporary language for color, time and space.
"I don't want to be too all-over-the-map in style, but I love invention through the paint," Ross says. "I want to bring something new into the world. I try to be an inventor."
He does that by delving into the paint itself.
"Most artists use the paint as a secondary part of the work," he says, "But for me, it's a primary concern. By using an acrylic colored gesso to build up the canvas, I then work in the oil, using thinner oils and building up to thicker palette-knife strokes. I look for the discovery in the paint. Out of that I find invention, which makes my work original."
His studio, located in a two-story barn on a 10-acre property, has hundred-mile views of the Coachella Valley, near Palm Springs.
"I'm influenced by my surroundings. The desert has incredible reflective light. It comes across in everything, every stroke, every color, even the texture of my work."
Concentrating on the high desert as an influence for his work, frequent subjects are Joshua trees, yucca plants and agaves, which he paints to scale.
"There's a lot of wildlife in the high desert," Ross says. "People think of blowing sand when they think of the desert, but it's really filled with life. Some of my larger pieces are 7 by 8 feet, almost mural size right now."
It's the impact of a large canvas that excites him. Some of his commission paintings are made large to fit into the custom installation of a home.
"I love to work in life-sized landscapes because the viewer feels more involved," he says. "I definitely don't do miniatures. The world is filled with miniatures. The landscape here is dramatic and the bigger size brings that drama to the work."
His canvases, drenched in color with light-graced highlights, fall somewhere between meditation and celebration.
"I really love complex blends of color," Ross says. "All artists dream of inventing a new color or shade. So I don't use any primary colors that come from a tube. All my colors are custom mixed. I really enjoy new shades and tones as I work. Red, yellow, blues — I would never take them from the tube to the canvas. I mix them to get complex hues."
Ross's work is collected privately, from coast to coast, and he is represented by the Ramey Fine Art in Palm Desert, California.