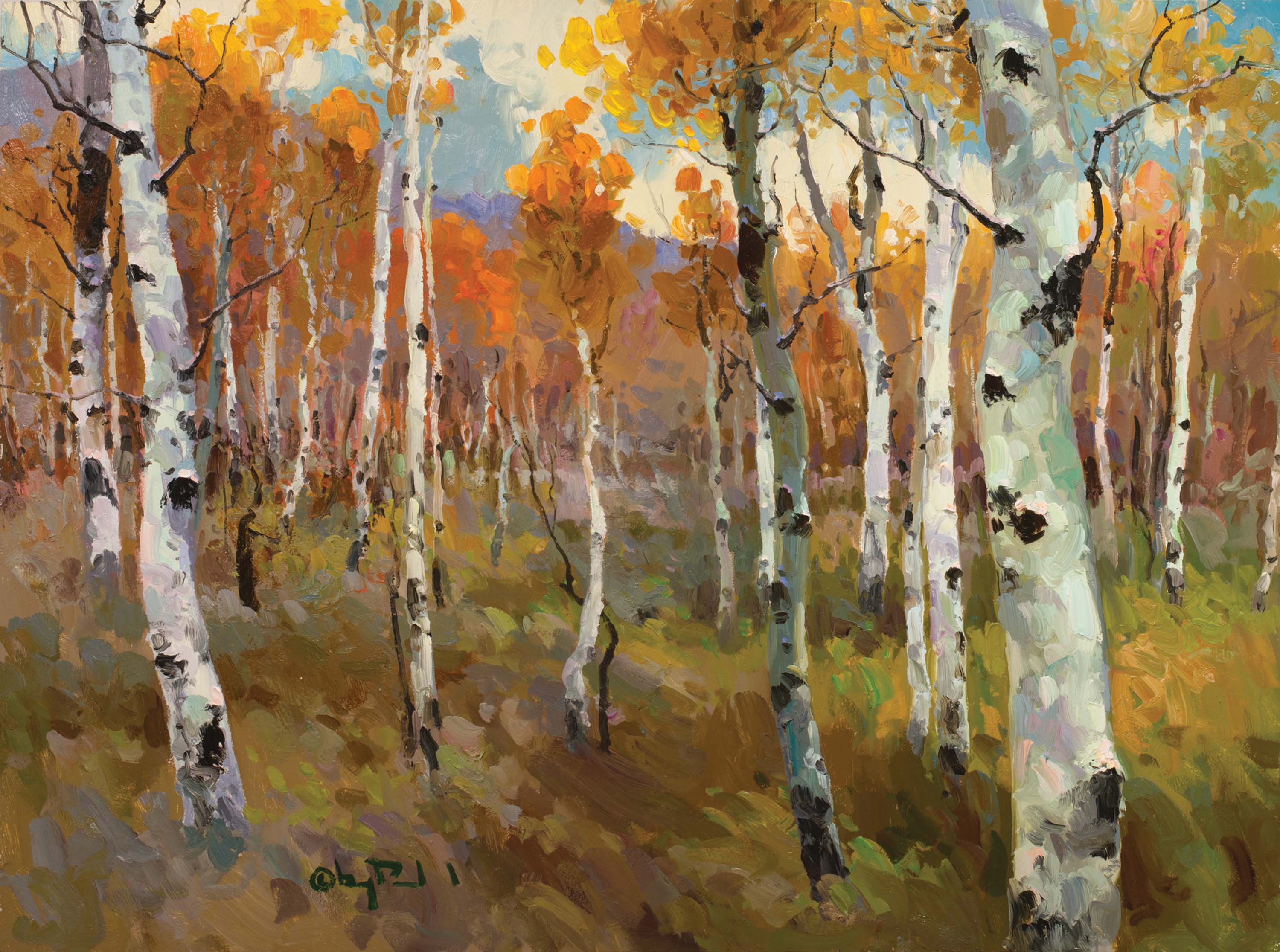 "Serenade" | Oil | 30 x 40 inches
09 Jun

Ones to Watch: Painter Gregory Packard
---
Weightless as light, Gregory Packard's paintings glint with meaning, radiate with reflection and reach into you as only truth can. His saturated colors are sometimes broken up with single brushstrokes to create rich mists of blues, golds, greens. Inspired by the Impressionists, Packard's body of work adds to the conversation by inserting a modern dialogue, one informed by his own experiences.
"I do a lot of different things, but to get inspired it all starts with nature itself," Packard says. "I do some plein air painting but I mostly work in the studio. I enjoy it more."
But he didn't start out that way.
"I call myself an Impressionist," he says. "I'm also a Realist. I incorporate what's there but I also try to say more about the subject, what's unsaid, like the mood and feelings that everyone experiences in their own way. Even though they're both representational, impression implies a wider variety of speech in my paintings. It helps me to create more than a visual likeness, like a poem can say more than a fully written painting."
Packard's impressionistic pieces adhere to the intention of Abstract painting but add enough so the viewer can recognize objects, offered like a branch to hang onto, while still allowing feelings and emotions to wander around in the paint and color, texture and composition.
"I like to leave enough room for someone to experience it in their own way," Packard says. "Everyone has their own experiences with the same subject. That inspires me to reach out to what's there, beyond the visual."
In doing so, the artist evokes something in everyone.
By starting out with plein air painting, the wet paint applied immediately to wet paint, Packard was able to connect with the immediacy of the moment.
"But in the last few years I've just sort of explored a little further," he says. "I started doing that broken color work. It gives me more voice, I can say more things. I love doing both kinds of painting and I have collectors who buy both kinds. I just paint how I feel I want to paint on that particular day."
The difference is the impact they have on the viewer.
"The wet-on-wet style is like a spark, very immediate, the light is pow," Packard says. "The broken color pieces are layered, they take more time, they create this richness I can't get in my other paintings. It's more like a flame instead of a spark."
Next year the Brinton Museum in Big Horn, Wyoming, will have Gregory Packard as their inaugural artist for their new museum building and will buy a piece for their permanent collection.
Packard is represented by the Howard/Mandville Gallery in Kirkland, Washington; Astoria Fine Art in Jackson, Wyoming; California Museum of Fine Art in Torrance, California; Greenhouse Gallery in San Antonio, Texas; Oh-Be- Joyful Gallery in Crested Butte, Colorado; and Scottsdale Fine Art Gallery in Scottsdale, Arizona.