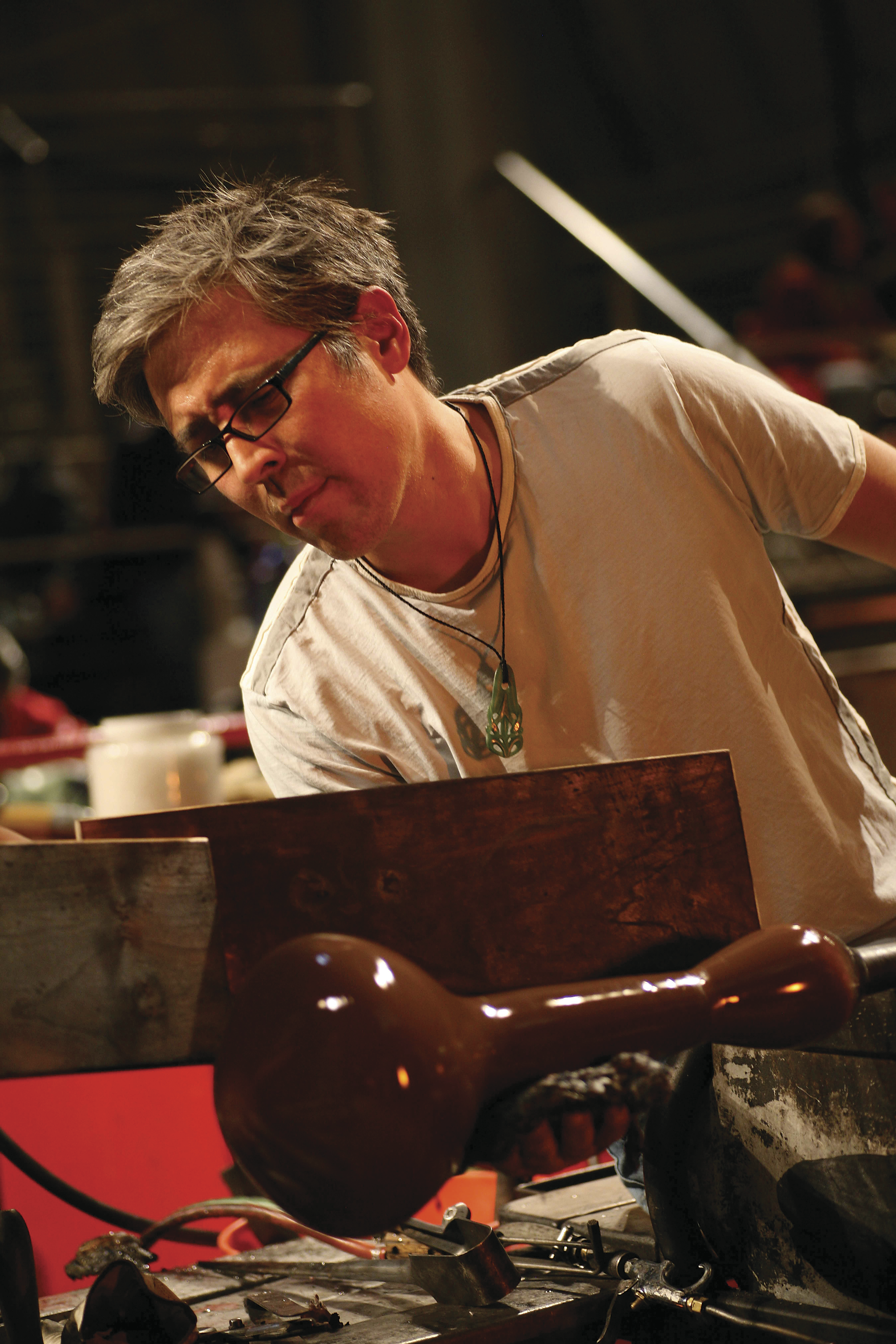 Artist Preston Singletary
01 Sep

Ones to Watch: Preston Singletary

With poetic clarity, artist Preston Singletary combines the time-honored method of glass blowing with Northwest Native storytelling, adopting historical images from his Tlingit ancestry. Using the manipulative quality of glass, Singletary incorporates light as another element in his sculptures, bringing with it a sort of shamanistic experience to his work.

"I see my work as an extension of tradition and a declaration that Native cultures are alive and developing new technologies and new ways of communicating the ancient codes and symbols of this land," Singletary says. Each of his sculptures indeed feels both current and primordial, conveying a hue of historical significance.

Preston Singletary currently has a major mid-career survey at the Museum of Glass in Tacoma, Washington, which will travel to the Heard Museum in Phoenix, Arizona. Singletary's work has shown in numerous galleries and museum shows including The William Traver Gallery, Tacoma, Washington; Blue Rain Gallery, Taos, New Mexico; Spirit Wrestler Gallery, Vancouver, BC; Heller Gallery, New York, New York; Visual Arts Center, University of California, Fullerton, California; and The Burke Museum of Natural History and Culture, University of Washington, Seattle, Washington. Blue Rain Gallery has been exhibiting Singletary's work for nearly 11 years. He is a major part of their yearly show schedule. Blue Rain regularly exhibits his work in major art shows such as SOFA NY, SOFA Chicago and the Los Angeles Art Show.

Singletary's work is collected internationally, both privately and publicly, and is held in the collection of the City of Seattle, Portable Works Collection, Seattle, Washington; Corning Museum of Glass, Corning, New York (Rakow Commission); Ethnografiska Museet, Stockholm, Sweden; Group Health Cooperative, Seattle, Washington; Handelsbanken, Stockholm, Sweden; Heard Museum of Art, Phoenix, Arizona; Mint Museum of Art & Design, Charlotte, North Carolina; Museum of Art + Design, New York, New York; Museum of Fine Arts, Boston, Massachusetts; National Museum of the American Indian, Smithsonian Institution, Washington D.C.; Seattle Art Museum, Seattle, Washington; Spencer Museum of Art, University of Kansas, Lawrence, Kansas; St. Paul's Cathedral, Oklahoma City, Oklahoma; The Brooklyn Museum of Art, Brooklyn, New York; The Museum of Natural History, Anchorage, Alaska; and the Washington State Arts Commission, Olympia, Washington.