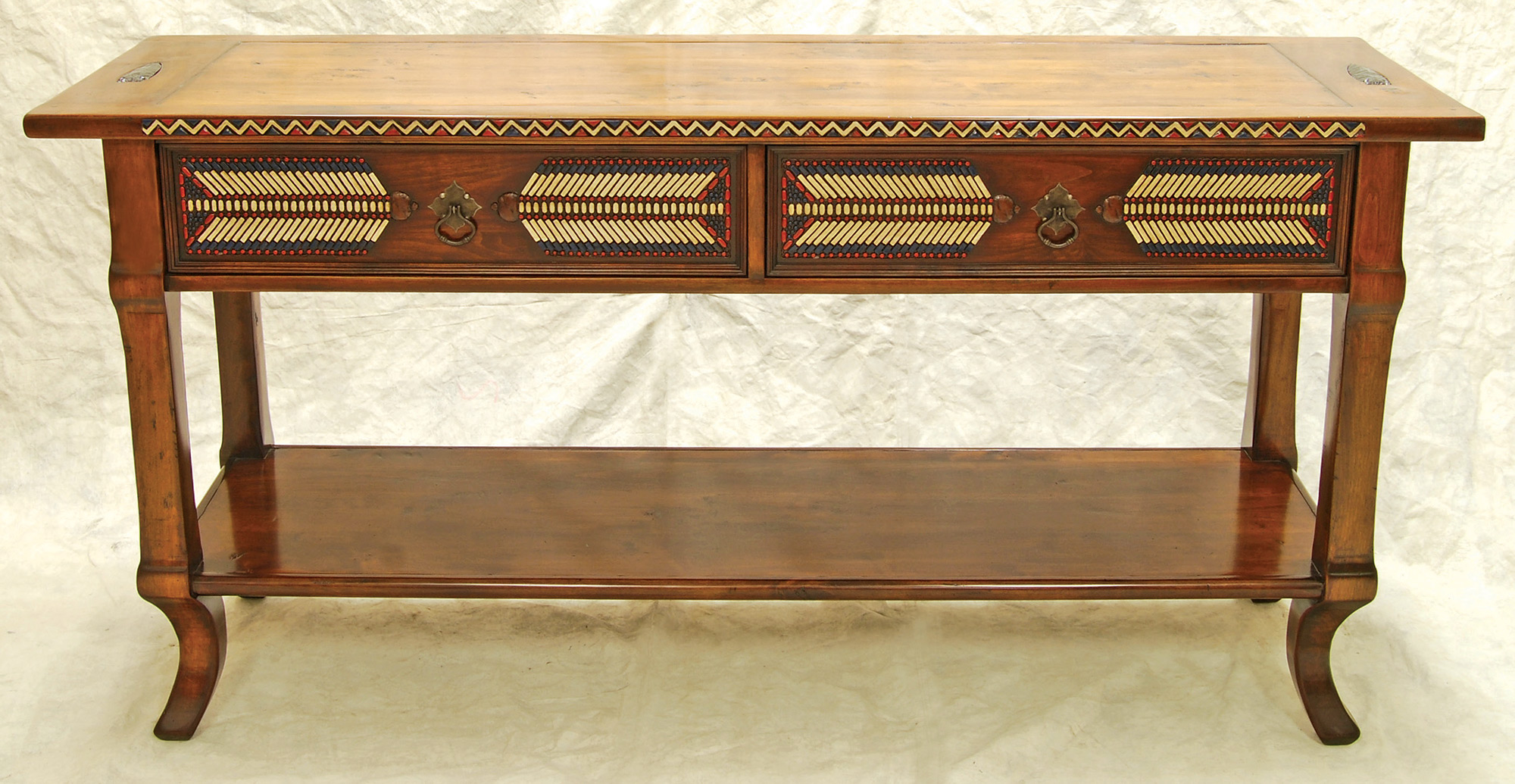 "War Vest" | Oregon Black Walnut | Pecan, Alderwood | 74 x 35 x 22 inches
04 Aug

Ones to Watch: Robert Seliger
---
In a small workshop on a ranch in Tumalo, Oregon, Robert Seliger carefully crafts 100 pieces of furniture each year. His work sometimes starts as a vision and sometimes it's inspired by details he's seen and then assembled in his mind. For example, one of his most popular pieces, the War Vest table, came to him in a dream. "I woke up at 2 o'clock in the morning. I'd seen a chief going into battle. He had his war vest on, his chest covered with beadwork and plates. So I had this very vivid colored vision." That morning, Seliger knew he needed to incorporate aspects of the dream into a piece of furniture, so he carved a design inspired by the warrior into the front panels of a table. The piece was exhibited during the 2015 Western Design Conference in Jackson Hole, Wyoming, earning Seliger the title of Best Artist in woodworking.
If his ideas don't come directly from a dream they come from a picture in his mind, nearly fully formed. "The creative energy I have right now is nothing like ever before," he says. "It's off the charts. I have so many pieces I want to do, I can't get them all out right now. It's a blessing, and it's unusual."
For Seliger, the materials don't drive the design, unless he needs movement. In that case, he uses burl wood. "Most of my pieces have curves — I love that. And the material I love when I work in curves is alder wood," he says. "It works well with that shape, and it's easy to manipulate. Oak would come apart. Wood has movement, it breathes. Walnut is wonderful for chair frames, when you're looking at a profile and not a lot of material to develop the shape."
The finishing process is labor intensive, comprised of eight to 12 steps of stains, second stains, sealers, glazes and hand-rubbed lacquer finishes on the top. The bulk of his projects are constructed using traditional joinery techniques, without nails or screws. Seliger's clients appreciate this meticulous attention to detail.
"People are coming to me because of the originality and artistic value of my work," Seliger says. "There's no one doing what I do right now. I grew up in an era where there wasn't technology, it was about craftsmanship and artistic talent. The people coming in behind me are limited by their reliance on technology."
Since being "discovered" at the Western Design Conference last year, Seliger's work has been in high demand. "I've been doing this for 40 years, and it's the first contest I've ever entered in my life, and I won the highest honor in my field," he says. "I am a professional artist, a master woodworker, and I have an architectural background. These talents usually exist in three different people, not one person."
Whenever he starts building a piece, he first completes a freehand pencil sketch. These drawings, signed and numbered, are given to clients. "When I'm long gone and the furniture is handed down through generations in a family, these signed sketches can be handed down as well," he says.
"This is art people can see, touch and feel every day," he says of his furniture. "It doesn't hang on the wall. That makes it different. It becomes part of people's lives."
Seliger will participate in the 2016 Western Design Conference, taking place in Jackson Hole this fall. His piece, Mockingbird Alter, which blends traditional Western and Asian influences, will be auctioned off during the Winners' Circle Art Auction on opening night, September 8.
His work is represented by the Mockingbird Gallery in Bend, Oregon, and the Banovich Art Center in Livingston, Montana.