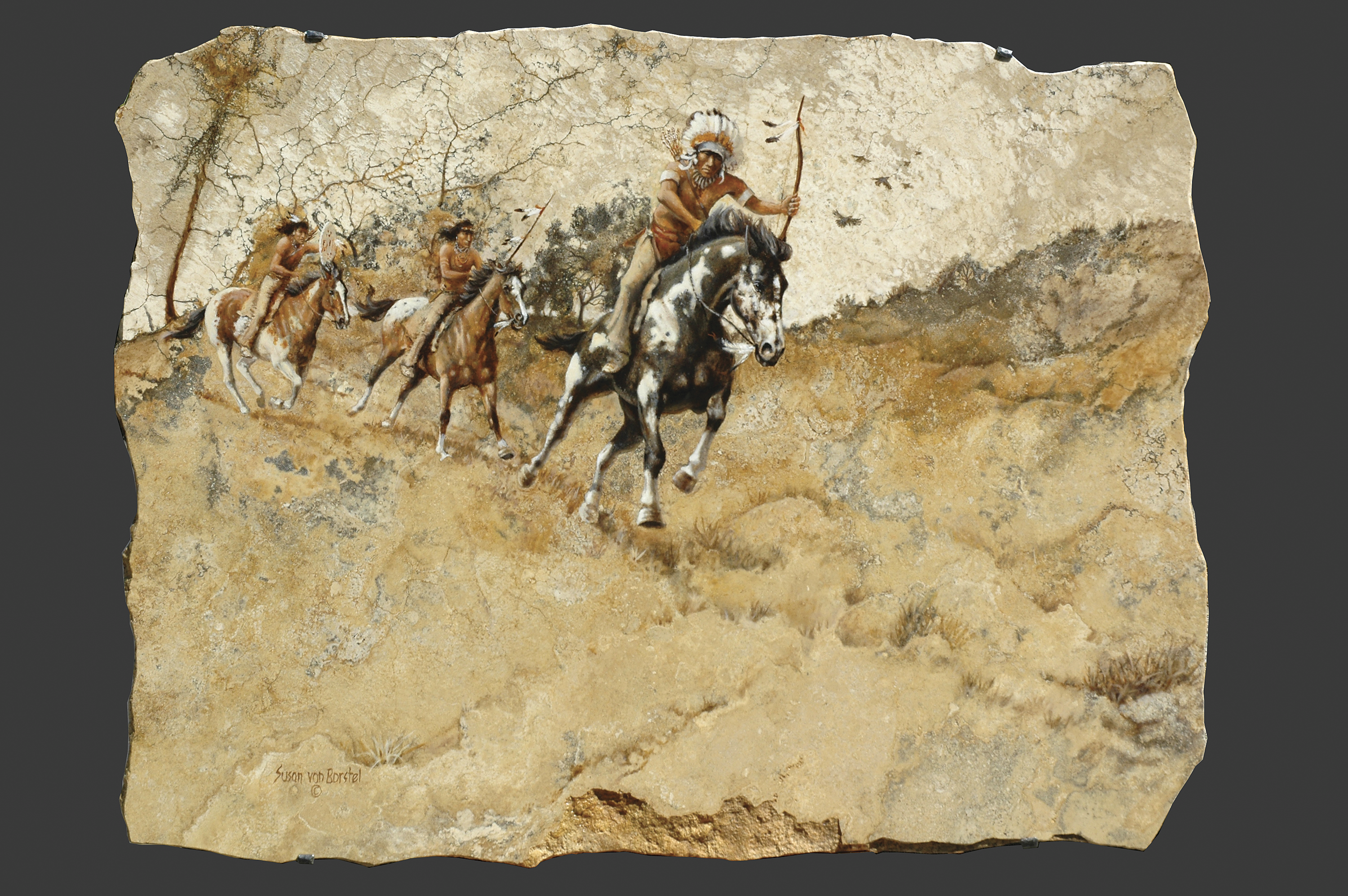 "Coming on Strong" | Oil on Travertine | 28 x 36 inches
01 Sep

Ones to Watch: Susan von Borstel

Using the cracks, fissures and mineral deposits in natural stone, painter and zoologist Susan von Borstel paints figures upon granite, slate, marble, onyx and travertine. Working with several chemists, von Borstel discovered an archival method for painting on these challenging surfaces so the images do not fade or wear off.

While riding horses with a group in southern Spain, she became intrigued by the patterns in the old stone walls and walkways. Like seeing images in clouds, she began picturing images of horses, animals and scenes in the worn stones. Her work combines the unusual characteristics of each rock with the unique expressions of the animals she paints.

Von Borstel's one-person shows include Golden Gate Fields, Berkeley, California; The Gallery, Georgetown, California; and the Sunset Oaks Gallery, Auburn, California. She has also completed more than 275 commissioned works in charcoal, pastel and oil.

She won first place for her oil painting at the Western States Horse Expo, Sacramento, California. Von Borstel also won Best of Show, 1st Acrylic, 1st Drawing at the Sierra Western Art Show, Auburn, California; and first place in pastel at The Art Classic, Nevada City, California. Her work was included in the Cattlemen's Invitational Art Show, Paso Robles, California, and the Peppertree Art Show, Santa Ynez, California.

Private collectors include Butch Otter, Governor of Idaho; Finance Minister of Saudi Arabia; and clients throughout Taiwan, Canada and most every state in the United States.

Her work is represented by B & R Gallery, Canyon Country, California.