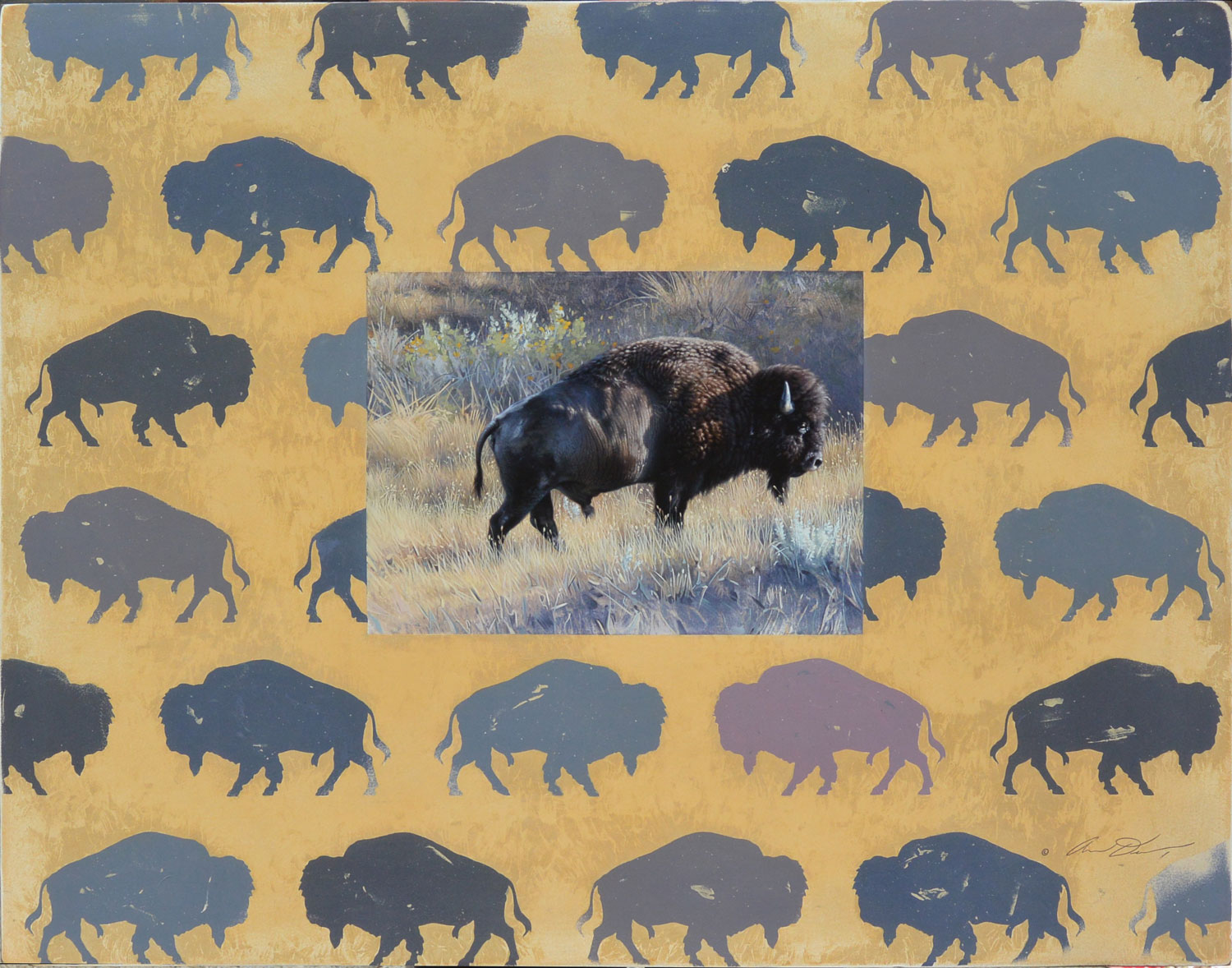 "American Heritage Bison" | Acrylic on Cradled Board | 24 x 30 inches | 2015
12 Nov

Ones to Watch: Andrew Denman
---
Andrew Denman's approach to painting wildlife art moves the genre from pure mimetic replication to another level of artistic interpretation, one where intangible ideas mesh with a masterful eye for detail. There is also one more important component to Denman's work: humor, or at least a dry cynical take on the world around us.
In his piece, The Bar Code, for example, two Nuttall's woodpeckers alight on the trunk of vertical barcodes. Mostly black and white, Denman places near perfect renderings of the birds amidst the white space of the barcodes and the textured surface of the canvas which conveys a sense of buying nature; of stripping the bark bare, so to speak. It is at once unsettling and captivating.
Denman began showing his work at age 16 in the San Francisco Bay area and over the years came to understand wildlife art with an ecological approach. As his realism got better — often spending 15 hours painting only the talon of a bird — Denman realized he needed to add his own voice to his art.
"When a subject behaves in a natural way within its natural environment, that is the paradigm of wildlife art as I knew it," he says. "And some of my first forays were in that same paradigm. But I began to feel it was too limiting. Besides, if I kept doing that kind of detailed work I knew I'd go insane."
An additional note of interest in his work is the way he textures his canvas. Like most things, it came to him by accident. While still in college, he got an assignment to work with a palette knife. While preparing his canvas Denman slathered on the white gesso with the intent to sand it down to a smooth surface. What he ended up with was something quite different.
"As I sanded down the canvas, I saw all the dark peaks emerge from the texture of the gesso; it left me with an evocative background," he says. "Up until then, I'd been painting really tight. But this approach, starting with gloppy paint and then smoothing it down, gave me a way to have a loose, textural, abstract and unplanned beginning."
Even now, years later, he likes to include this sort of unpredictability in his work. In this way he can explore the character of the paint itself as well as the subject matter. Incorporated into that is storytelling. Denman also writes essays for each painting which allow the viewer a window into the way in which he processes ideas into paintings.
"It helps people to connect to the work even more," he says. "Wildlife is simply a designation of the piece. We do tend to approach it as a genre, when technically it isn't, although wildlife artists are introducing a lot more contemporary elements into their wildlife pieces."
Denman is represented by Astoria Fine Art in Jackson, Wyoming; Creighton Block Gallery in Big Sky, Montana; and McCue Gallery 83 in Orindo, California, among others.