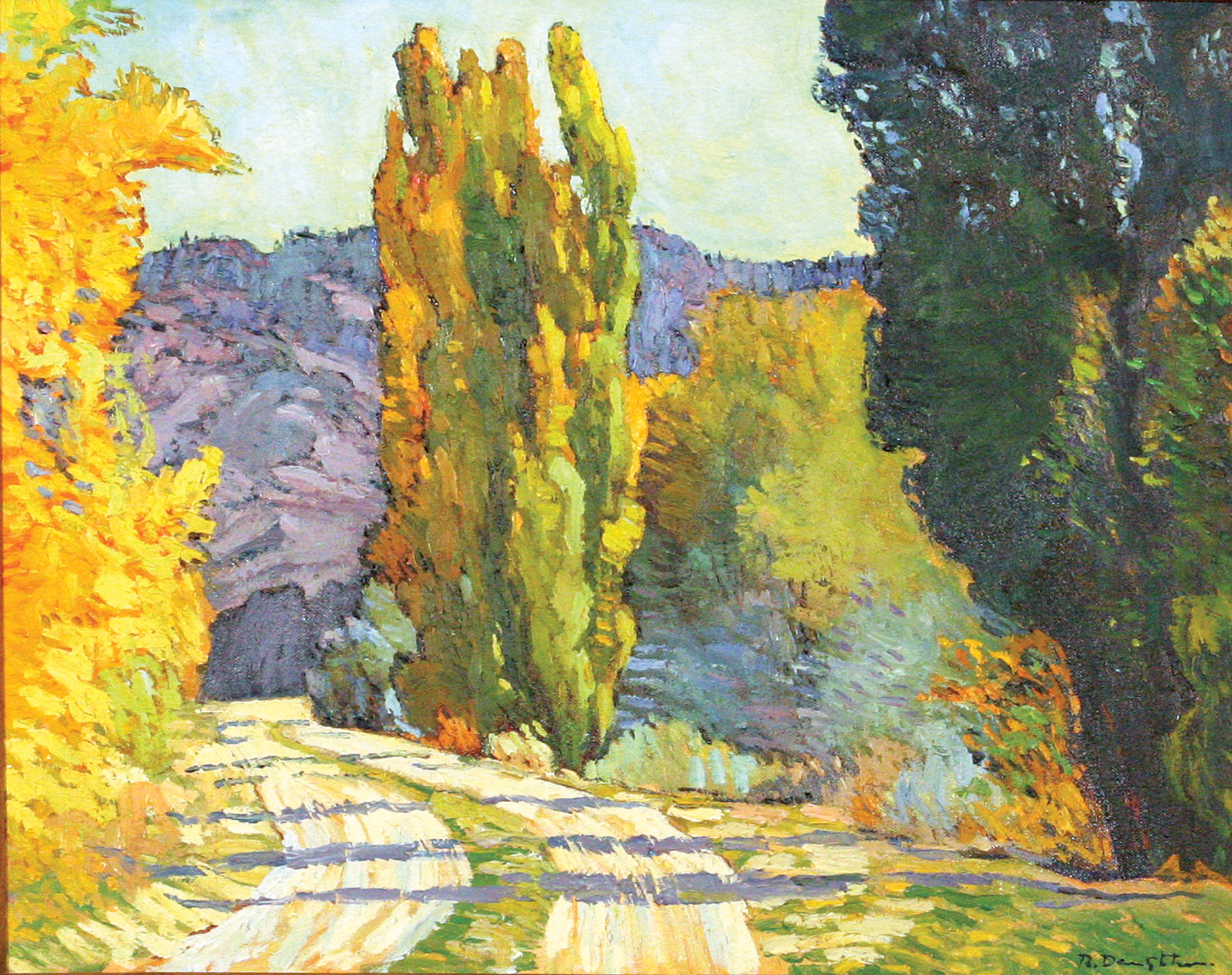 Robert Daughters "Mountain Road" | Oil | 16 x 20 inches | Sold: $16,800 auction in Santa Fe
19 Oct

Auction Block: Peak Season
---
With Western art market events peaking in July and August, from visitors at Indian Market in Santa Fe to collectors vying for original masterpieces at the annual Coeur d'Alene Art Auction (CDAA), the season was packed with exciting opportunities for art enthusiasts around the region.
From Calgary to California the summer season was lively and showed strong consumer interest in supporting fine art events and festivals. In Reno, Nevada, the CDAA had a landmark moment, recording $30.5 million in sales, while on the West Coast, Bonhams continued to report a high level of interest from collectors in the California and Western art niche. The 92nd annual Indian Market drew more than 150,000 visitors to Santa Fe, while the independent Auction in Santa Fe reflected positive sales concurrently. All tallied, the art market appears healthy.
Marking 92 years, the Santa Fe Indian Market held its weeklong celebration of Native arts and culture on the historic plaza. Attracting local enthusiasts alongside visitors from around the world, the event brought an estimated 150,000 people to Santa Fe. Each year Native and Indigenous artists from more than 220 U.S.-recognized tribes and First Nations' Tribes (Canada) present their work at what is arguably the largest selection of handcrafted Native American art anywhere in the world. Work includes both traditional and contemporary forms ranging from jewelry, pottery, sculpture, textiles, paintings, wooden carvings and beadwork to baskets and diverse arts, which encompass a variety of items including drums, bows and arrows, cradle boards and more.
Organized by Southwestern Association for Indian Arts (SWAIA), the event features a film festival, fashion show and performances, and is crowned by the Best of Show ceremony. Artists sell from booths throughout the plaza and innumerable gallery exhibitions show their best results.
This year more than $100,000 in prize money was awarded to established and emerging Native American artists. Held on the eve of Indian Market opening day, one artist was selected from several hundred submissions in each cat- egory and honored with the Best of Show prize. Here are the recipients for "Best" in each artistic genre: First place for jewelry, Earl Plummer; for pottery, Troy Jackson; for the category of paintings, drawings, graphics and photography, Norma Howard; for beadwork and quill work, part 1 and part 2, Jackie Bread (beadwork); youth (17 years and under), Joseph Youngblood Lugo; Native Peoples Magazine Creativity Award, Orlando Dugi and Troy Sice; diverse art forms, Babe and Carla Hemlock; Innovation Award, Jamie and Sandra Okuma; for textiles, Isabel Gonzales; for sculpture, Larry Jazzier; for wooden Pueblo figurative carvings and sculpture, Bryant Honyouti; for basketry, Shan Goshorn.
---
Auction in Santa Fe, August 11-12, 2013
---
Held at the Hilton Hotel in Santa Fe and conducted by Manitou Galleries of Cheyenne, Wyoming, and Santa Fe, New Mexico, the 2013 Auction in Santa Fe (AISF) was a notable success, posting $1.5 million in sales. AISF featured 606 lots over the two-day sale and experienced an 87 percent sell-through rate. With nearly 600 bidders and buyers participating in person, over the Internet, via phone and absentee bids, there was something for everyone and several new records were set. Art highlights included two works by Robert Daughters, a 16- by 20-inch oil and 12- by 24-inch oil selling for well over the estimates of $16,000 and $15,600 respectively. An Ila McAfee [1897– 1995] oil fetched $13,800, as well as a pair of Gustave Baumann woodblocks which brought over $27,000. An Allan Houser [1914–1994] alabaster sculpture entitled Solitary Maiden brought well over twice its low estimate by fetching $13,000; and Gerard Curtis Delano's Sheep in the Canyon soared to $14,400.
Also known for featuring high-quality Indian material, other AISF highlights included a rare Pueblo shield which fetched $8,050; a Sioux cradle that brought $10,350; a pictorial Apache Olla basket fetching $12,650; and a stunning pair of Southern Cheyenne moccasins/leggings reaching $10,350. Weavings and pottery pieces from Indian River Gallery brought handsome prices overall. Textile highlights included a circa-1885 Moki Germantown weaving.
---
Bonhams California and Western Paintings & Sculpture, August 6, 2013
---
A vibrant oil on canvas, Wind Swept Pines on the California Coast by Guy Rose, took the top spot in Bonhams $2.47 million auction of California and Western Paintings and Sculpture in Los Angeles and simulcast in San Francisco. The painting achieved far more than its $150,000 to 250,000 estimate, bringing $374,500.
Two works by Granville Redmond also sold quite well in the auction: Rocky Point, Laguna, which brought $96,100, ahead of a $70,000 to 90,000 estimate; and Moonrise Beyond the Bay, 1903, which took in $80,500, past a $40,000 to 60,000 estimate.
Works by Selden Connor Gile and William Wendt also realized multiple successes. Gile's Wagon Team and Barn, the largest work by Gile to be offered at public auction since 2006, took the second to top lot spot, bringing $110,500, while his Lucas Valley also did well, bringing $56,250. Wendt's Camp in the Mountains, 1928, brought $74,500, past a $50,000 to 70,000 estimate, and his Claremont Oaks took in $56,250.
Additional notable works in the auction included Frederic Remington's bronze, The Cheyenne, which sold for $80,500; Marion Kavanagh Wattle's Mount Whitney which brought $68,500; and Edgar Payne's Canyon Mission Viejo, Capistrano, which took in $68,500, past an estimate of $35,000 to 55,000.
Scot Levitt, vice president and fine arts department director at Bonhams, says of the auction: "Bidding came for works in all areas of the market, from early to more modern. Several new buyers have appeared on to the market." He added, "Considering that we host three California and Western auctions each year, there appear to be plenty of interested buyers."
---
Coeur d'alene Art Auction, July 27, 2013
---
The Coeur d'Alene Art Auction brought a strong total of over $30.5 million in sales, establishing the third-highest amount in the auction's 28-year history. Six lots sold for over $1 million and 39 items eclipsed the $100,000 mark. Numerous world-records were set. The single-largest event in the classic Western and American art field saw a greater than 97 percent sales rate for the 314-lot auction and attracted a crowd of more than 800 enthusiastic art buyers to the Tuscany Ballroom at the Peppermill Hotel Resort in Reno, Nevada.
The top price of the sale was achieved for Frederic Remington's 1908 painting Cutting Out Pony Herds (A Stampede), which sold to a bidder in the room for $5,625,000. Finished a year before his death, this monumental piece is considered one of the most important Remingtons to come to market in the last 10 years.
Norman Rockwell's 1940 painting, A Scout is Loyal, was sold to a phone bidder and fetched more than $4.2 million. The final price is the highest for a Rockwell at auction in almost six years. It is one of a handful of his Scout paintings in private collections.
Works by contemporary artist Howard Terpning vastly exceeded expectations, surpassing $1 million each on two lots. With a presale estimate of $600,000 to 900,000, Telling of Legends went for more than $1.7 million. With a final price of just over $1 million, Terpning's 1981 Shield of Her Husband outperformed presale estimates of $300,000 to 500,000.
A familiar name to the Coeur d'Alene Art Auction, Charles Russell's Buffalo Hunt #2 sold for north of $1 million. Consigned to the sale by family members of the original owner, the painting was estimated to sell for $600,000 to 900,000. Russell's sculpture was also well represented, with The Bucker and Buckaroo selling for $438,750 against a $200,000 to 300,000 presale estimate. The Coeur d'Alene Art Auction holds nine of the top 10 prices ever paid for Russell's works.
---
32nd annual Calgary Stampede Western Showcase, July 11, 2013
---
Launching with a quick-draw event, this classic Western art venue started with a bang. The Western Art Show and Auction showcased close to 100 works by artists from across the Western art world. Held at Stampede Park in the Western Oasis, the 100,000 square-foot space was transformed into a unique art event featuring artist studios, gallery exhibits by local and emerging artists, a photo gallery and competition, and presentations from participating artists.
Western art has been a component of the Calgary Stampede from the start. The great Western artist Edward Borein illustrated posters for the event, and by the early 1930s, regular art exhibitions were part of the Stampede. Since the early 1980s, the Calgary Stampede has included a live auction of the best in contemporary and historical Western art.
Capping the event, the Western Art Auction featured works by artists Jay Contway, Vile Zach, C.R. Cheek, Elaine Fleming, George Horvath and Jack King, all of whom have been involved with the event for close to two decades. Other artists including Ben Crane, Henri de Grout, Robert Byrne, Jodie Skinner, Kim Penne,
John Schnurrenberger and Graham Flatt have emerged more recently as major figures in Western art. Proceeds from the sale of works by the quick-draw artists go into a scholarship fund for young artists just coming out of high school. The net sales from the live and silent auctions go back to the artists themselves. The juried art show also honored artists with a series of awards. Best of Show was awarded to Don Oelze for the oil painting Valley Encampment and Best of Show 3-D went to Jordan Straker for It's a Wrap, a hand-carved gourd.
The auction grossed $360,600. The highest selling lot was the original work that was selected for the 2014 Calgary Stampede poster, an acrylic painting entitled Pulling Together by Adeline Halvorson, which sold for $125,000.