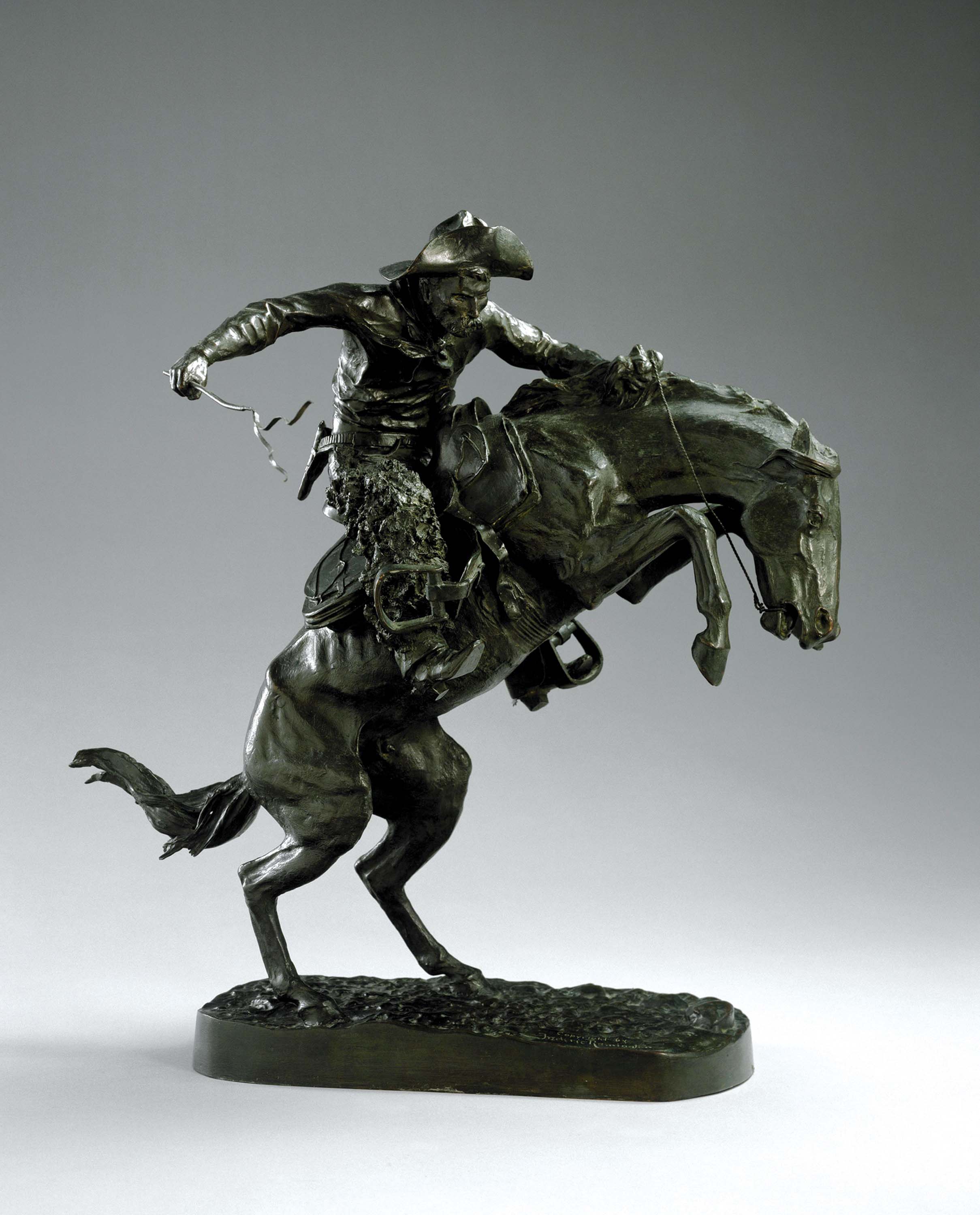 Frederic Remington | "The Broncho Buster" Bronze | 22.625 x 22.75 x 15.25 inches | 1895
04 Aug

Perspective: Bronze Visions of the West
---
Take a well-known American artist with a vivid imagination and a rich repertoire of ideas about the Old West, but with no formal training in sculpture. Pair him with a young, highly skilled Italian craftsman and foundry owner in the fine art bronze industry in New York, eager to establish a reputation among the burgeoning numbers of sculptors during the period known as the American Age of Bronze, 1890 to 1930. The first half of this highly successful, symbiotic partnership was Frederic Remington. The second was Riccardo Bertelli, founder and owner of Roman Bronze Works, the first American foundry to specialize in the lost-wax process for casting bronze. With little concept of what could or couldn't be done in bronze, Remington would model a detailed figure — a horse and rider in a stop-action pose, for example — and ask Bertelli, "Can you cast this?" The foundry owner might initially shake his head in doubt, but then set to work figuring out how the challenging cast could be done. Returning to the artist, he would say, "Let's try it."
"The partnership between Remington and Bertelli was amazing — they were really pushing each other and the medium. The action Remington gets was pretty revolutionary for its time," remarks Thomas Brent Smith, director of the Petrie Institute of Western American Art at the Denver Art Museum. Smith is co-curator of The American West in Bronze: 1850-1925, which runs through August at the Denver Art Museum. Organized in collaboration with New York's Metropolitan Museum of Art, where it was exhibited before traveling to Denver, the show features some 70 bronze sculptures by 28 artists. With imagery of American Indians, wildlife, cowboys and settlers, the works reveal much about how artists of the era responded to such complex issues as the closing of the frontier, the "disappearing Indian," the loss of Western wildlife — buffalo in particular — and the myth and reality of cowboys and settlers as uniquely American heroes.
By the time Remington began working with Bertelli at Roman Bronze Works in 1900, stories and imagery of the Old West, as well as bronze sculpture in general, were quickly rising in popularity, especially among an urban, East Coast American public. Photography, lithographic prints, illustrations, travel journals and news stories whetted Eastern appetites for visions of the West. Zoological parks and natural history museums fed a fascination with wildlife of the Rocky Mountains and Great Plains. Into this waiting arena stepped such artists as Remington, Henry Merwin Shrady, Charles Russell, Alexander Phimister Proctor and Solon Hannibal Borglum.
American artists brought to bronze sculpture a wide range of backgrounds, training and life experiences. Some, like Remington, lived in the East but spent time in the West. Others, including Russell, were from the West and basically self-taught. Some who were raised in the West, such as Borglum and Proctor, studied at European art academies, while other artists trained in Europe may or may not have been exposed to life in the West. Stylistically, however, virtually all chose a relatively similar, naturalistic path. Notable exceptions to a straightforward realist approach included Henry Kirke Brown, whose 1848 Choosing of the Arrow became the first fine art bronze cast in this country. The sculpture portrays an American Indian in an idealized, neo-Classical pose. At the other end of the American Age of Bronze, Paul Manship anticipated Modernism with a stylized Art Deco aesthetic in such pieces as Indian Hunter and His Dog (1926).
With the increasing technical sophistication of American fine art foundries in the late 1800s, American sculptors no longer needed to work or live in Paris or Italy, or depend on European craftsmanship and materials. Monumental bronzes could be conceived, produced and exhibited in this country, and these, in turn, fueled a popular market for tabletop statuettes. Bronze sculpture produced in multiples, affordable for those with some disposable income, became a more democratic form of art.
Until about 1900, all bronzes in America were produced by means of sand casting. Remington's first sculptures, in the mid-1890s, were cast in this method after he learned the fundamentals of clay modeling and armature building, well into his successful career as a painter and illustrator. The introduction of lost-wax casting, however, had a major impact on what he, and scores of other American artists, could create in bronze. For the first time, forms, compositional complexity and surface texture could be produced in much more intricate detail. Subtle and not-so-subtle changes could be made to a model before each casting, so each could be a little different. The lost-wax process also saved time and labor costs, since a sculpture could be cast in fewer pieces and required less assembly. And, as Remington demonstrated, no longer did human or animal figures require a stationary pose. Action, eminently suitable for imagery of the West, became the narrative device of the day.
Remington's first bronze, The Broncho Buster, was initially cast in sand in 1895. One of the most popular statuettes of its time, there were more than 275 authorized casts, with the artist changing such details as the cowboy's chaps or the position of an arm in various casts. As Peter Hassrick, director emeritus of the Buffalo Bill Center of the West and of the Denver Art Museum's Petrie Institute of Western American Art, has noted, The Broncho Buster pits the cowboy hero against the unbroken horse — and, by extension, against the untamed West — with the cowboy "virtually guaranteed to stay in the saddle." Likewise, the image helped secure the cowboy's enduring place in the mythology of the West.
Another early American artist to take advantage of the lost-wax process was Henry Merwin Shrady, whose 1899 Buffalo featured such remarkable detail that Remington purchased a statuette for himself. "It's one of the most beautiful bronzes ever, a tour de force of detail and texture," observes exhibition co-curator Thayer Tolles, Marica F. Vilcek curator of American paintings and sculpture at The Metropolitan Museum of Art. Along with Remington and Shrady, other artists quickly realized what could be done with lost wax.
While late 19th- and early 20th-century bronzes helped imprint a vision of the West in the American psyche, the actual world these artworks depicted was already fading into the past. In 1893, historian Frederick Jackson Turner famously wrote that the frontier was closed. With it went vital symbolic and tangible roles played by the Westward-pushing frontier, as "a new field of opportunity, a gate of escape from the bondage of the past; and freshness, and confidence, and scorn of older society … ," Turner wrote. Remington put it this way in 1907: "My West passed utterly out of existence so long ago as if to make it merely a dream. It put on its hat, took up its blankets and marched off the board; the curtain came down and a new act was in progress."
As the actual Old West vanished, its importance as concept and myth increased. Cyrus Edwin Dallin's 1909 Appeal to the Great Spirit, a mounted Native warrior with arms outstretched and face lifted to the sky, spoke of the suffering and resilience of the American Indian, as imagined by the artist. The popular image went through more than 400 authorized casts in three sizes during Dallin's lifetime alone. (He died in 1944.) Sold to libraries and educational institutions around the country, the figure's pose also came to represent moral authority and religious faith in broader terms, Tolles says.
Works such as James Earle Fraser's emblematic End of the Trail, created in monumental scale for the 1915 Panama-Pacific International Exposition in San Francisco, reflected a widespread feeling of nostalgia for what had been lost. For many, this included regret over the American Indian's imminent "march to extinction," a belief that enhanced the Indian's romantic appeal. A similar sense of remorse over the wanton slaughter of buffalo fed into the American conservation movement, beginning in the 1870s and growing through the first few decades of the 20th century. Conservation and wildlife awareness was bolstered by sculptures such as Alexander Phimister Proctor's Buffalo, cast in monumental form for Washington, D.C., and issued as statuettes, 1911 to 1914. "Bronze sculpture certainly reinforced changing ideas," Tolles says.
In another area of change, the figure of the pioneer woman and mother, increasingly portrayed in the early part of the 20th century, was infused with layers of meaning. The Madonna of the West, as she has been called, clearly embodied hope for the West and America in general, striding into the future with sunbonnet, bible and a child at her side. Yet in bronzes such as Hermon Atkins MacNeil's 1926 Pioneer Woman — with large bare feet, a baby on one hip and an ax in her hand — she also signified a more modern view of female strength. "It alludes to the West's leading role in women's suffrage movement," Tolles says, adding, "There's so much to dig into. There's so much satisfaction to be gained by looking at great bronzes, not just the iconic imagery, but the beautiful sculptures themselves. There is fact and fiction — and a lot in between — in these works, and they continue to remain relevant today, especially in how we form visions of the American West."