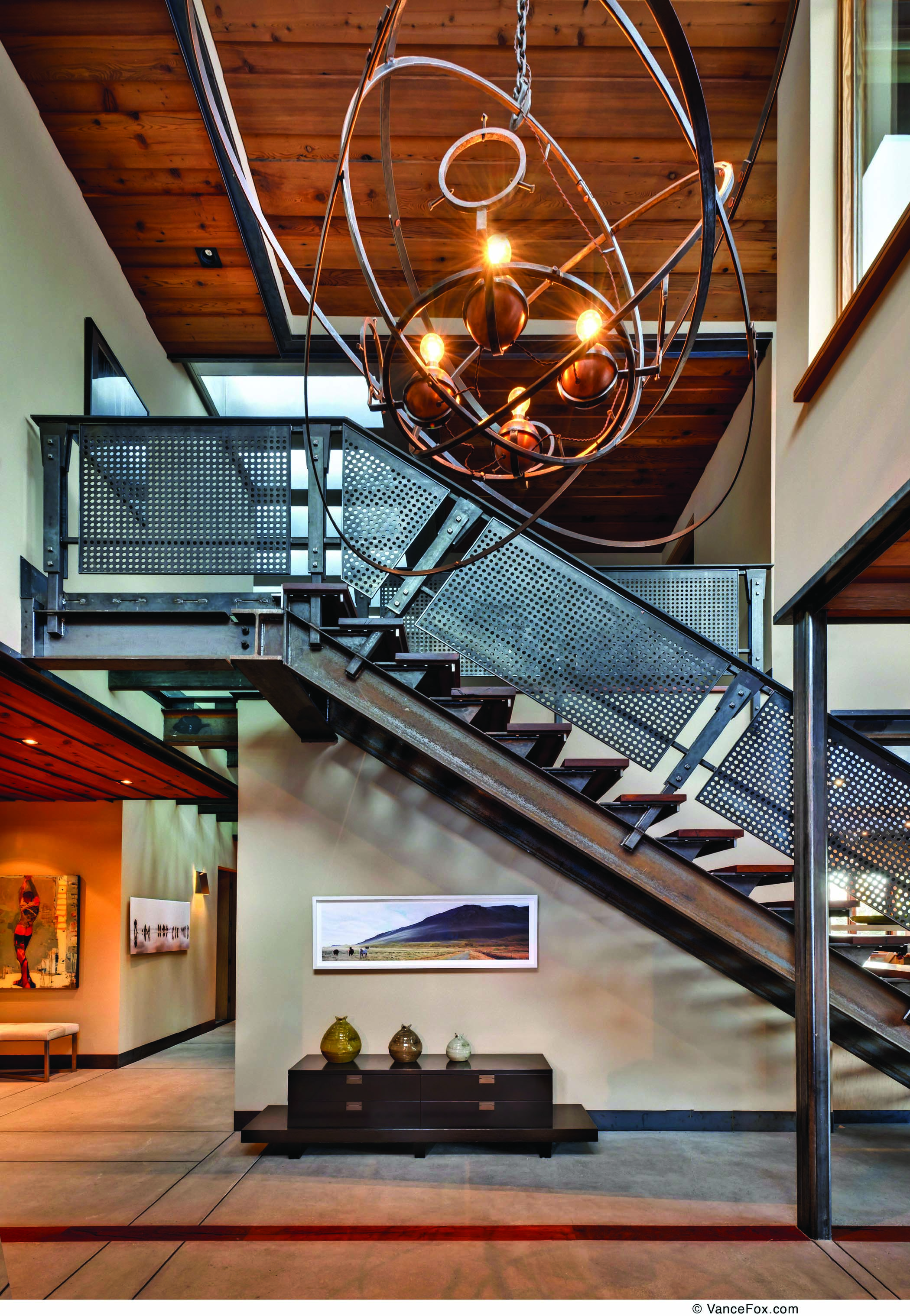 An organic palette of material in this family retreat by Greg Faulkner includes reclaimed native stone, steel siding and screens, reclaimed redwood and glass. numerous skylights and glass floors allow light to penetrate deep into interior spaces.
01 Dec

Rendering: Freedom of Expression

Encouraging great mountain architecture while pushing beyond traditional Tahoe style isn't in the design guidelines at Martis Camp, the exclusive luxury community near Lake Tahoe, but it should be.

"Martis Camp doesn't have many set guidelines and they never had any set style," says architect Nick Sonder, who operates his practice in Truckee, California, and in 2007 designed the first spec home at the well-planned mountain community. "All the developer ever looked for was quality mountain architecture without the requirement of having to express the 'old Tahoe-style' and, as a result, we all got to explore totally different concepts and designs which made for a more unique and diverse architecture throughout the property."

Sonder has since been the innovator of seven homes built at this low-density master-planned development comprised of 653 lots. But it was that first blueprint — a 3,200-square-foot home encompassing minimal impact to the environment — that clearly set the tone for what has become an eclectic mix of contemporary and traditional mountain residential designs. Now, six years after lot sales first commenced, a total of 51 architects are represented among the 67 completed homes, 100 under construction and close to 70 under review within the parameters of an existing Architectural Handbook emphasizing creativity compatible with a mountain environment. What is distinctly missing are any cookie-cutter design formulas for this select echelon of architects, most from Northern California but also throughout the Western United States, including such prominent firms as Locati Architects of Bozeman, Montana, and Marmol Radziner of Los Angeles.

"That freedom of architectural expression we've allowed stems from the fact that the San Francisco Bay Area is really on the cutting edge of everything and we knew we were going to appeal to that audience," says Brian Hull, Director of Sales at Martis Camp. "So, our challenge was how could we encourage great mountain architecture while pushing outside the box of the traditional Tahoe style?"

With access to 2,177 acres of towering Ponderosa pines and sagebrush fields between North Lake Tahoe and Truckee in the Sierra Nevada Mountains, another developer may have grabbed hold of the expansive terrain in the Martis Valley, as an opportunity to manufacture rows of homes and move onto the next venture. Not the case with DMB/Highlands Group from Scottsdale, Arizona. With a portfolio of successful projects throughout the country, including Lahonton Golf Club just a stone's throw away from Martis Camp, DMB/Highlands Group's track record has demonstrated an unprecedented ability to create developments with a sense of community and environmental stewardship for current and future generations.

Building the family component has been core to Martis Camp's vision and that thread permeates throughout the members. With premium features including a 50,000-square-foot Camp Lodge, Tom Fazio-designed golf course, 18-hole putting park, tennis pavilion, 26 miles of community trails for hiking, biking or cross-country skiing, 3-acre fishing lake, direct ski connection to Northstar California resort, fitness center, pools and a Family Barn that includes a bowling alley, movie theater, old-fashioned soda fountain, basketball court and amphitheater for concerts, it is evident that family camp playgrounds have been redefined. At this ultra-luxe neighborhood, there is no room for boredom.

By attempting to lure multi-generational families, the homesites at Martis Camp provide plenty of space to grow with cabin lots just under .5 acre or estate lots of 1 to 2.5 acres. With the architectural marvels to occupy these spaces being just as integral to the character of Martis Camp as all the enticing amenities, according to Sonder, many owners are thinking outside the box. "I've got clients that are very savvy about doing things green, including a house that's 8,600 square feet and another that's 5,300 square feet and they're both off-grid homes with ground-source heat pumps and integrated solar voltaics."

On pace of selling five or six homesites every month (more than 400 have been sold), Martis Camp might be the hottest real estate venture in the country. With a flurry of construction now underway in a community that personifies a living classroom for aspiring architects, Greg Faulkner, an architect with offices in Truckee and Berkeley, California, echoes the sentiments of his counterparts: "The cool thing about the developers is that they made it more about the design and not the guidelines."

Faulkner has taken full advantage. Having been on the forefront of some cutting-edge contributions at Martis Camp, he hit the jackpot with his first entry when a home he designed for a Los Angeles client earned the highest award from the Central (California) Chapter of the American Institute of Architects. Built on a parcel that adjoins forest service wildlands and requires wildfire protection, Faulkner incorporated a restrained palette of board-formed concrete, rusting Corten steel, reclaimed redwood and large expanses of glass allowing the pavilionlike house to fit into the alpine setting.

Growing up in the Midwest visiting U.S. Steel with his grandfather, Faulkner was impressed by the nature of materials and how they were made. Along the way, trips to his grandmother's Kentucky farm instilled an appreciation for how structures were built into the natural landscape. Now, after 20 years of practicing his craft and three completed homes at Martis Camp, Faulkner is keeping a close eye on construction of one of his most exciting projects yet.

Using materials such as natural and charred cedar, plus low-infiltration thermally broken window and door systems, Faulkner says, "This house considers continuity and transparency in a way that creates a field organization of space with a reciprocal relationship to the landscape. Mirrored U-shaped edges make two distinct, yet linked territories. One faces the street and is natural with 30-inch- plus diameter Sugar and Jeffrey Pine trees. The other is private, domesticated with courtyard walls and a habitable landscape and oriented to the south sun with views of the backside ski runs at Northstar. The two territories are bridged and connected by full-height glass screens."

By contrast, the team at MWA, Inc., also based in Truckee, has demonstrated its own diverse styles, having drafted 18 homes (nine built, six under construction and three in design) at Martis Camp, including traditional Tahoe style, Craftsman-modern combo or European Alps style.

"The design review has been remarkably fun and simple," says Kristi Thompson, one of MWA's principal architects. "There are some rules, like not being able to go over the large setbacks, but the end result is (that) once your home gets built out, you'll see quite a bit of space, typically 100 to 150 feet, between the next home, as opposed to most developments where it's home after home after home. As a result, our clients get an opportunity to express their individuality and I think that's important at this economic level of clientele."

With many buyers purchasing legacy homes for their children and children's children to inherit, they are encouraged to consider sustainable approaches to maintain the operational costs and conform to the same LEED certification all of Martis Camp's community buildings have.

"We can't do anything about taxes but utilities and long-term maintenance, we can," Thompson says. "A home we have under construction is a mix of modern, mountain and rustic where the owners desired a low-impact, low-maintenance design. Here, we utilized solar PV panels to offset some of the home's electricity use, solar thermal panels to heat their water and ground-source heat pumps to draw heat out of the earth. They also used a 16-inch-thick roof cavity to double the heat retention and the casita has a green living roof to further help insulate the building and reduce erosion on the property."

Considering the enticement to go against the grain of traditional mountain design, there are still concerns about how far to stretch that innovation. Regarding the more contemporary style, for example, a longtime San Francisco Bay Area residential architect, John Stewart of Stewart Associates, expressed trepidation with one of the more uncharacteristic mountain designs apparent at some of the Martis Camp homes. "Personally, I would have stayed away from any flat roofs. After all, it is still snow country and, typically, pitched roofs are necessary for the snow to slide off instead of it bearing on top for days or months."

Regardless of the type of dwelling or season befitting a buyer's lifestyle, the majority of tenants retreat to their residence as a second-home getaway. However, after their last child leaves for college next year, John Gill and his wife, from San Ramon, California, will join the other three current full-time Martis Camp residents by occupying the 7,300-square-foot home they just started breaking in. As a symbolic gesture and to instill a slice of the true essence of Martis Camp for everyone they share their home with, the Gills already named it "Selah," a Hebrew word that essentially means to pause and ponder.