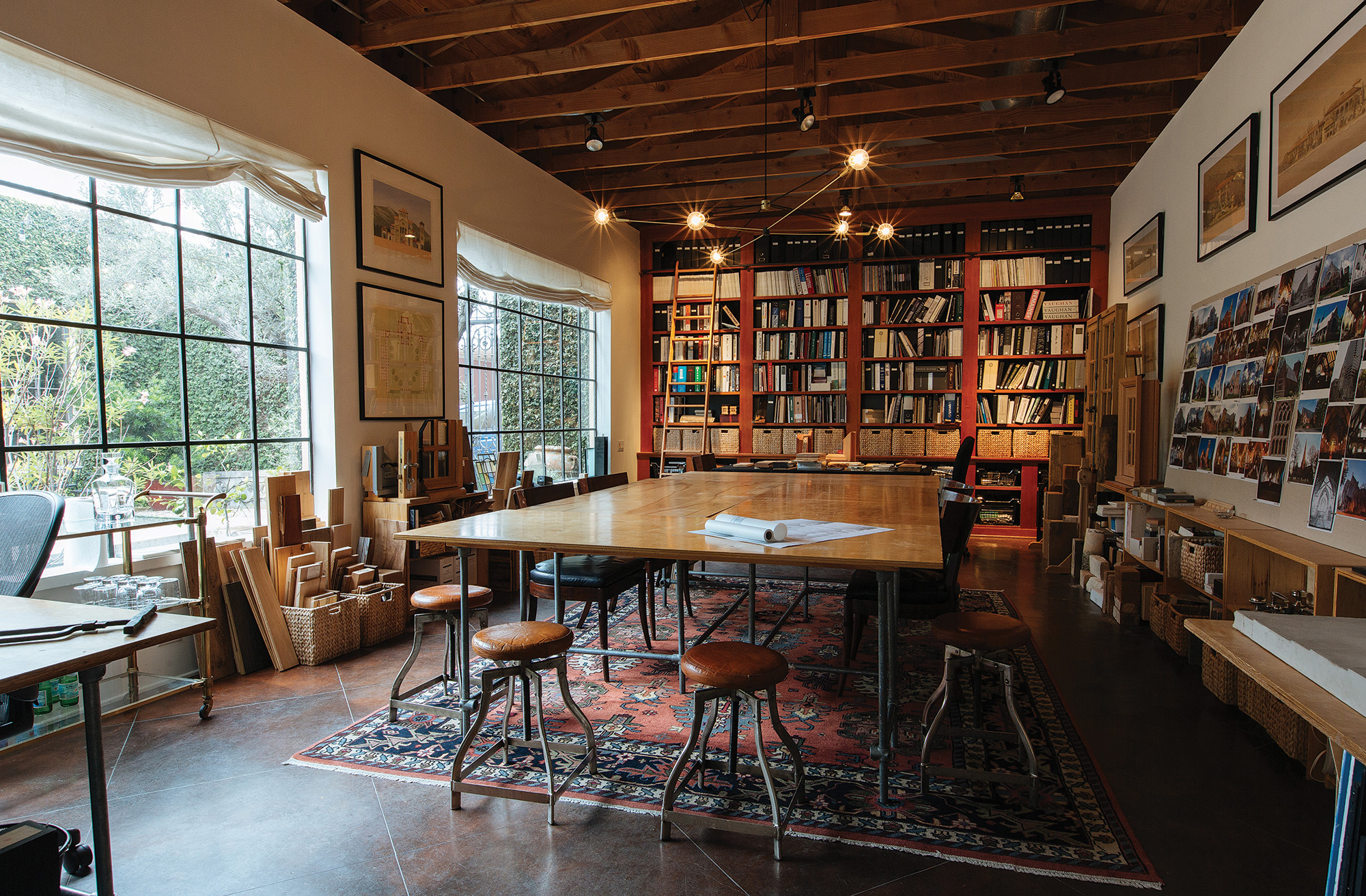 Imber's firm designs modern classical homes meant to stand the test of time. Their offices are filled with reference materials and light.
14 Sep

Rendering: From Past to Present
---
At first glance, houses designed by Michael G. Imber, Architects look like they've been there forever and will last just as long. The designs are, of course, geared toward modern living and constructed using cutting-edge technology, but they're also deeply romantic interpretations of archetypal styles — what the award-winning San Antonio, Texas-based firm calls "modern classical."
"Buildings have to be connected to history — that doesn't mean we're repeating history, but if they don't embody it, they won't be loved in the future," says Michael Imber, founder and principal.
His first and most lasting love is of the Spanish Colonial architecture of the Southwest, when the DNA of provincial Roman architecture crossbred with the Moorish and came to the New World. "What excites me is being able to explore that continuum, understanding the roots and how it can create architecture today," he says.
Imber was the outlier in his class at Texas Tech, the guy who was passionate about history, not modernism; the guy who found his inspiration in Southwestern icons such as missions and haciendas. After graduating, he and his new wife moved east, where his interests expanded to all-American architecture, and where he worked for Allan Greenberg, the renowned classicist, on projects such as the office for then-Secretary of State George Shultz.
After the birth of their child, Imber's wife put her foot down, and they returned to Texas, where he served as the "in-house classicist" at a large corporate firm. Imber did some moonlighting, then won his first commission, a 1,200-square-foot German Sunday ranch house built for Milton Butcher, a cowboy-booted, overall-clad eccentric who spoke four languages and collected art. It was inspired by the second homes German ranchers built in the late 1800s, used for staying in town on Saturday nights before attending Sunday religious services.
By the time his second, much larger commission, Rancho Dos Vidas, was completed, the Butcher House had won an AIA award and a Sunset Western Home Award. "That little house still gets published once a year," Imber says. "It's just one of those funny little projects people can relate to." Butcher has passed on, but the house remains in the family.
Rancho Dos Vidas is a sprawling West Texas hunting lodge built in the style of historic haciendas of the Southwest and Mexico, where harsh landscapes were kept at bay by heavy-walled exteriors protecting inner courtyards. Haciendas tended to be a bit dark to keep out the relentless sun. But no need to ask Imber about light; just read his blog for an eloquent rumination on its poetry. "Natural light is critical," he says. "It's light that paints the space. How do you evolve a vocabulary to bring in more light without diminishing the integrity of the language you're trying to convey?"
At Rancho Dos Vidas he solved the problem using lightly stained glass windows, transoms, verandas and cool stucco walls. The project earned Imber recognition in Southern Accents' "Four Under Forty," and that was enough to propel him into opening his own office.
Since then, the firm has designed idea houses for Coastal Living (a 2008 Galveston, Texas, beach house flooded in light) and Southern Living (a 2011 Mediterranean lakeside villa) and has won many more awards.
Imber begins each project with sketches and watercolors of the site and environs. "I try to understand the landscape and what's important about it before beginning to design," he says. "It's a more spiritual understanding of the place."
But it's not just the exterior's relationship to its site that's powerful. Within each house, spaces create certain psychological responses, he says, from the cocooning to the dynamic. The home's actual materials become part of the experience. "When you look at a painting," he says, "at a distance you enjoy the composition and color, then as you move in, you see every brushstroke has meaning."
His ideal client has a good idea of what he or she wants, but is willing to trust the firm to grasp and interpret the dream. "Why do people build buildings? Spend all this money and time when they can just buy a house?" he demands. "A lot of our clients have a unique piece of property that's already sparked a dream, and our challenge is to build an environment that responds to who they are. It's a big investment, and they want to build something that's lasting and meaningful. If we can't do both, then why are we doing it?"
Imber himself lives in a house built in 1914 that is in a constant state of renovation or addition. He claims his wife is used to it, but one of his clients puts it this way: "Michael, your house is like I-35 [a highway that bisects Texas north to south], it never stops!"
At the moment the firm is working in eight states and three countries, and solving the challenges of each site keeps them excited. As with most architects, if asked which house is his favorite that he's designed, Imber would say, "The next one."