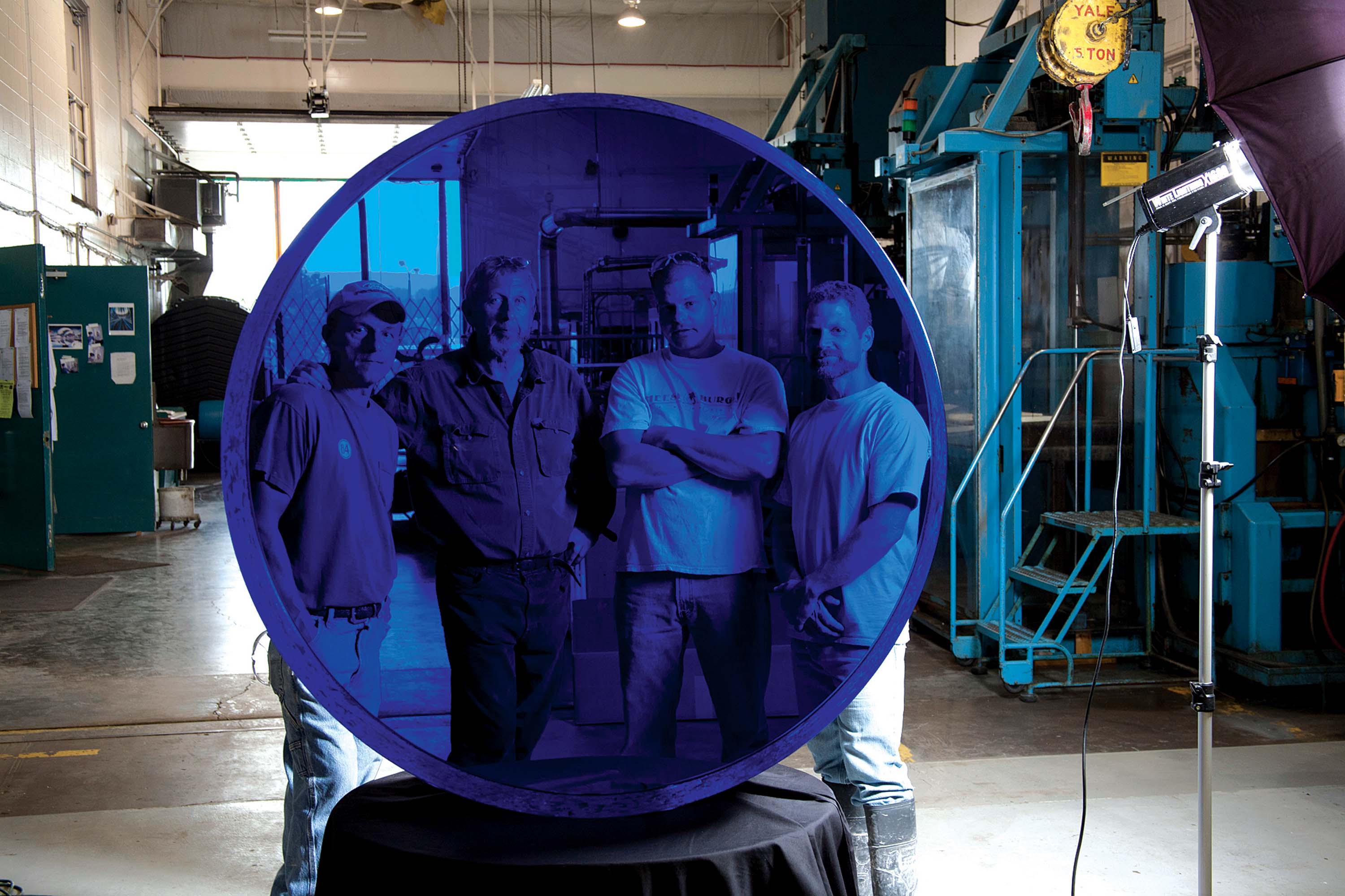 Artist Christopher Ries (center left) stands with his assistants (left to right) Ernie Hubert, Doug Leidy and Richard Atkins in front of "Invictus" made of colored optic glass.
01 Apr

Ones to Watch: Christopher Ries
---
Christopher Ries frees the essence of optic-crystal blocks with his glass sculptures. Each piece echoes the distinctive forms of nature against a spiritual awakening of light. His precise lines and masterful eye combine composition with an understanding of light and the satisfaction of reflection.
"I've always wanted to express my joy and gratitude of life itself," Ries says. "I admire and appreciate color and the sculptural form."
His path took him from ceramics to blowing hot glass. "During that time I had the opportunity to explore a lot of forming, a lot of different methods of fashioning glass, casting, slumping glass, fusing glass pieces," he says. "I blew vessels inlaid with rich interiors. And then I found a source of reliable crystal blocks."
Once he established a relationship with Schott Glass, Ries set up his studio to cut, grind and polish glass, bringing out its best optical quality, which became his forte.
"People have come to know me as an artist who sculpts big pieces of crystal into elegant abstract forms," he says.
"Most have been colorless, the composition depends on the internal reflection of the external form I carve and polish on the surface."
It starts with a block, like a quarried block of stone, weighing anywhere from 3,000 to 5,000 pounds.
"I have a vision of what I want to release from that block," he says. "I start with a wire saw and cut the block into a very rough form and then I start to grind it away with heavy-duty air tools, diamond cutting tools and water, using grinders with the force of a lawn-mower to smooth corners and create a curvilinear surface from the plane surfaces I've liberated from the block."
Ries' gallery representation includes Gallery of Modern Masters, Sedona, Arizona; Mystique Fine Art, Scottsdale, Arizona; Just for You Gallery of Fine Art, Healdsburg, California; Primavera Gallery, Ojai, California; Westbrook Gallery, Carmel By The Sea, California; PISMO Fine Art Glass, Denver, Colorado; Holsten Galleries and Wiford Fine Art Gallery, both in Santa Fe, New Mexico; and Davis and Cline Gallery, Ashland, Oregon.