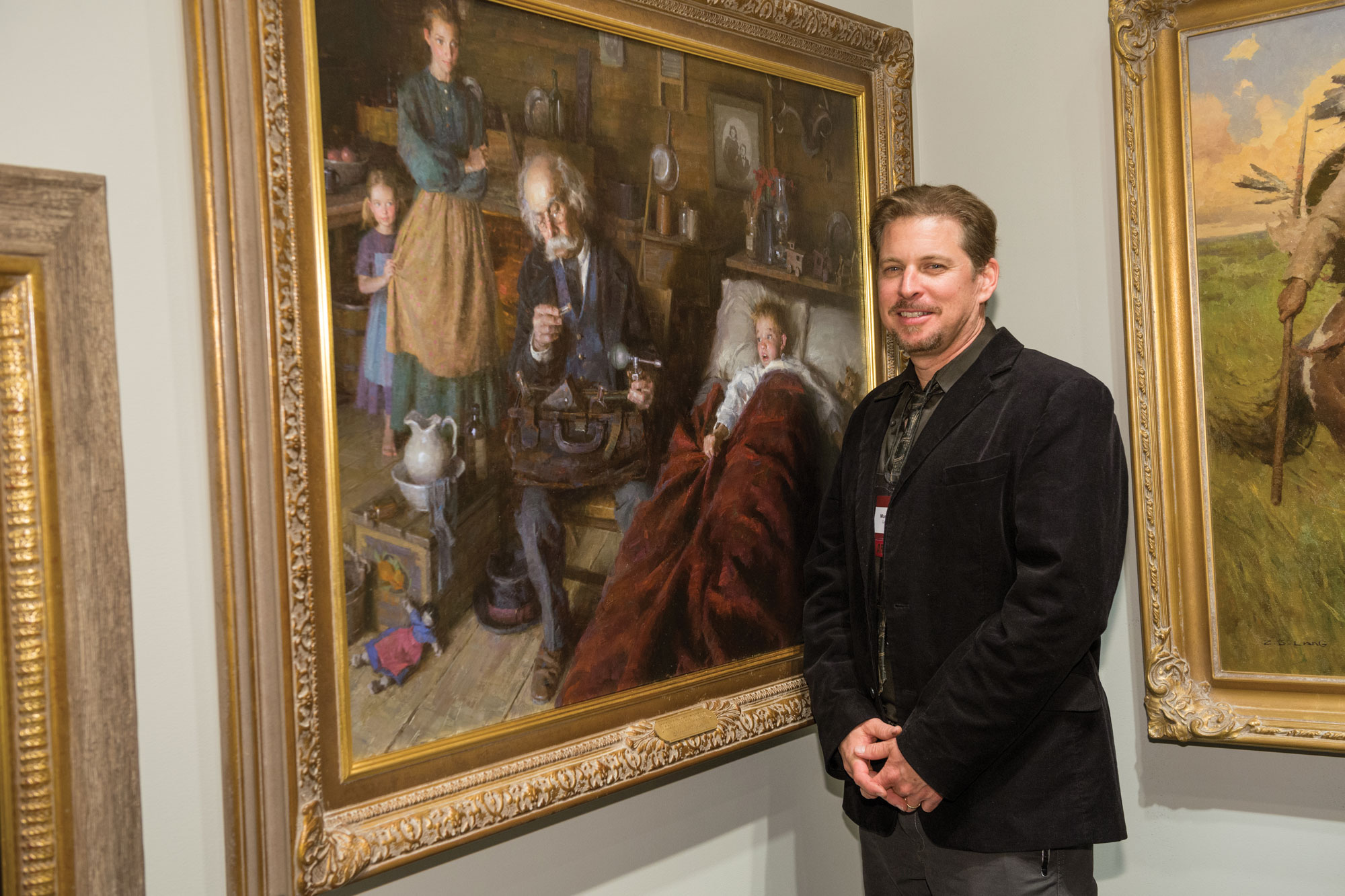 Morgan Weistling won both the Artists' Choice Award and the Patrons' Choice Award at the 2013 Masters of the American West
01 Apr

Auction Block: Steady Beginnings
---
Easing into 2013, the art market began with a steady opening season and emotionally enriching events. The iconic Coors Western Art Show drew collectors from throughout the West to celebrate the connection of contem- porary Western art and the National Western Stock Show by raising funds for the National Western Scholarship Trust, which grants rural families funding for college. This year the opening night red-carpet event drew 1,000 guests and surpassed sales figures for the previous two years.
The American Miniatures Sale at Settler's West Galleries in Tucson was the first exhibition of small original paintings and sculpture to gather longtime collectors from throughout the country to view hard-to-find works by top Western artists. Celebrating 31 years as an anchor for spring art events in the West, Stuart Johnson notes that it was a true success.
At The Autry Center's well-established Masters of the American West Fine Art Exhibit and Sale, artists and patrons paid tribute to the life of Saralynn Geraghty [1930–2013], wife of trustee John Geraghty, honoring her passion and ded- ication to building the world-class collection at the museum.
Together, these events were a testament to the continued engagement of collectors in the art world and to the tremendous pool of talented artists today.
---
American Miniatures Show and Sale Settler's West Galleries, February 9, 2013
When Stuart Johnson launched the American Miniatures Show at Settler's West Galleries in Tucson 31 years ago, it was the only sale of its kind. The idea was to have a good way to introduce people to art and also appeal to longtime collectors, who always have room for a small painting on their walls.
"A lot of places have miniature shows today, but this is the granddaddy of the miniature shows and the most well attended," Johnson notes.
This year the show featured 200 artists and attracted 300 collectors to view works that ranged from Western, wildlife, figurative work, seascapes and landscapes. To appeal to a broad audience, prices range from $450 up to the original Howard Terpning that was offered as a fixed- price sale by draw, beginning at $36,000. The Terpning, entitled Tribal Stature, went for $56,600. Ultimately, 180 paintings sold, with the average price between $2,000 and $2,500.
---
16th Annual Masters of the American West Fine Art Exhibition and Sale-The Autry Center, February 2, 2013
The Autry's Masters of the American West Fine Art Exhibition and Sale grossed $3.25 mil-lion in art sales. This prestigious exhibition challenges established
artists such as Howard Terpning, Mian Situ, George Carlson, Bill Anton, Tucker Smith, Z.S. Liang and many others to exhibit their best work for the sale that benefits the Autry Center's regular programming.
The Saturday evening event drew an attendance of 620, and was dedicated to the late Saralynn Geraghty for her tireless dedication to building the fine art collection at The Autry.
This year the top-selling lot was Howard Terpning's Mystery of the Underwater People, which sold for $1.25 mil- lion in silent bid. The painting also won the InSight Gallery Thomas Moran Memorial Award.
Other artists were honored as well, including Dean Mitchell for best watercolor; Walter Matia for best sculp- ture and also with the James R. Parks Trustees' Purchase Award for Golden Rule. The John Geraghty Award went
to Tucker Smith; Kyle Sims won the Bob Kuhn Wildlife Award; Kyle Polzin received the Spirit of the West Award; and Mian Situ was given the Gene Autry Memorial Award for an outstanding presentation of three or more works. Finally, painter Morgan Weistling won both the Artists' Choice and Patrons' Choice awards for The Country Doctor.
---
18th Annual LA Art Show, Los Angeles Convention Center, January 23 – 27, 2012
Featuring original and print works of historic, mod- ern and contemporary artists, this year the LA Art Show proved it continues to gain strength. Featuring fine art painting, sculpture, works on paper, photography and video from more than 100 prominent galleries and with special events, lectures and art installations, it was an event not to be missed.
Opening night alone drew 6,000 guests, with an anticipated 50,000 expected for the duration of the show. Under the new ownership of Florida-based Palm Beach
Show Group, president, Scott Diament told the Los Angeles Times that he intends to grow the show because "it has the bones of a world-class event. L.A. is one of the best art markets on the planet, and my plan is to put it on people's calendars worldwide, like Art Basel. It may take me 10 years, but one day people will talk about this show as a must-attend event."
---
Safari Club International Convention, Reno Sparks Convention Center, January 23, 2013
life alive and thriving," says curator Rose Fredrick.
Among the most notable works of art in the show was Dinah Worman's oil painting, History of a Field. The abstracted view of a series of snow-dusted cow pastures in Taos was selected as Best of Show by Mindy Besaw, cura- tor of the Whitney Museum at the Buffalo Bill Historical Center, Cody, Wyoming; Sue Simpson Gallagher, owner, Simpson Gallagher Gallery; and Seth Hopkins, director of the Booth Museum, Georgia.
"The judges found it stylistically refreshing," explains Besaw, "to see an artist use geometric abstractions to capture the essences of the Western landscape. Beyond that, it's not just the design, but her use of color and the thick impasto paint, and even the title gave weight to the painting, all to help us see anew a familiar subject."
The Artists' Choice honored Logan Maxwell Hagege's painting, Cloud Shadows on the Wall, and the People's Choice award went to Teresa Elliott for Baca. The Southwest Art Award of Excellence went to Deborah Bays.
Other top sellers include Michael Lynch, Sophy Brown, featured artist Jill Soukup and Ewoud deGroot, all of whom sold out on opening night, and Dean Mitchell who sold five out of seven paintings. Quang Ho had a big night, selling almost all, as did September Vhay and Laura Wilson's large format photography, who sold out by the end of the show.
Attracting almost 2,000 exhibitors and about 18,000 hunters and outfitters from all over the world, the annual Safari Club International Convention in Reno reported a record year.
"Many people will come to talk to outfitters, to arrange and organize hunts in future years. Many will come to look at the incredible artwork and guns that we have," says Craig Kauffman, president-elect of Safari Club International.
Dramatic wildlife works by fea- tured artists such as John Banovich and Brian Jarvi punctuate the dynamic scenarios of big game ani- mals around the world. This 14th annual hunter's convention was a highlight for wildlife art.
---
Coors Western Art Show & Sale National Western Stock Show, January 8, 2013
The 2013 Coors Western Art Exhibit and Sale in Denver, Colorado, hit an all-time record at the Red Carpet Reception Opening, with sales results for one night surpassing the entire sale in 2012. By the close of the exhibit, the show reached $1 mil- lion in art sales, a significant increase over last year.
"We are thrilled to have done so well in a tough economy, but even happier knowing that we will be con- tributing more funds than ever to the National Western Scholarship Trust. As a show dedicated to contemporary art of the American West, we love that proceeds go to help rural families put their kids through college so they can go back into their communities, in essence, to keep the Western way of
American Miniatures, Settler's West Galleries | Howard Terpning, "Tribal Stature" | Oil | 15 x 8 inches
Coors Western Art Show 2013, Best of Show | Dinah Worman, "History of a Field" | Oil | 48 x 48 inches
This year, the LA Art Show enjoyed a record-breaking attendance of 50,000 collectors with galleries reporting significant sales.