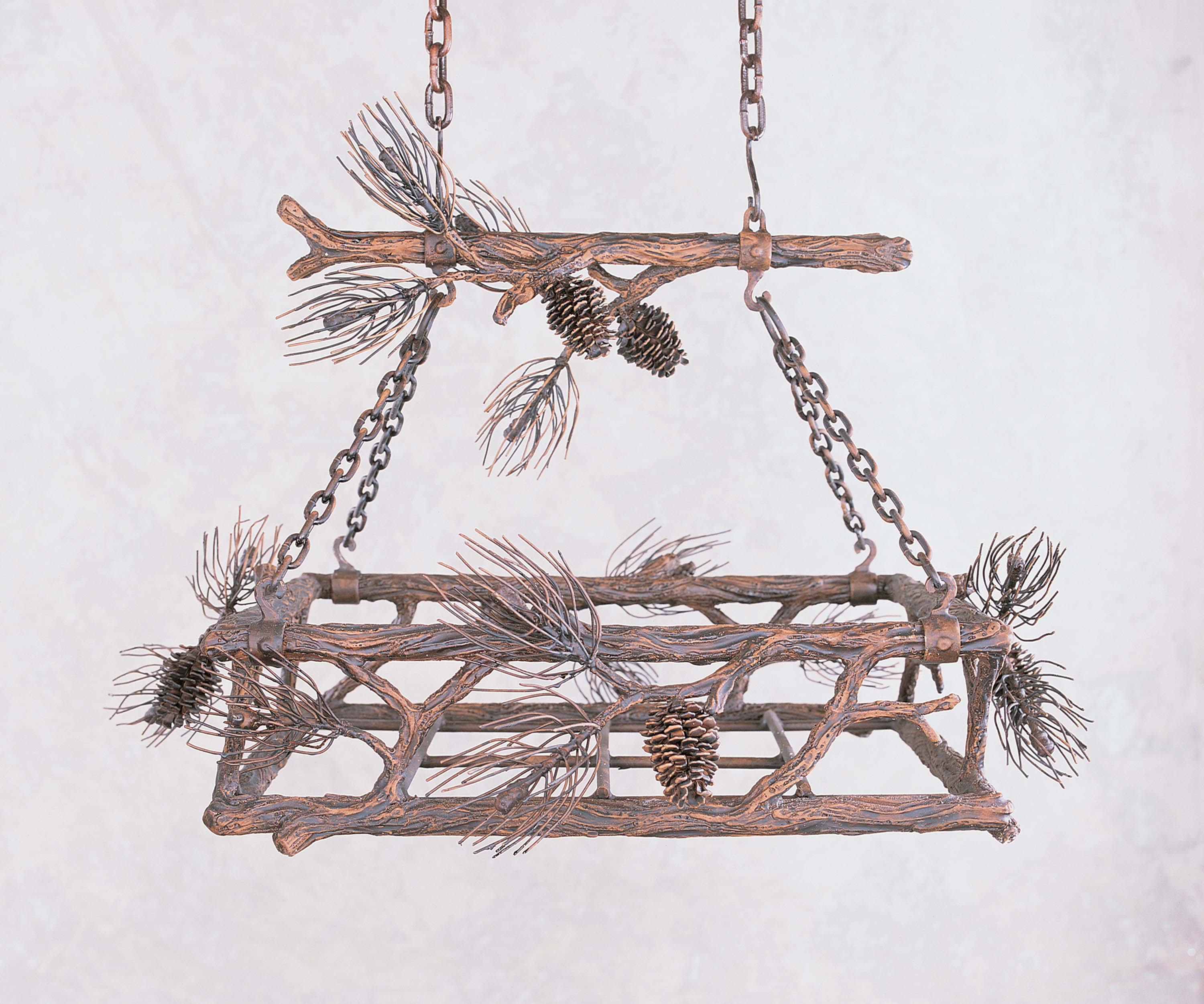 01 Dec

Details: Things We Love
---
Pot Rack by Hammerton
Hammerton melds frontier elegance with the simplicity of nature in this charming pot rack. Available in several finishes and customizable with different types of foliage, this space – saving kitchen accessory keeps pots quick at hand while offering a touch of rustic ambience. Founded in 1995, Hammerton is a custom lighting designer and manufacturer whose artisan – crafted fixtures can be found in luxury residences and leading hospitality properties around the world, but like many businesses it started with two young men in a garage. Hammerton got its foothold by serving the burgeoning second-home market in Park City, gaining recognition for its unique fixtures that are beautifully crafted in proportion and detail. They've long since out – grown the garage, and today operate from a 50,000 – square – foot facility in Salt Lake City.
$5,400 | 12 pot hooks | 801.973.8095 | www.hammerton.com
---
Axis Pendant by Robin Waynee
As the only Native American to have won the most prestigious international design award, the Saul Bell Design Award, and as the only person to have won it three years in a row, jewelry designer Robin Waynee's portfolio needs no padding. Still, in 2014 she won two other top awards in jewelry design: A NICHE award and the MJSA Vision Award. Based in Santa Fe, New Mexico, Waynee says her exquisite designs always center around the stones. She draws inspirations from the gems themselves and from architecture and the natural environment. The Axis Pendant is reversible, with one side coated in glittering diamonds and the other in shimmering pink gems. It was named for the pearl that turns on the pendant's axis to roll coolly across the skin. It's the clean, sculptural design that Waynee is known for, and it even offers two looks for one.
$24,000 | 1.25 x 2.5 inches | 505.820.1730 | www.robinwaynee.com
---
Dakota by Santa Fe Scout Collection
A little bohemian but never far from elegant, Dana Waldon uses reclaimed materials such as Navajo weavings and vintage horse tack to create her line of one – of – a – kind handbags, the Santa Fe Scout Collection. The Dakota bag features warm hues of pumpkin, chocolate, cream and red. Couple these delicious colors with rugged raw – edge leather, hand – twisted fringe, sterling Navajo buttons and a repurposed sterling and turquoise concho belt for a bag steeped in the soulful appeal of the Western tradition. This bohemian chic line is created by hand in Santa Fe, New Mexico, and each bag is named after one of Waldon's beloved dogs or horses.
$1,400 | 10 x 14 inches | 505.660.6442 | www.santafescoutcollection.com
---
Victorian Glory in San Francisco and the Bay Area by Paul duchscherer and douglas Keister
Victorian Glory in San Francisco and the Bay Area is an insightful study of history through a survey of Victorian homes located in and near San Francisco. The book is chronologically arranged by chapters that represent the Gothic Revival, Italianate, Second Empire, Stick and Eastlake, Queen Anne and Shingle Victorian styles, as well as the Edwardian era (1901– 1914). There is also a "Before and After" section, that presents architectural transformations of period – appropriate remodeled Victorian houses. Find additional design inspiration in the chapter on "Victorian Revival Interiors," which showcases recent period – style, interior design projects. This book is an excellent historical and visual resource for those interested in Victorian architecture.
$39.99 | Hardcover, 208 pages | 610.593.1777 | www.schifferbooks.com
---
The Harris Chandelier by Modern Relics
Kathy Burk creates an assortment of fine art in glass from her studio in Bozeman, Montana. From pictorial mosaics to kiln – fired glass bowls to abstract wall hangings and functional fine art lighting, her work emphasizes the multifaceted nature of her medium and her background in interior design. Her company, Modern Relics, offers a series of artwork designed to unify a home's interior, with sconces that complement hanging light fixtures, and kiln glass bowls and mosaic landscapes that help tie room together. "Living in the West, I am strongly influenced by the dynamic landscapes, constantly changing environment and industrious nature of the people who live here," says Burk. "I attempt to reflect these influences within my art by merging organic design with industrial style. My designs incorporate glass, steel, found objects and objects from nature. Working with glass allows me to explore emotive thought and feeling using color, texture, depth and design." The Harris Chandelier is built from kiln glass and steel. As all of Burk's work is influenced by nature, this piece was inspired by the illusion, color and depth of local rivers and streams and reflects her clients' love of kayaking.
$9,500 | 52 x 20 x 14 inches | 406.600.9437 | www.kathyburk.net
---
No. 6 Diego Footed Bowl by Frances Palmer Pottery
Frances Palmer was trained as an art historian, yet found that she always made work with her hands. First as a print – maker and now as a potter and gardener, Palmer loves the process of changing ideas into form. Her handmade ceramics are functional art that can be used on a daily basis. In her creative process, she strives to create uniqueness in each piece, allowing the clay its own discretion and gently shaping it into its finished form. As a ceramicist since 1987, her work ranges from whimsical to classical using white earthenware, porcelain or terra cotta clay. Each piece begins as a lump of shapeless earth. Then using water and a potter's wheel, she shapes each vase, plate or bowl by hand. Palmer lets it dry for a few days and then returns the piece to the wheel for decorating, adding scalloped edges, beads of clay or cutouts to give each work a distinct personality. The pieces are then glazed, either with a classic clean white finish, a white crackle glaze, celadon, shino or a swirling mix of blues and pinks, as found in her Cambridge series.
$600 | 13 x 7 inches | 203.227.7204 | www.francespalmerpottery.com
---
The Pour by Design Haus Liberty
Created by Design Haus Liberty, The Pour was the result of a client's request to create a light installation in a room with exposed industrial columns on either side of a dropped beam. The client wished for a lighting sculpture that hung from the beam and created an architectural relationship with the space. DH Liberty began their process by exploring the concept of rain and how water droplets magnify light in unique ways. Then, they worked with U.K. – based glassblowers and metal engineers to individually create each drop. The raindrops were secured in the distinctive shape of water pouring from a carafe, and the installation's mirrored base reflects light and raindrops endlessly. The Pour is a wonderful example of the beauty that results when art becomes architecture.
$500,000 | 5 feet x 3 feet | www.dhliberty.com
---
Aura Single Ring Chime by Ladies & Gentlemen Studio
The Aura Chimes series is a special edition collaboration exploring sound and kinetics. Metal, wood and leather components by Ladies & Gentlemen Studio (L&G) are combined with handmade ceramic pieces by Seattle artist Nicholas Nyland to create a functional sculpture that sings a soft, delicate, metallic song with the breeze. L&G is a Seattle, Washington – based design studio that focuses on creating a diverse set of products from small objects and home décor goods to jewelry, furniture, lighting and more. Founded by Dylan Davis and Jean Lee in 2010, L&G Studio's playful explorations in materials blends with their resourceful curiosity for an unexpected pairing of form and function. The Aura Single Ring Chime is designed for indoor or outdoor use.
$195 | 10 x 15 inches | 425.610.7408 | www.ladiesandgentlemenstudio.com
---
Bling Box by Deny Designs
Based in Denver, Colorado, Deny Designs is a modern, think – outside – the – box home furnishings company that seeks to transform dull household accessories into original statement pieces. Deny offers a wide assortment of home design products that can be customized with a personal image or artwork by featured Deny artists. When you choose an image from Deny's gallery, that artist earns a portion of the sale, enabling Deny to support art communities all over the world. Fade – resistant dyes are used to transfer the artist's image, or your own, onto almost any interior object you can think of — throw pillows, wall magnets, duvet covers, sheets, shower curtains, coasters, clocks and more. We love this Bling Box for its sly facade. Doubling as both art and an organized hanging jewelry box, the Bling Box can hold more than 120 pieces of jewelry and showcases the work of artist Kangarui, with the print Romantic Boho Buffalo.
$99 | 15 x 15 x 3 inches | 800.973.6091 | www.denydesigns.com