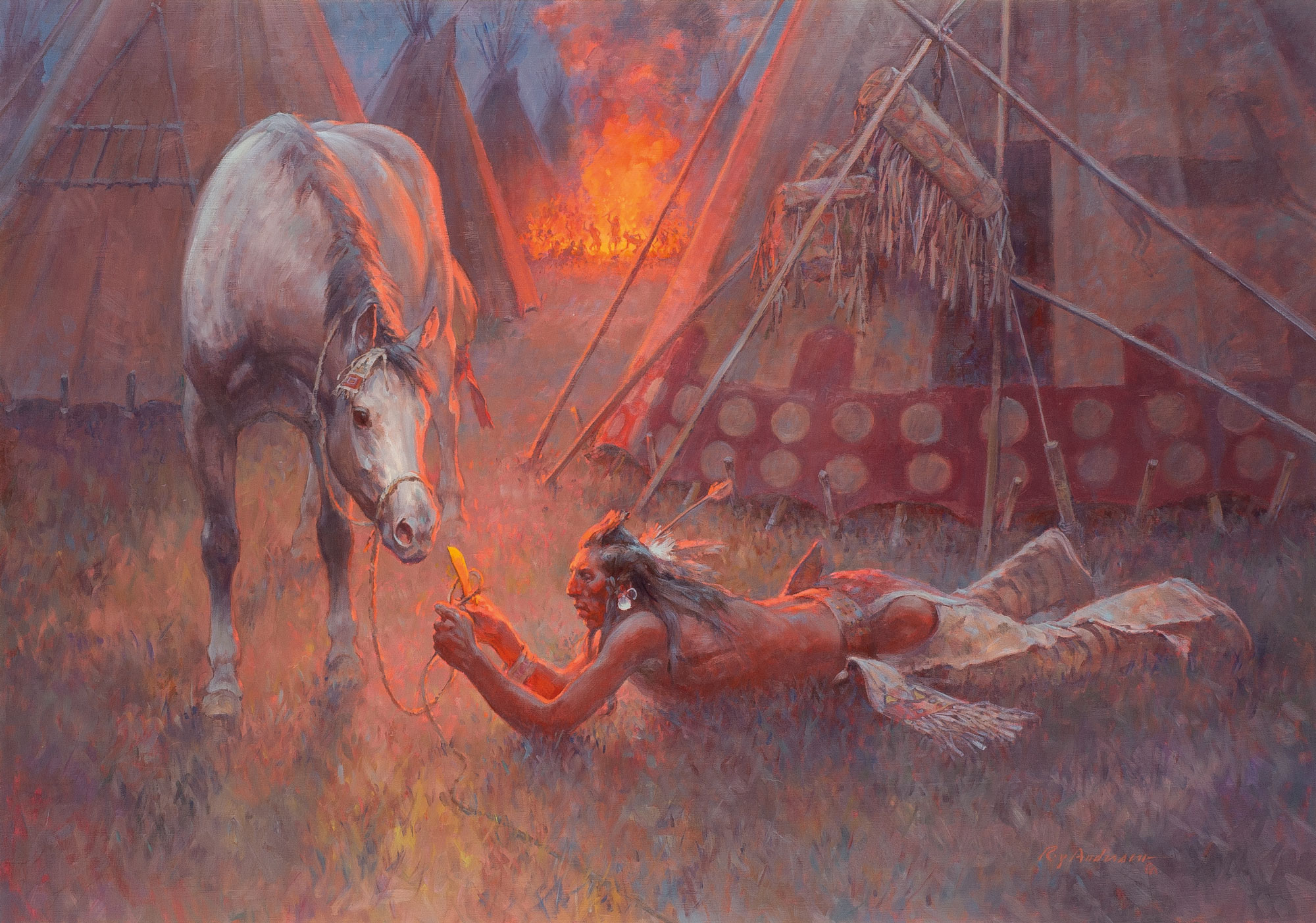 Roy Andersen, "Cutting the Piegan Pony" | Oil on Canvas | 34 x 48 inches | Estimate: $35,000 – $45,000 | Sold: $52,000
27 May

Auction Block: Trending Upward
---
It is a widely held sentiment in the Western art world that great works of art by great artists will invariably attract crowds of collectors who will bid early and often. Spring sales of oils, watercolors and bronzes at auctions from Arizona to Montana proved the truth of the saying, with sculptors such as Wyoming-based Vic Payne shattering former world records.
Nostalgia, sense of place and historical narratives were among elements that contributed to handsome sums for pieces such as a Texas retrospective by G. Harvey that showed the historical convergence of cowboys, cars and a coming oil industry.
Auction owners and coordinators reported an uptick in online collectors, part of a trend that began earlier in the decade but which now is strengthening in part because of technological advancements boosting the reliability of remote bidding.
The work of individual painters and sculptors, including masters such as C.M. Russell and John Clarke, a Montana artist who was both deaf and mute, hit new highs as collectors fell under the spell of Western landscapes, people and wildlife.
Auction officials reported sturdy sales overall with no appreciable dip linked to clients whose fortunes are tied to the fluctuating oil industry.
---
Bonhams California and Western Paintings and Sculpture
April 28
An oil by California painter William Wendt of a winding coastal roadway soared to $1.56 million at Bonhams sale in San Francisco. The 1916 painting, The Old Coast Road, sold for three times higher than the artist's former world record. The iconic image, printed on the cover of an illustrated 1983 book about plein air painters of the Golden State, was among the 86 percent of lots that brought a total of nearly $5.2 million. In addition, Walter Ufer's Indian Entertainer (estimate, $800,000) sold for $1,025,000, leading Bonhams' Director of Fine Arts Scot Levitt to say these totals "sent a clear message that the California and Western art markets are alive and thriving."
---
Scottsdale Art Auction
April 11
History was made with an outsize oil by Texas artist G. Harvey when hundreds gathered in the 10,000-plus-square-foot sale room above The Legacy Gallery in Scottsdale, Arizona, for the eponymous auction that serves as a key second – quarter indicator of the Western art market.
The 36-by-48-inch painting, History in the Making, depicting cowboys on horseback leading a packhorse through grasslands intersected by oil rigs and early 20th-century automobiles, set a new world auction record for G. Harvey at $409,500. That compares to a low estimate for the painting of $150,000 and a high of $250,000. The final hammer price surpassed the artist's former sale record by more than $100,000, says auction partner Brad Richardson.
The piece drew keen interest even before the sale, and the crowd of would-be buyers who submitted bids narrowed to just two as the figure climbed from roughly $300,000 to its final sale price.
Richardson says Harvey's genius in capturing a moment in time and place in which all the elements of tradition and innovation are due to reshape a region added to the painting's allure.
Altermann Galleries launched its first auction of the year at the McCormick Ranch Golf Club in Scottsdale, Arizona, for a sale that saw a 5-foot bronze by leading Western artist John Coleman fetch $44,000, nearly double the low estimate of $25,000. Coleman was among artists whose works sold briskly and realized higher-than-predicted sums during an auction featuring 195 lots that brought a total of more than $1 million.
Altermann Galleries' president Richard Altermann says of the sculpture, "The Rainmaker represents one of the artist's cornerstone pieces produced early in a career that has spanned decades and brought renown for a handling of Western subjects that is at once authentic and imaginative."
"The partners were concerned about the effects that oil prices might have on our customers," says Richardson. "Yes, it may have had some effect. But if it did, we were fortunate enough to have others fill in those spaces and consequently had the second best auction ever."
---
Altermann Galleries Spring Auction
April 9
As has been the practice for the past several years, the Scottsdale Art Auction featured morning and afternoon sessions, with 119 lots and 220 lots respectively, for sales dominated by contemporary Western, wildlife and sporting art.
Buyers appeared in the mood for larger-size works, with a 48-by-60-inch oil by acclaimed Western artist Martin Grelle going for $549,000, nearly $150,000 higher than its top estimate. The painting of Native American riders examining the goods brought by bearded mountain men on the banks of a meandering river is a masterwork of color, with the azure tones of the water reflected in the forest backdrop.
The auction brought nearly $14 million, the second highest for the signature sale, Richardson says. It largely dispelled concerns about gaps in buyers.
Where bronzes have sometimes failed to bring impressive figures on the secondary market, accomplished sculptors such as Coleman can count on exceeding expectations, says Altermann. "Because John Coleman has an excellent reputation in producing sculpture, his secondary market performs better than most."
The 60-by-17-by-10-inch piece depicts a Native American whose bow and arrow are aimed skyward. It was inspired by accounts of sacred American Indian ceremonies described in the journals of deceased painter George Catlin in which appeals were made to the Great Spirit for life-giving water and Earth-refreshing rain, according to the Altermann Galleries.
A gem by Cowboy Artists of America painter Roy Andersen, Cutting the Piegan Pony, brought $52,000, compared with estimates that ranged from $35,000 to $45,000. The large oil-on-canvas captures the theft of a rival tribe's pony by a Crow warrior who would be chief. Absconding with a horse picketed in a hostile tribe's camp was among the acts of daring required to be a leader of the Crow, according to an illustrated letter by the artist that accompanies the painting. Other deeds included being the first to touch an enemy, snatching away a foe's bow or gun, and leading a successful raid, Andersen wrote.
Altermann says he was pleased with the results of an auction that has gained a reputation in the Western art world for offering works at the upper end but also in the middle of the market. "There are a lot more buyers who can afford a $10,000 painting than a $500,000 painting," he says. "When we cater to the middle market as well, we find it makes collecting more approachable for people."
---
The Russell 
March 19 – 21
The three live auctions that make up The Russell, an exhibition and sale benefitting the C.M. Russell Museum in Great Falls, Montana, brought gross sales of $7.8 million, breaking the previous record set last year at $6.9 million.
The three-day event kicked off with a preview party at the museum two days in advance of the centerpiece evening auction on Saturday, March 21. The preview showcased premier paintings and bronzes by the artist whose name is not only emblazoned on the museum but whose work has come to evoke the scenes and spirit of an early American West.
The Russell Live Auction at the Mansfield Convention Center saw a sold-out crowd with 600 seated and roughly 100 more phoning in bids or submitting them online, says Alyse Johnson, museum spokeswoman.
A Russell painting produced in 1895, For Supremacy, illustrating warfare among Native American tribes, fetched $1.5 million, an all-time high for the artist's work at the annual live auction.
The battleground oil successfully vied with Scouting Party, Russell's painting of American Indians on horseback cautiously winding down a rocky mountainside backlit by pale rays.
An early bronze by Russell, Medicine Whip, sold for $400,000, with the early 20th-century piece one of only four known lifetime casts, according to the auction catalog. The sculpture continued a narrative Russell begun in the 1902 painting, Counting Coup (Medicine Whip). The Native American who became a recurring character in Russell's works was modeled after a warrior who claimed to have used a whip to strike a warring Sioux medicine man, thereby spurring the warrior's tribe to victory, according to the catalog.
Duane Braaten, art coordinator for the museum, says the venue attracts Russell devotees and collectors alike, resulting in "consistently strong sales for top quality Russell works across all media." Braaten adds that the artist's  bronzes produced in his lifetime have lately triggered an exceptionally strong response.
BNSF Railway was the overall presenting sponsor of The Russell this year for the second time in two years.
---
March in Montana
March 20 – 21
An ethereal watercolor by a Western artist whose life straddled decades of the 19th and 20th centuries and a rare wooden carving of a mountain goat by yet another long-lived artist quietly stole the show at the March in Montana sale in Great Falls, timed to mark C.M. Russell's birthday.
The signed O.C. Seltzer watercolor, measuring 13.5 by 22 inches, supports the idiom that good things come in small packages. The delicately rendered painting washed by subtle colors brought $51,750, surpassing estimates ranging from $20,000 to $30,000.
In similar fashion, Montana artist John Clarke's carving in wood of a mountain goat standing sure-footed on a rocky outcropping brought $16,000, more than three times its high estimate, at the show presented by the Cheyenne, Wyoming-based Manitou Galleries and the Coeur d'Alene Art Auction of Idaho.
Both of the late artists, who saw settlement of the U.S. West in their youth and the Korean War in their old age, were acknowledged in their lifetimes as masters of Western art. "They were fairly high profile," says Mike Overby, partner of the Coeur d'Alene.
Clarke, an American Indian artist robbed of speech and hearing by a bout of scarlet fever as a toddler, produced carvings in a small cabin in what is now East Glacier Park. His portrayals in wood of the wildlife of his Northern Rockies home infrequently come up for auction in part because the material does not stand the test of time like bronze, says Overby.
Wyoming sculptor Vic Payne saw a new world record set for his bronze, Restless in Santa Fe, a stagecoach scene, which sold for $21,850. Bronze works were in high relief at the sale, which featured sculptures by Western art giants such as Frederic Remington.
The event at the Townhouse Inn featured 700 lots and drew 800 to bid in person, online, by telephone or as absentees for sales that exceeded $2 million, the second highest amount in the auction's 28- year history