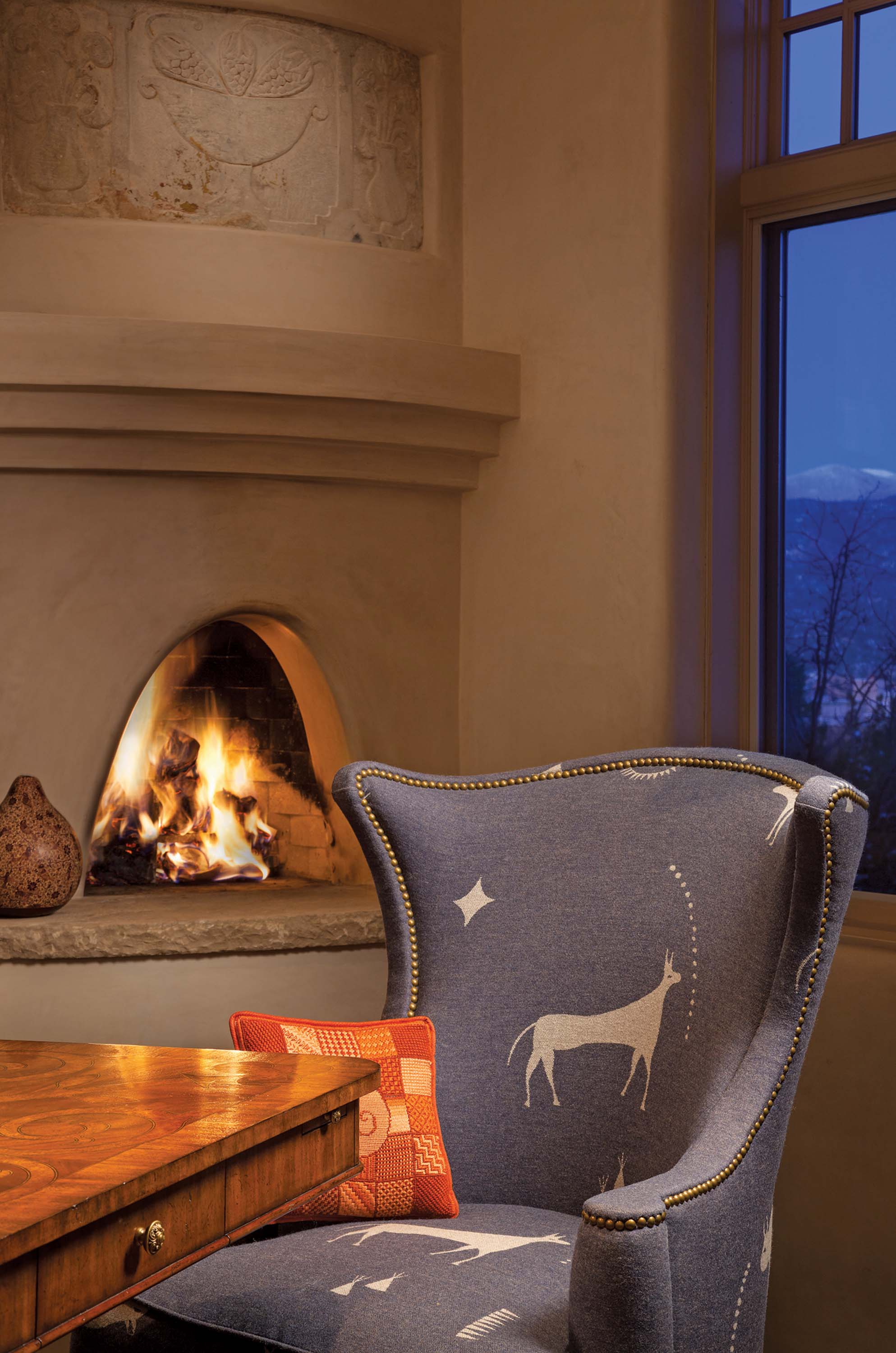 In a cozy sitting area warmed by a simple adobe hearth, Violante and Rochford covered a Leathercraft chair with an abstract animal motif fabric, designed by Andrew Martin, and finished it with nail head trim.
01 Dec

Designing the West: Vibrant Spirits
---
When Pamela and Richard Hanlon of Washington, D.C. bought a second home in Santa Fe six years ago, they knew they needed help. "We were East Coasters, and we really didn't know how to bring the right regional aesthetic into our home," says Pamela. "Plus, we wanted the spaces to look appropriate without screaming 'Southwest.'"
Fortunately, the couple met designers Michael Violante and Paul Rochford — principals of Violante and Rochford Interiors — who did more than help the new-comers design their home. "Michael and Paul became friends who took us under their wings," says Pamela. "They introduced us to people in their wide circle, they shared their favorite places with us and they really educated us about living here."
"People move here from all over the world, and one of the first things they wonder is, 'How do we make this a Santa Fe house?'" explains Rochford. "We both believe the connection we make with our clients is the most important thing, and our goal is always to make the design process enjoyable and joyful."
"When somebody welcomes us into their home, it's a very intimate invitation that we take sincerely," says Violante. "We really take the time to get to know each person we work with, because while every project has our signature, everything we do is geared to our clients' sensitivities."
A native Santa Fean, Rockford formerly co-owned a gallery in town selling art and antiquities when he met Violante, who had lived in Santa Fe for two decades and was traveling the U.S. designing projects for American Country Collection. "When Paul and I discovered that we both had strong interior design backgrounds, we became fast friends," says Violante.
Now partners in business and life, the pair formed their design company six years ago to focus primarily on regional residential work — although they've since done select commercial work and projects all over the country. Their office is housed in a renovated historic 1902 Arts and Crafts home in downtown Santa Fe with a retail showroom, design studio and large fabric library.
The process varies for each project, but the designers will often begin by creating five different plans for a home or space. As the overall palette, finishes and concepts are honed, they'll start picking out larger pieces — usually rugs and furniture first — followed by art, light fixtures, antiques and accessories. For custom pieces they frequently draw from Santa Fe's abundant community of craftsmen and artisans, such as the metalsmith they hired to create period-appropriate reproduction tin light fixtures for the Hanlons' home.
While Violante and Rochford design many vacation homes in the resort town, their clients are increasingly changing their minds about leaving. "They begin with a second home here, but many people discover they love it so much they want to make Santa Fe their full-time residence," offers Rochford. "Then we help them figure out how to incorporate their existing possessions so that their art and furnishings relate to the environment here."
Violante says they look for common patterns, styles and colors to help blend old and new furnishings. "Fortunately, Santa Fe style is all about mixing," he says. "A big part of our job is also helping our clients edit their collections. Together, we sort things in three groups: valuable and sentimental pieces, items that are questionable and things they can give away. If they can let go of the latter two groups, they feel so much lighter — and the project always turns out better."
One of the pair's most challenging renovations was that of their own home, a historic 2,000-square-foot cottage not far from the galleries and restaurants of Canyon Road. With its open floor-plan, white adobe walls and gleaming floors, it's difficult to imagine the home's ramshackle past. "The garden was a mound of solid concrete that had been there for 50 years, and we had to jackhammer it out," says Rochford. "Our personal aesthetic for this home is traditional styling with clean-lined upholstery and antiques blended with contemporary art. The project has been a lot of work and we're always changing the furniture and moving things around, but we absolutely love it here."
"We sometimes work long days, so in our own house we keep things simple," says Violante. "After looking at other people's things all day, our home is a quiet, peaceful retreat that rejuvenates us so we can do a good job for our clients."