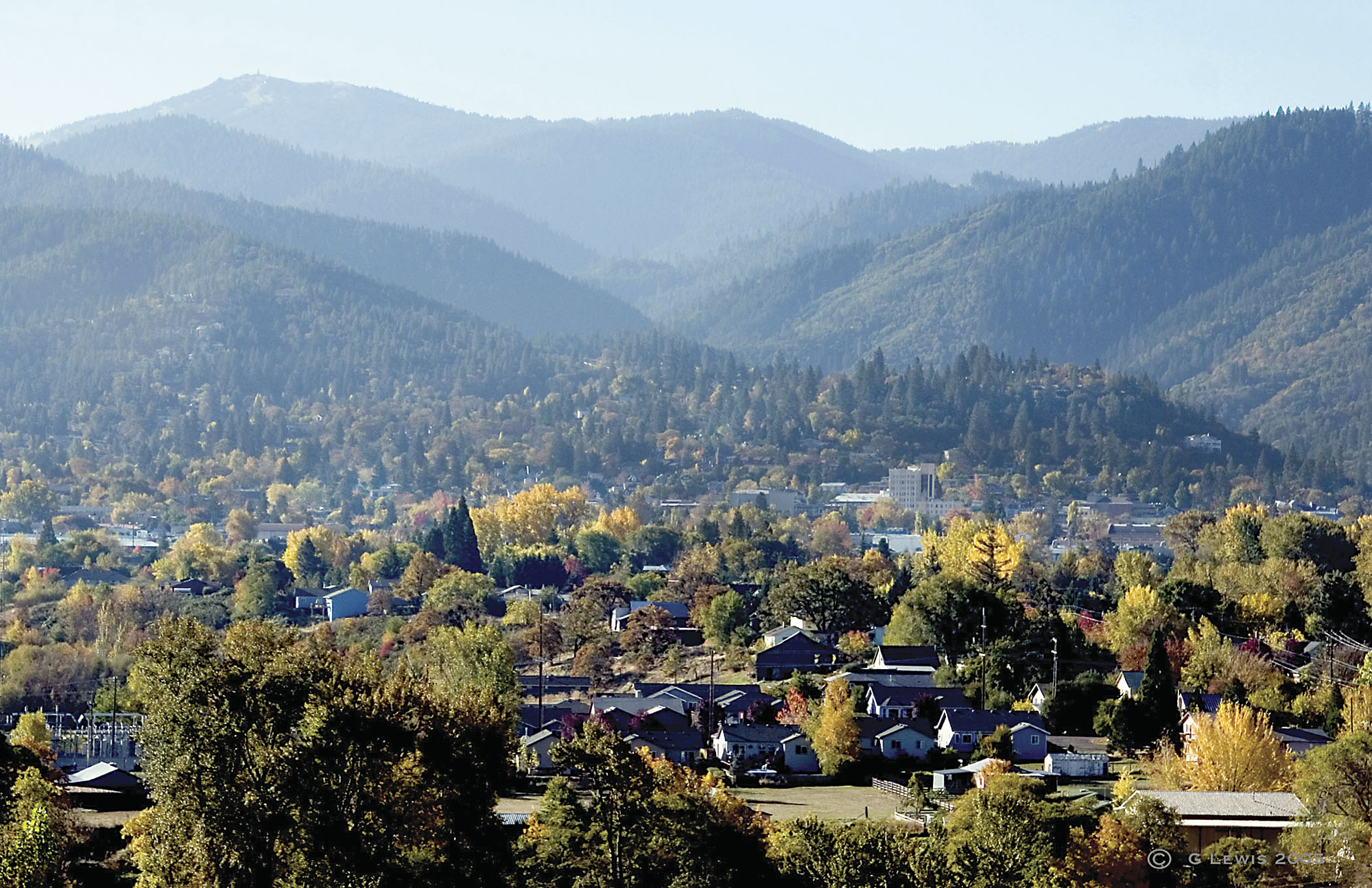 Ashland is situated in the picturesque Rogue Valley near the California-Oregon border. Playgoers usually complement their theater fix with a mix of outdoor activities.
30 May

Wanderings: Ashland, Oregon
---
Seventy-three years ago, a culture-starved Scotsman vowed to bring live theater to the rolling hills of southern Oregon. Driven by his yearning for drama, and a desire to share it with neighbors, Angus Bowmer determined to build an Elizabethan theater, patterned after London's famous Globe.
Taking his cue from that time-honored theater technique — enterprise — the clever Bowmer devised a fund-raising lure. Boxing matches funded construction of the theater and in 1935, the festival debuted. Curious boxing fans soon became devoted play-goers, applauding As You Like It and A Midsummer Night's Dream. Eventually, Bowmer's season grew to 11 works and his outdoor venue became the showpiece of the Oregon Shakespeare Festival.
Today Ashland's charms are as varied as the crowds who lined up for boxing matches and left reciting couplets. In dramatic circles, the festival has become a major tourist attraction and primary source of employment for this hillside town of 21,000. Yearly attendance dwarfs the population — 400,000 for 780 plays.
This season's nine-month docket unfolds in three distinct theaters. In addition to the classic Elizabethan, venues include the handsome Angus Bowmer Theatre, named after the fest's ingenious founder, and the smaller New Theatre. They welcome crowds from February into November.
Bowmer's epiphany blossomed into a Tony-winning phenomenon, a national treasure that attracts world-class performers and an international crowd. Although the fest retains its Bard-honoring handle, it presents more than Shakespeare: a mix of classical and contemporary drama in repertory format. Its 75 actors take various roles in rotation. This year's theatrical road-trip promises a challenging ride with four of the Bard's plays and three American classics. The range includes Othello, A Comedy of Errors and Coriolanus, plus a world premiere, Welcome Home, Jenny Sutter, and a mind-bending comedy, The Further Adventures of Hedda Gabler.
Works by Arthur Miller, August Wilson and Thornton Wilder share billing with a 2,000-year-old Indian epic. In Ashland, storytelling transcends the centuries. As visitors see multiple plays, they soon know the actors, watching them change costume and character. Tonight's Katherina in The Taming of the Shrew may star in tomorrow's cutting-edge drama. Wednesday's leading comic might take a supporting role in Thursday's Hamlet.
Regulars mingle with actors in bars and eateries, discussing the challenges of repertory and the demands of a heavily publicized season. As one of the country's finest regional theaters, O.S.F. proves that American theater is alive and well far from Broadway.
While the play's the thing, the cultural offerings of Ashland complement the town's natural beauty and Rogue Valley's outdoor enticements. Hiking, biking, fishing and white-water rafting compete with wine tastings and historical walking tours, all enhanced by an enticing Mediterranean climate.
A lively visual arts scene lures strollers into galleries. Some of my favorites are David Bjurstrom Studio, with intriguing pencil and graphite drawings; Hanson Howard Gallery with contemporary painting and sculpture; and the Living Gallery with an impressive showing of Pacific Northwest glass and bronze. Each month's First Friday Art Walk gives viewers a taste of what Ashlanders consider "one of the best small art towns in America." Art lovers and theater insiders enjoy regular backstage tours with expert lectures on set building and costume design.
A typical Ashland day begins with a cup of European-style coffee and homemade local berry Danish at Mix, a new coffee shop on the plaza. Ashland Bistro Café (ABC) is time-honored, with good heavier-breakfast fare and newspapers to peruse. Then a stroll to study window menus for dinner: French, ethnic and continental fare is offered in several dozen bistros, pubs and upscale venues. My favorites for elegant dining are the Peerless and New Sammy's Cowboy Bistro. The Black Sheep offers tasty pub fare by the fireplace for less-deep pockets. Alex's is a favorite for drinks and pre-show dinners; Amuse and Chateaulin are great for after-theater nightcaps, appetizers and dessert.
Don't miss a stroll to Lithia Park, a 100-acre oasis of gardens and ponds, to feed the ducks or picnic. Afternoon — unless you've a matinee — offers time for wine tasting or rafting. RoxyAnn Winery has wonderful local wines and both Noah's Rafting and River Trips Unlimited arrange rafting, fishing and wilderness trips on the water. The nearby Rogue River and the Klamath offer accessible and varied river options, from a half-day to a weekend and more.
Then it's show time. You can walk to the theaters from many lodgings; others offer shuttles. The nearby Winchester Inn is one of two dozen fabulous B&Bs. It has a popular Sunday brunch and full bar that has earned a Wine Spectator Award of Excellence.
Hotels include such treasures as the one-time Marc Antony, now Ashland Springs, a jewel resurrected from its "declining diva days." The Village Suites at Ashland Hills, a couple miles down Main Street, offers proximity to hiking, biking and nearby vineyards. Ashland's Bohemian spirit extends to pet-friendly options.
My Ashland forays — I've not missed a year since the 1970s — include two plays a day. On Mondays, when the O.S.F. stages are dark, Oregon Cabaret Theatre offers comedy and revues in a lively former church.
Because Ashland has no commercial airport, you'll fly into nearby Medford, a 20-minute drive. By auto, Ashland is easy to access from Portland, to the north, or San Francisco, to the south.
Ashland's economy thrives on theater traffic and playgoers are welcomed with Main Street banners and a nightly pre-play "Green Show." Chamber and Renaissance musicians join belly dancers, jugglers, and jazz and mariachi players. While watching the free show, you'll see signs: "Need single ticket" or "Have pair of orchestra seats." Many nights sell out, so it's wise to contact the Oregon Shakesepeare Festival early: 866.545.6337, 541.488.5406 or www.osfashland.org.
Finally, if you've imagined having a theater named after you, here's your chance. The New Theatre will change its name when a donor digs deep enough into his pockets.
---
IF YOU GO …
Lodging
Winchester Inn
800.972.4991 | www.winchesterinn.com
Ashland Springs
888.795.4545 | www.ashlandspringshotel.com
Village Suites at Ashland Hills
800.547.4747 | www.windmillinns.com
Dining
Mix
541.488.9885
Ashland Bistro Cafe
541.482.2117 | www.ashlandbistrocafe.com
Peerless
541.488.6067, www.peerlessrestaurant.com
New Sammy's Cowboy Bistro
541.535.2779
The Black Sheep
541.482.6414 | www.theblacksheep.com
Alex's
541.482.8818 | www.alexsrestaurant.net
Amuse
541.488.9000 | www.amuserestaurant.com
Chateaulin
541.482.2264 | www.chateaulin.com
Galleries
David Bjurstrom Studio
541.201.1167 | www.bjurstromstudio.com
Hanson Howard Gallery
541.488.2562 | www.hansonhowardgallery.com
Living Gallery
541.482.9795 | www.thelivinggallery.com
Miscellaneous
For the official lowdown, contact the Oregon Shakespeare Festival
866.545.6337 | 541.488.5406 | www.osfashland.org
For specific answers about lodging or nearby attractions
541.482.3486 | www.ashlandchamber.com
For a concise look at dining, entertainment and more
RoxyAnn Winery
541-776-2315 | www.roxyann.com
Noah's Rafting
800.858.2811 | www.noahsrafting.com
River Trips Unlimited
800.460.3865 | www.roguefishing.com
---
Christene Cosgriffe Meyers' roots are in the West and the arts, as a fourth generation Montanan and longtime critic. During her newspaper career, she interviewed many famous actors and musicians. She is a painter and a pianist, writes for travel and airline magazines and traveled the world with her late husbands, Bruce Meyers and William Jones. Meyers is working on a collection of poems, dividing her time between Montana's Beartooths and the Arizona desert.