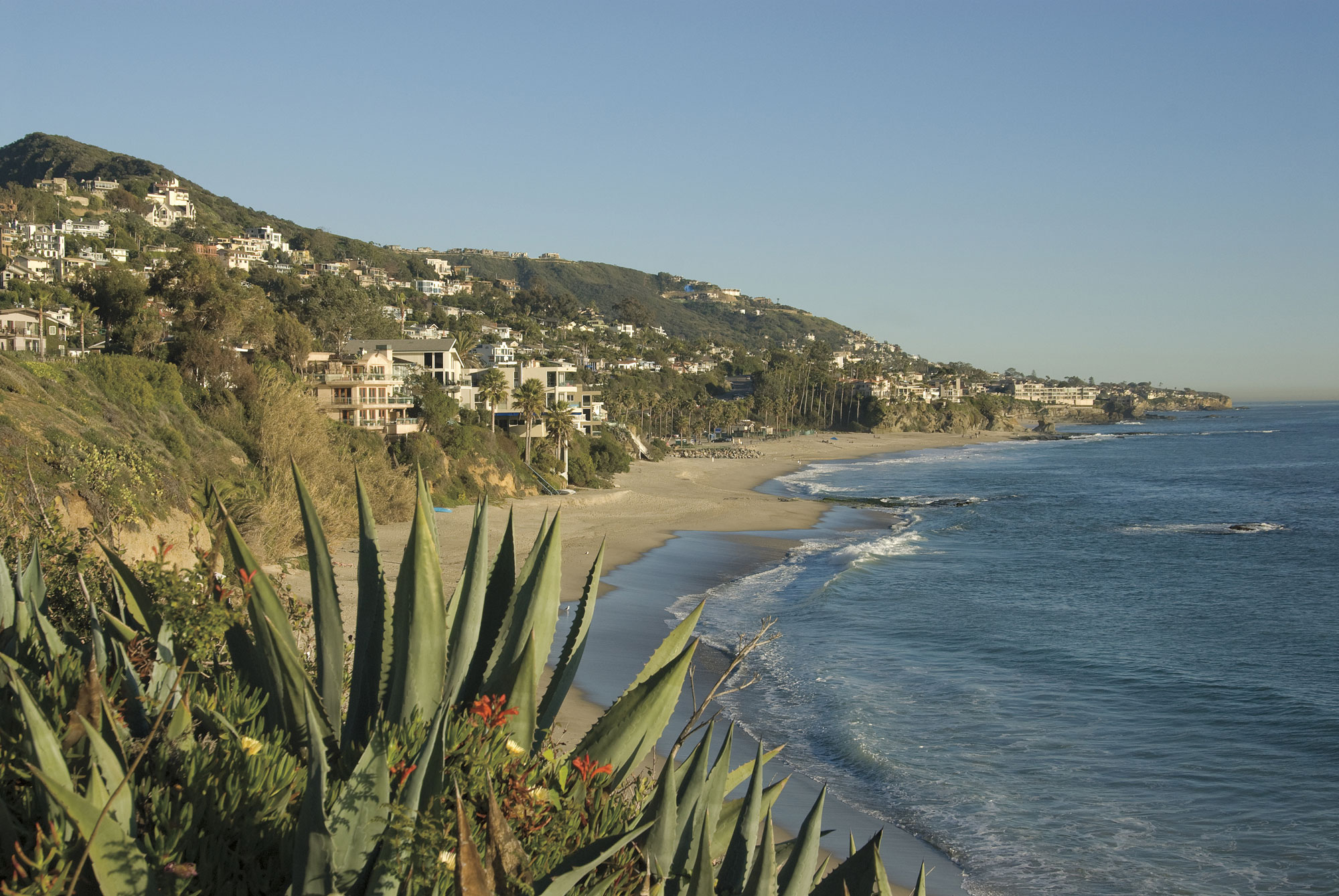 Aliso County Beach is ideal for a sandy stroll.
29 Dec

Wanderings: Laguna Beach
---
Laguna Beach has always been one of California's most beautiful coastal enclaves, a spectacular ribbon of cliffs and coves framed by a backdrop of mountains, halfway between Los Angeles and San Diego. But in a lucky twist, this seductive strip was first discovered not by wealthy vacationers but by plein air painters. The first to arrive was Norman St. Clair, at the turn of the 20th century, when the full-time residents of Laguna Beach numbered 10.
Less than 20 years later, the population had risen to 300, and there were several dozen artists living and painting in Laguna Beach, a number of whom became highly respected members of the California plein air school, including Edgar Payne, William Wendt and Frank Cuprien. Today their work can fetch five and six figures. But their legacy in Laguna Beach extends far beyond valuable paintings.
In 1917, Payne and about a dozen of his fellow painters established the Laguna Beach Art Association. The idea was to provide gallery space for artists working in Laguna, and it was so successful that it soon outgrew its space. In 1929, the Laguna Beach Museum of Art opened on the corner of the Pacific Coast Highway and Cliff Drive, and today visitors can view contemporary exhibitions as well as the work and photographs of the artists who made Laguna Beach not just a gorgeous beach town, but an art lover's destination.
Today Laguna Beach is a bustling, still-beautiful beach town full of shops and restaurants, with dozens and dozens of galleries selling everything from craft art to works by established contemporary artists. You can buy anything from an oil landscape by one of the plein air painters to hand-blown glass sculpture or a painting by renowned contemporary artist Ed Moses. On the first Thursday of each month, some 40 Laguna Beach art galleries throw open their doors for the evening and the city provides a shuttle between clusters of galleries in three general areas — across from the museum; downtown; and just south of downtown, near the Surf and Sand Resort. Modern-day plein air painters still set up their easels on bluffs along the coast.
Each summer, another legacy of the early plein air painters draws thousands of visitors. The Festival of Arts and Pageant of the Masters were born in 1932, as members of the art association cast about for a way to make it through the Depression. The first festival was a small affair, and the pageant consisted of only a few "living pictures," in which locals posed inside a simulated picture frame. These days it has evolved into elaborate, live recreations of the masterworks of art history and includes jazz concerts, chocolate tastings and other attractions. (In 2009, the events run from July 8 – August 31.)
The Sawdust Festival, another summer institution that now has developed events year-round, began in 1968 as a protest against the establishment at the Festival of Arts, which they viewed as exclusionary. Exhibits are all by local artists, who run the festival, man the booths themselves and give painting demonstrations.
The quality of the art available in Laguna Beach varies wildly from amateur to fine art, but it's a great place to get a start collecting. The atmosphere is relaxed and because many galleries show the work of up-and-coming artists, the price is often right. And for people who have no interest in collecting, but would like a striking piece for their home, there's plenty from which to choose. A worthwhile stop is at master glass-blower John Barber's Studio Arts Gallery at The Old Pottery Place, where he shows his work and that of some 30 local artists.
For more than 15 years the Peter Blake Gallery has blazed a trail in showing important California contemporary artists like Charles Arnoldi, Lita Albuquerque and Ed Moses. Sue Greenwood Fine Arts offers up-and-coming artists working in Realism, including John Brosio, Linda Christensen, David Lyle and Gary Ruddell.
"In Laguna, there's something for everyone," says Ray Redfern, owner of the Redfern Gallery, which sells works by notable California plein air painters like Edgar Payne, Frank Cuprien and Granville Redmond, and a few contemporary painters who work in the same style, including John Cosby and Kevin McPherson.
In the early '70s, Redfern bought the entire collection of California plein air painter Donna Norine Schuster, who was born in 1883 and died in a 1953 house fire. Some 600 works by Schuster had been stored in a basement for 20 years. At the time there was little market outside California for the plein air painters, many of whom had been strongly influenced by French Impressionism. Their work was considered derivative, but that attitude has changed considerably. Redfern recently bought back a painting he'd sold years ago for $5,000 (on time payments!) — paying more than six figures to get it back.
When you're not browsing through the galleries, Laguna has some wonderful resorts and restaurants to visit. The perfect way to end a day of gallery browsing is a sunset drink by the beach at Surf and Sand, followed by dinner on the terrace (or near the fireplace) at nearby Sapphire Laguna at The Old Pottery Place. You can kayak, dive, hike and golf in the area. But don't forget to just sit on one of the benches along Cliff Drive and soak in the beauty.
---
IF YOU GO …
Lodging
Montage Resort & Spa is a beautiful, 250-room Craftsman-inspired resort on 30 acres over one of Laguna's most beautiful coves. The resort has an adjunct of the Redfern Gallery, and tours are offered of the many plein air and contemporary works on display throughout. Art classes (with all the supplies included) run $95 for two hours, $135 for four. And Chef James Boyce has turned Studio into one of the area's best restaurants.
Rooms from $795 | mobile.montagelagunabeach.com | 866.271.6953.
Surf & Sand Resort is right on the sand, across the Coast Highway from the Bluebird cluster of galleries (including Redfern) and within walking distance to shops and restaurants at The Old Pottery Place. The bar here is a spectacular spot for sunset watching. From your room, fall asleep to waves crashing. There's also a lovely outdoor lounge with a firepit and ocean views, and a newly renovated spa.
Rooms from $335 | www.surfandsandresort.com | 800.267.4378.
Dining
Sapphire Laguna is owned by Iranian-born Chef Azmin Ghahreman, who offers flavors from his years working around the world. Dishes at this hot, year-old restaurant come from as far afield as Tunisia, Malaysia and Turkey. There's a big outdoor patio with a firepit, and indoor rooms warmed with sculptural glass light fixtures.
The food is fabulous | www.sapphirellc.com | 949.715.9888.
Taco Loco is the in-spot for locals looking for fresh, delicious fast food (fresh-grilled mahi-mahi tacos, for instance). There's plenty of seating, but Taco Loco is also a great place to load up for a picnic on Main Beach, across the highway.
949.497.1635
Museums & Galleries
Laguna Art Museum
www.lagunaartmuseum.org | 949.494.8971
Peter Blake Gallery
www.peterblakegallery.com | 949.376.9994
Sue Greenwood Fine Art
www.suegreenwoodfineart.com | 949.494.0669
The Redfern Gallery
www.redferngallery.com | 949.715.6193
Studio Arts Gallery
www.studioartslaguna.com | 949.376.1619
Festivals & Events
First Thursdays Art Walk
www.firstthursdaysartwalk.com | 949.497.0716
The Festival of Arts and Pageant of the Masters
www.foapom.com | 949.494.1145
The Sawdust Festival
www.sawdustartfestival.org | 949.494.3030
---
Laurel Delp is a freelance writer living in Los Angeles.
When she's not at her Rocky Mountain Idaho base camp, internationally award-winning photographer Ilona travels the world in search of the photographic elixir of color, light texture and form. Whether fine architecture, lush residential gardens or remote mountaintops and seas, her camera works overtime to push the transformation of image to art.