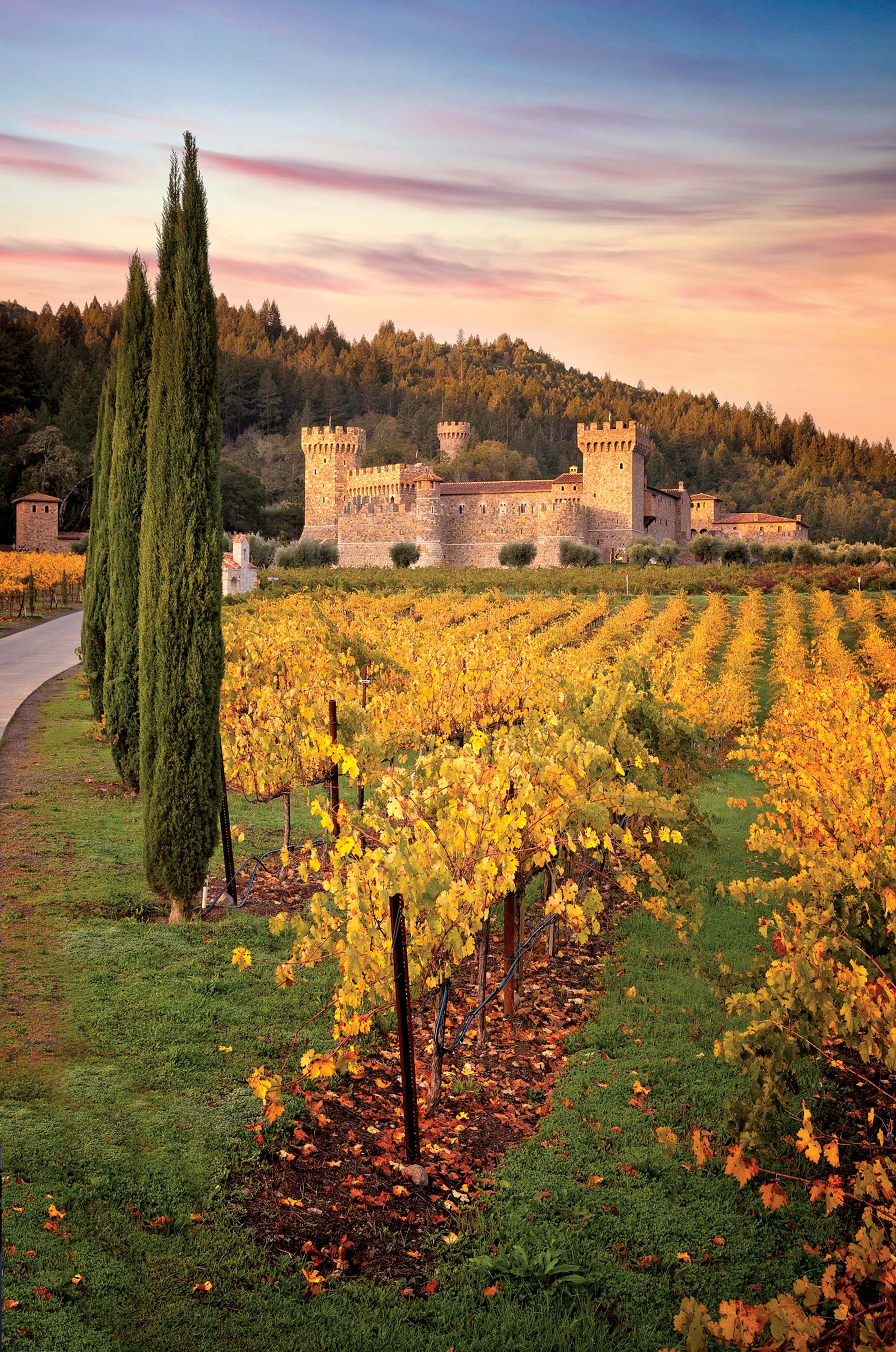 You feel as if you are in tuscany during medieval times at Castello di Amorosa in Calistoga.
04 Aug

Wanderings: Napa Valley, California
---
Crush. The mere mention of the word triggers excitement up and down the backbone of Napa Valley, the undisputed wine capital of America. Seasons orbit around fall crush as trucks rumble in at dawn with pickers eager to harvest. Precious clusters are pressed, juice siphoned into tanks. As the harvest approaches, "you can feel it in the air," says resident Mick Hollis, art director at Ma(i)sonry gallery. "At my kid's school, I see the last names on the children's cubbies, and I can point to the wineries where I have tried the family wines. During crush, parents take kids out of school to see how wine is made, and teachers understand. Everyone understands."
Of course we do.
Fertile Napa is a world unto its own. Technically Napa County, the region supports some 400 wineries across 790 undulating square miles. An hour north of the clamor of San Francisco, azure skies and the hills of the Mayacamas Mountains catch you unawares. And so do vineyards, lots and lots of vineyards.
The main touring towns of Napa, Yountville, St. Helena and Calistoga, lie along the corridor of Highway 29 and Highway 121. As many as 5 million tourists converge annually, not only for wine, but for the art, hotels, spas and restaurants tucked between the vines. You'll be hard pressed to find another place that offers a first-class experience in every category.
Napa is a foodie's Disneyland, touting culinary treats of every ilk. Tiny Yountville boasts the highest number of Michelin stars (a total of six) per capita than anywhere in the world. The mortgage-your-house French Laundry shines with three stars, while single stars go to Bouchon, Redd and étoile.
Can't justify $500 for lunch at French Laundry? There's great grub for bargain hunters, too. Gott's Roadside is a fast-food joint with wine and beer and Niman Ranch burgers starting at $7. The stand is famous for its ahi burgers, shrimp tacos and espresso bean shakes.
Throughout Napa, Italian cuisine is a mainstay. You can shell out a moderate amount of dough at Bosko's Trattoria, which makes a tiramisu so dangerous you will guard it with your life. You can bump up the tab at Bottega Napa Valley, owned by celebrity chef Michael Chiarello. Wood-fired pizzas are crave-worthy at Redd Wood, strutting an industrial-chic vibe. Rooftop dining at The Thomas & Fiagini's Bar is thrilling at this trilevel establishment with Italian and New American fare.
Every foodie field trip must include pilgrimages to Oxbow Public Market, a wonderland of gourmet stalls; the castle-like Culinary Institute of America; and Dean & Deluca and Oakville Grocery for cheeses and chocolates extraordinaire.
Just as important as food is the quintessential Napa wine-tasting experience where you will also savor art. Hall Wines & Vineyards recently installed Bunny Foo Foo, a 35-foot-high steel rabbit named after the children's nursery tune. Museum-quality installations are situated throughout its sculpture garden and on the work floor. Meanwhile, the hilltop Hess Collection boasts a tasting room and second-floor art gallery. And in the valley, Clos Pegase Winery and its seven-foot bronze thumb sculpture is an image that seems to land on every customer's Facebook page. Additional art-centric wineries include Artesa, Jessup Cellars and Cliff Lede.
The wealth of astounding winery architecture delivers unequivocal pow factor at the Persian-themed Darioush Winery with no less than 16 lofty pillars. Also spectacular is Castello di Amorosa, constructed as an ancient Italian castle with a moat and torture chamber. Off the beaten path is Quixote Winery, a goofy Dr. Seuss-like dwelling with no straight lines, capped with a golden turret.
Meanwhile, select art venues are rising as scene stealers. Occupying a former 1902 stone inn, Ma(i)sonry gallery sells artisan furniture, artifacts, paintings and sculptures. It produces its own Blackbird Vineyards wine label while representing small wineries so you can sip and stare at the same time.
For an unforgettable experience, spend a few hours at the di Rosa Preserve. The indoor galleries and outdoor sculpture meadow of exotic and controversial pieces will challenge your concept of art.
Collectors with traditional tastes can escape to the Lee Youngman Galleries for landscapes, bronze sculptures and city scenes. If you are lucky you may meet oil painter Paul Youngman, whose works have been collected by such notables as statesman Leon Panetta and the wife of Muhammad Ali.
Next, Napa earns top honors for numerous spas and exotic treatments. Cabernet body polish, anyone? Calistoga, known for mineral pools, is laced with one spa after another on Lincoln Avenue, its main artery. Try a mudbath at Dr. Wilkinson's Hot Springs Resort, the area's original mudbath house from the 1950s. For views, zip to Auberge du Soleil to soak in an infinity-edged hot tub overlooking Napa Valley. For romantic pampering, book a spa suite with fireplace and soaking tub at Spa Villagio.
You will be ready to turn in after your limbs become as limp as noodles. A pillow-topped bed awaits at headrests such as the hip Bardessono Hotel and North Block Hotel, both in Yountville. Bardessono offers the privilege of tooling around in a Lexus RX sedan, free of charge. Meanwhile, North Block provides complimentary wine tasting at wineries. North Block is reminiscent of an up-to-date Italian villa with arched wooden doors, pool cabanas and outdoor fireplace.
For classic European ambiance, also in Yountville, check out the Villagio Inn and Spa and its sister property Vintage Inn. Both spoil guests with scented flower gardens, gurgling fountains, breakfast and afternoon tea.
The newest slumber parlor is Wydown Hotel, a 12-room abode with a modern aesthetic in downtown St. Helena. Sure, the property lacks a restaurant and pool, but the good news is that you get free passes to an upscale gym and spa, and you are steps away from boutiques, eats and galleries.
When you require perspective, nothing is better than lifting off in a balloon, seeing elongated shadows of your basket below. Others may prefer cycling between vineyards for photographs of the ripening bounty. Outfitters Napa Valley Aloft and Napa Valley Bike Tours can set you up with ease.
This region is indeed a bucket list destination. It is a bottomless treasure trove of first-class restaurants, art, wine, spas and lodging destined for infinite visits. And remember, it's crush season, and if you suddenly get the urge to come, everyone will understand.