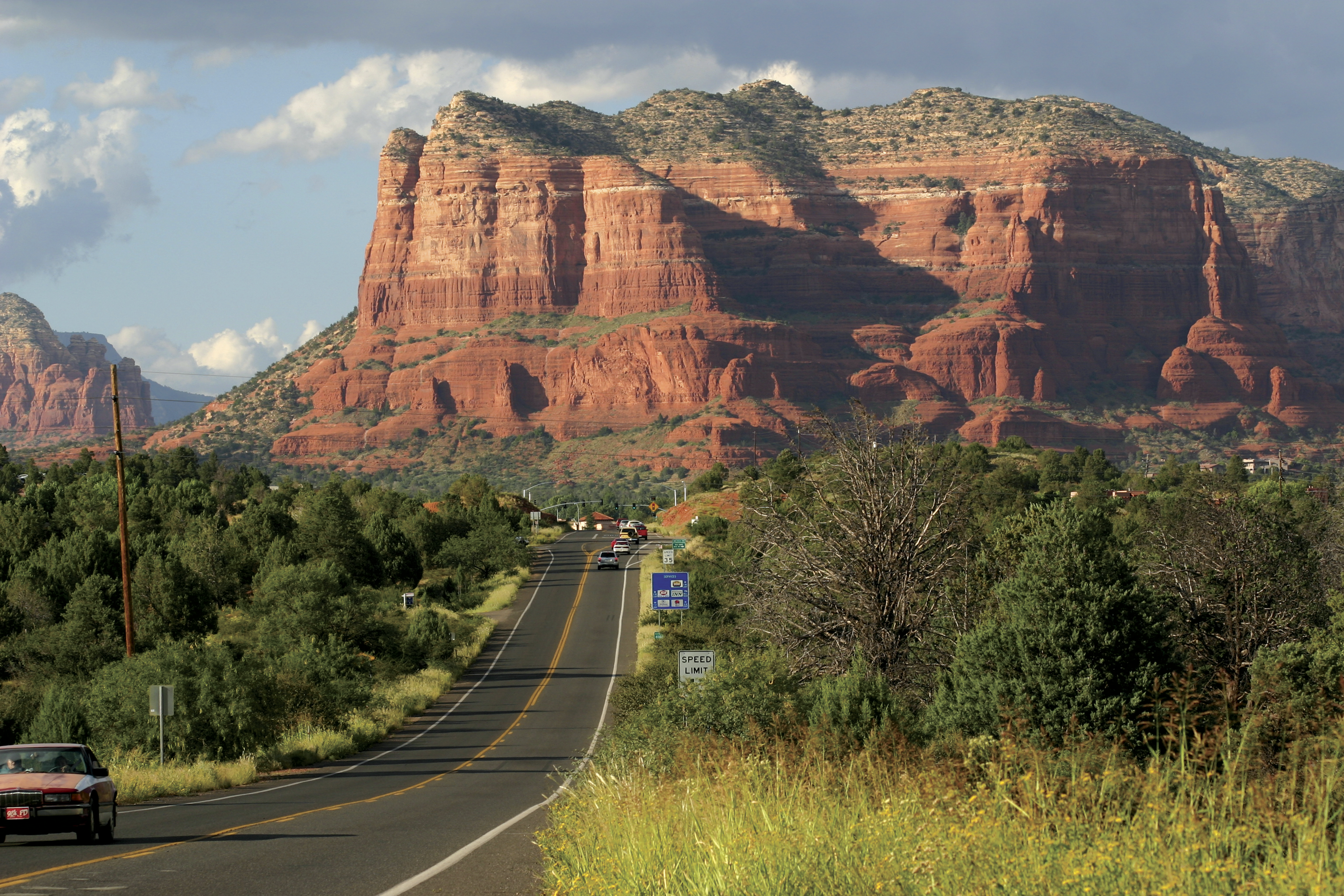 Soaring red rock monoliths like Courthouse Butte define the Sedona skyline. Photo: Sedona Chamber of Commerc
01 Sep

Wanderings: Sedona, Arizona

Late afternoon seems to trigger a mass exodus from Sedona. As if by signal, a stream of traffic pulls off main roads and heads for the airport. Yet folks aren't rushing to catch a flight out of town. They're angling for high ground. Sedona's airport straddles a long mesa and it's on this elevated perch that crowds assemble for the red rock sunset and to savor the creamy, dreamy high desert light that follows.

Nestled at the mouth of Oak Creek Canyon, Sedona is ringed by sandstone buttes, sculpted formations and erosion-gnawed canyon walls. This is the raggedy fringe of the Colorado Plateau; that massive uplift that exposes the marrow of the land across the Southwest. It's only sun, sky and stone, but rarely does the combination prove so devastating. When USA Weekend compiled its "Most Beautiful Places in America" list, Sedona claimed top spot.

No surprise that such dramatic setting and scandalous light has been a powerful lure for artistic types. Surrealist Max Ernst arrived in 1946. Joe Beeler and pards formed Cowboy Artists of America in a local saloon. That diversity continues to fuel Sedona's vibrant art scene.

The town is bursting with galleries of all flavors. Many are strung along State Route 179 in the Gallery District. Start at Tlaquepaque Arts and Crafts Village, Spanish-style buildings reminiscent of a Mexican hamlet where cobblestone walkways meander beneath arched doorways and canopies of Arizona sycamores. Tlaquepaque (pronounced Tla-keh-pah-keh) houses a collection of restaurants and retail shops, including Mountain Trails Gallery, with vivid portrayals of Old West scenarios in bronze and on canvas.

Continue south on S.R. 179 to the heart of the Gallery District, starting with Garland's Navajo Rugs, a recreated trading post that carries hand-carved Hopi kachina dolls, pottery and sand paintings, and claims the largest selection of Navajo rugs in the world. Next are the elegant pueblo-style Hozho buildings, home to the M.L. Coleman & J.N. Muir Studio Gallery, Lark Art, and The Lanning Gallery, which has been bringing an impressive roster of both classic and contemporary artists to Sedona for 25 years. Lannings' sister gallery, the 40-year-old Turquoise Tortoise gallery, is an even longer-running mainstay of the art scene, offering Native American art and jewelry, plus work by a range of contemporary Southwest artists.

Hillside Sedona includes El Prado Gallery and James Ratliff Gallery, two of Sedona's most prestigious, set amidst a courtyard adorned with whirling kinetic sculptures and water features. New sidewalks make the Gallery District pedestrian friendly.

Closer to the heart of town, in Sedona's Uptown, local favorite Goldenstein Gallery respresents more than 60 artists and features an exceptionally broad selection of art, from Southwest paintings and Western bronzes to Tibetan Buddhist pointillism.

Visitors wanting to maximize their artistic explorations can time their visit. Every first Friday of the month, year round, many of Sedona's prominent art galleries host an evening of openings, demonstrations and receptions known as the 1st Friday Gallery Tour. The event, from 5 to 8 p.m., often lasts longer because the locals tend to swoop in late. No one parties like art lovers.

And bonus: Jerome Art Walk takes place the first Saturday of every month, 5 to 8 p.m. Jerome, a mining town turned artist haven, clings to the side of a mountain 30 miles away. Galleries specializing in contemporary to funky line the twisted streets where brothels and saloons once stood. A couple of saloons still stand.

Sedona perches among a tumbled chaos of sandstone, surrounded by 1.8 million acres of national forest. Don't resist the siren song of the outdoors. Pink Jeep Tours has been bouncing into the outback for 50 years. The Broken Arrow tour combines stunning vistas and 4WD acrobatics as Sedona's iconic off-road adventure. Earth Wisdom Tours specializes in vortex and medicine wheel tours, allowing guests to explore the spiritual side of Sedona.

Once appetites are whetted, Elote Café dishes up visionary Mexican cuisine. Start with the signature elote, fire-roasted corn fresh off the cob, tossed with spicy mayo and cotija cheese. Elote Café uses local products when possible, including wines from nearby vineyards. The romance factor in the villa-like interior of Dahl & DiLuca Ristorante Italiano is as high as the lights are dim. The food is so authentic you expect Tony Soprano to walk in. Try the Pollo al Rosmarino, boneless chicken breasts sautéed with pancetta, mushrooms and onions in a delicate rosemary-marsala wine sauce.

Sedona accommodations range from woodland cabins to romantic B&Bs to all-inclusive resorts. El Portal is a resplendent 12-room hacienda built using rough-hewn river rock, reclaimed wood and one-of-a-kind period furnishings from the Arts and Crafts movement. Each luxury suite includes such features as adobe fireplaces, stained glass ceiling tiles and arched windows.

A $25 million expansion to L'Auberge de Sedona added hillside cottages with unobstructed red rock views to the luxurious resort on the banks of Oak Creek. Its popular creekside cottages have also been remodeled to include expansive decks, gallery windows and outdoor roofless showers.

And FYI, the sunsets from Airport Mesa are spectacular but crowded. For a quieter experience visit Crescent Moon Picnic Area, known locally as Red Rock Crossing, and watch the fading light melt down the sides of Cathedral Rock like warm honey.