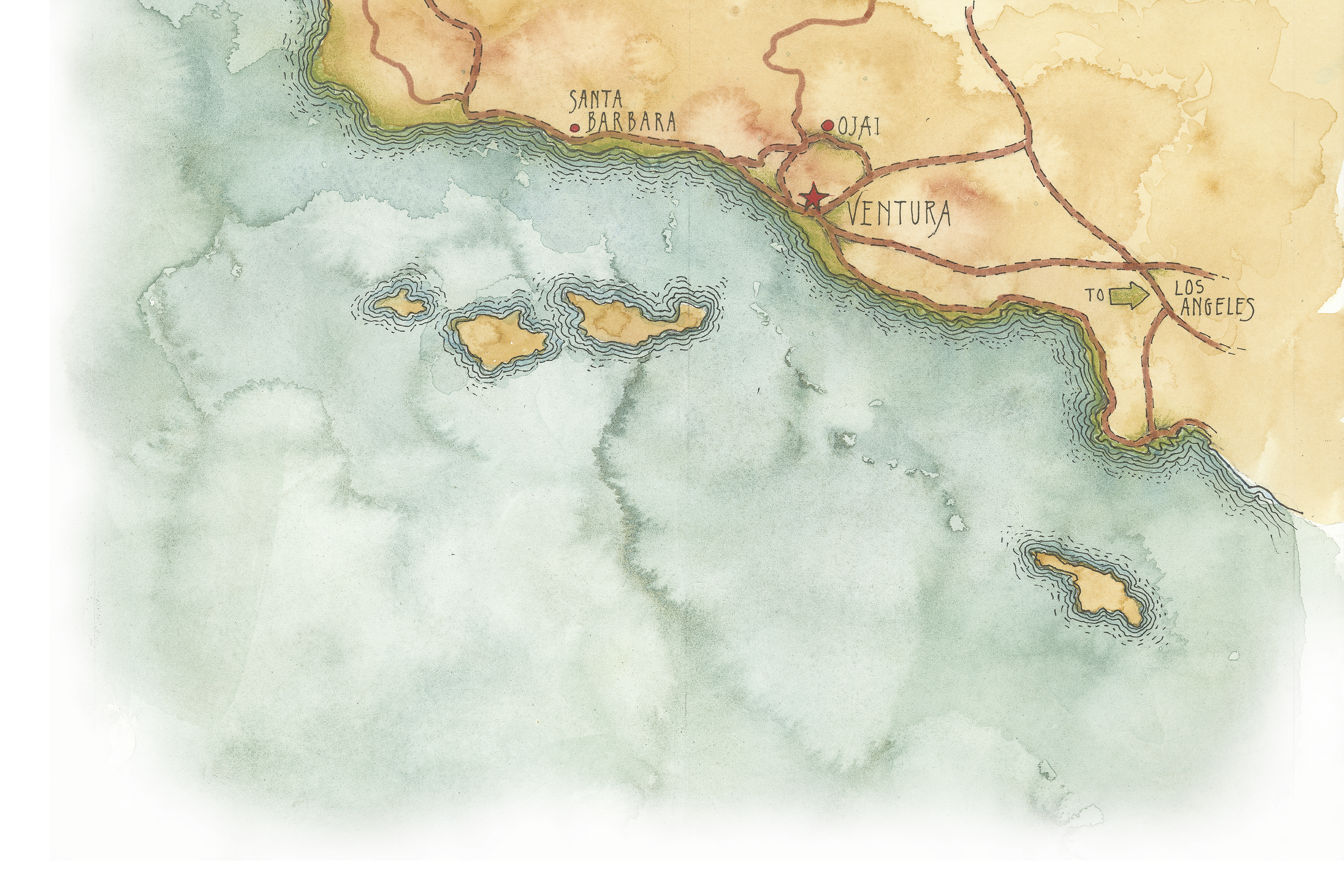 01 Sep

Wanderings: Ventura, California

Had the freeway not so dramatically sliced the city of Ventura from its oceanfront, it might have long ago matched better-known, more upscale artsy coastal enclaves Laguna Beach or Carmel-by-the-Sea. But cut the freeway did, in the late 1950s, and for decades Ventura remained a modest, working-class town bordered by agricultural fields, and gradually encroached upon by the Los Angeles bedroom community, Camarillo. For years, the main reason an Angeleno visited Ventura was for the funky vintage, antiques and collectibles shops that lined Main Street. It was easy to breeze through a few shops on the way to or from Santa Barbara and completely fail to notice Ventura's considerable charm.

That charm includes the historic San Buenaventura Mission, originally built in 1782 by friar Junipero Serra (who built missions up and down California), then rebuilt after a fire in the 1790s; several 19th century adobes; the Beaux Arts San Buenaventura City Hall, built in 1912; and Spanish Colonial revival and Victorian homes. Much of Main Street was built in the 1920s, including one of California's early tiled shopping courtyards. Erle Stanley Gardner created Perry Mason and wrote his first two books while practicing law in Ventura. The Renaissance revival building (opened in 1926), on the corner of Main and California, where he kept his law offices, is now named for him.

Of course, the charm didn't go overlooked. This laid back, not monstrously expensive, and laissez-faire community was for years a magnet for artists and crafters. In 2007, Business Week online named Ventura one of the best places in the country for artists. Sunshine, mild weather, good local produce, surfing, the Channel Islands just offshore — there was no downside beyond the relative obscurity that comes as the result of not working in a big city. And since the freeway is elevated, locals just walked under it to reach the water. But real estate along California's coast inevitably goes up in value, making it more difficult for non-established artists to live the dream. Ventura's tarted-up harbor, beaches and carefully cleaned-up historic downtown, and its proximity to Los Angeles, make it an increasingly desirable place.

Enter WAV. The recently opened Working Artists Ventura provides affordable housing for artists in a green (LEED-certified) space that resembles a sprawling modern college dorm — if college dorms had duplex one-bedroom apartments. Hundreds of artists from every discipline — painting, sculpture, music, dance, theater, ceramics, crafts — applied for a spot; 77 artists from 21 countries won spots at WAV. Walking through open live-in studios during the mid-April official opening ceremonies, there was no shortage of stories of older artists who'd been rescued from dire straits, balanced by the excitement and enthusiasm of young artists just getting a start.

"I dedicate WAV to the arts, the mystery ship of the soul," said Chris Velasco to loud cheers at the building's dedication. He's the CEO of PLACE, the nonprofit responsible for building the complex.

Apartments that open on the main plaza have roll-up doors that reveal their workspaces for open houses. "Vibrant" is such an over-used word that it's almost lost its impact, but it perfectly describes the atmosphere at WAV, where artistic cross-pollination and social life that embraces all ages creates energy and excitement. Visitors can soak it in and take advantage of frequent performances and open houses.

One WAV resident has been fostering art in Ventura for 20 years. Not far from WAV, in a manufacturing and warehouse neighborhood, is Art City Studios, the baby of sculptor Paul Lindhard. Art City not only sells high-quality stone (granite, marble, sandstone) and found pieces (fence stones), but provides space for artists to work and display their art. At one time, artists lived on the property, but the city put an end to that and, for a time, Art City was in danger of closing. But the grounds still hum and shriek with the sounds of sanders, saws and welders and the occasional radio. There is sculpture everywhere. By the entrance, the stone ranges from great slabs to shapes that seem already sculpted. "I fall in love with them," Lindhard explains, wetting a piece of stone he's carving; the water suddenly reveals sinuous veins. Some of his customers merely want beautiful stone for their gardens, but most of it will go to artists.

Though Ventura's downtown has been cleaned up and Main Street has gone more upscale, the area continues to embrace its vintage and antiques shops. But there are also more art galleries, more sidewalk cafés, more interesting restaurants. On warm weekend nights the sidewalks are packed. At The Wine Rack, locals sample wines and catch up on the latest with their dogs in tow.

One not-to-be-missed spot is Watermark Restaurant, housed in a building that began life in 1906 as the Ventura Power Company. It was remodeled as a bank in 1928, and then went through many incarnations, often with its best assets painted or walled over. Today its beautiful bones have been carefully restored, along with a hand-painted ceiling and early-California themed murals by Norman Kennedy in the 1920s, and an elegant onyx-topped bar. A third floor has been added, and you'd never know it eating the excellent fresh seafood and local meats and produce at the quiet, romantic Watermark, but the roof is W2o Lounge — a crowded dance and drinking spot with a well-dressed, young crowd. Another great spot on Main Street is at the opposite end of the spectrum — the affordable, excellent taqueria Maria Bonita. The Sidecar Restaurant, in an old railway car, serves American cuisine with an emphasis on fresh local ingredients.

Ventura skates obliviously over the line between fine art and arts and crafts, which can make for interesting viewing. As well as galleries showing local artists, former Los Angeles gallerist Sylvia White holds down a spot on east Main Street — the Sylvia White Gallery — featuring the work of internationally renowned artists such as John Baldessari, Ed Ruscha and William Wegman.

What's the fly in this ointment? It's a small one. There are no five-star hotels in Ventura, where the choices hover in the three-star range. But 12 miles inland is Ventura's sister city, Ojai, and the beautiful Ojai Valley Inn & Spa, where the main hacienda-style building was completed in 1923. The sprawling white adobe inn, with its red-tiled roofs and tiled hall and stairways, is known for its golf course, and the spa, where the Moorish-inspired tile work is knock-out gorgeous. Ojai itself is another artists' haven (the famed potter Beatrice Wood was a longtime local), and its historic main street arcade houses galleries and shops. Ojai is known for its prestigious annual music festival, and a budding film festival it shares with Ventura.

The Ojai valley is famed for its "pink moment" — the exquisite few minutes at sunset's finish when the east-west valley produces a glowing delicate pink that colors the mountains and is absorbed rather than reflected by the white adobe of the Ojai Valley Inn.
---
Laurel Delp is a writer in Los Angeles, California.