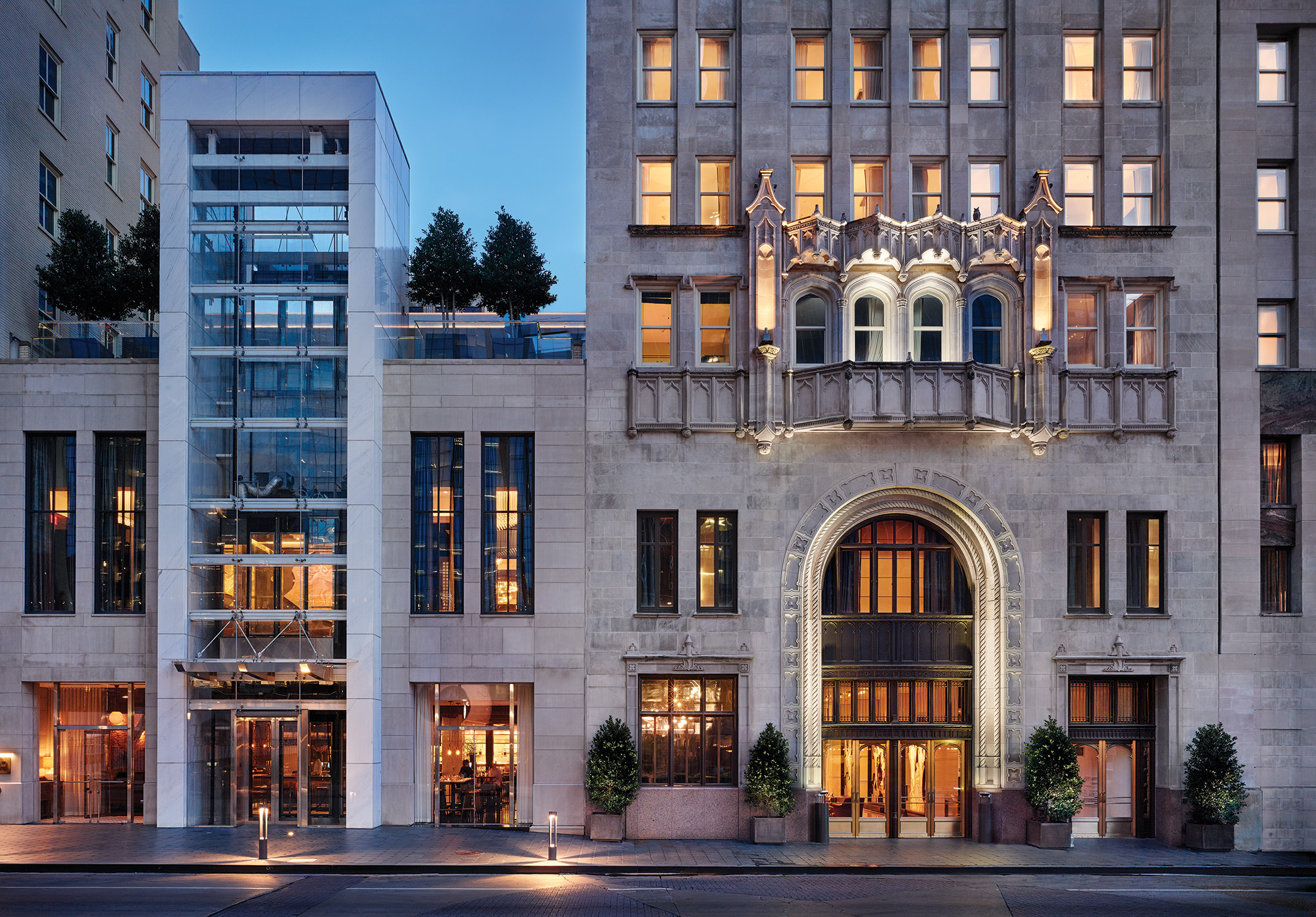 The Joule is a stunning revitalized 1920's Neo-Gothic landmark in downtown Dallas, Texas. It combines restored buildings and several new structures.
12 Sep

Western Landmark: The Joule
---
The Joule hotel in Dallas, Texas, was named for the international unit of energy, an appropriate primer for the dynamic experience contained inside.
The 161-room boutique hotel is located downtown, adjacent to the flagship Neiman Marcus specialty store and within walking distance of the vibrant Arts District, the hub of visual and performing arts in the city. Owned and operated by Headington Companies, The Joule opened in 2008 and underwent an extensive expansion and renovation completed in 2014. Award-winning interior designer Adam D. Tihany is the mastermind behind the design, which strikes a sophisticated chord between Old World and contemporary.
Located in a restored 1920's Neo-Gothic landmark building, The Joule is at the center of a $150-million-plus, multiyear project Headington Companies is spearheading to revitalize Dallas' Main Street. The group of properties spans nearly a city block and consists of the hotel along with three renovated 1930's buildings and several new structures.
The Joule itself offers an assortment of attractions, including boutique retailers, an 8,000-square-foot subterranean spa, restaurants, an underground cocktail salon and more. There are also special event spaces, a fitness studio and a rooftop terrace with a glass pavilion. The Joule's rooftop also boasts a stunning glass-fronted pool picturesquely perched 8 feet from the building's edge.
Inside, The Joule is adorned with museum-quality artwork collected over the years by hotel founder and proprietor Tim Headington. The exceptional blue-chip art collection — featuring works from artists such as Tony Cragg, Andy Warhol and Richard Phillips — reflects not only Headington's perspectives and tastes, but also the company's focus on art and design in both private and shared settings.
"In the last decade, Dallas has become a legitimate arts destination, respected internationally for its museums, architecture and private art foundations," says curator John Runyon, who collaborates with Headington and other team members to determine which pieces will be showcased at Headington's various properties. "The city attracts a steady stream of museum board members, gallery owners and art collectors from all over the world," he says. "Creating an art-centric experience at The Joule's inception could not have been better timed."
The artwork displayed throughout the hotel is uniquely accessible. Runyon asserts that The Joule's collection is not only thought-provoking, but it also naturally complements the hotel's interior environment, allowing guests to engage with, rather than just observe, each piece.
For instance, guests are greeted with salvaged Mid-century mosaics by Millard Sheets in the lobby and other common areas. Tony Cragg's brightly colored bronze sculpture, Outspan, bedecks the lobby bar, and there are commissioned bronze works by Anthony Pearson in the spa. Artwork from Bram Tihany hangs in each of the rooms, suites and penthouses. One of the most playful installments is Tony Tasset's Eye, a 30-foot fiberglass eyeball sculpture that overlooks a landscaped event site managed by the hotel.
"Downtown Dallas is experiencing a transformation with a growing residential population and retail scene," says Runyon. "Headington Companies has been at the forefront of this revitalization, and The Joule is at the epicenter of that energy."
It seems the hotel lives up to its name.