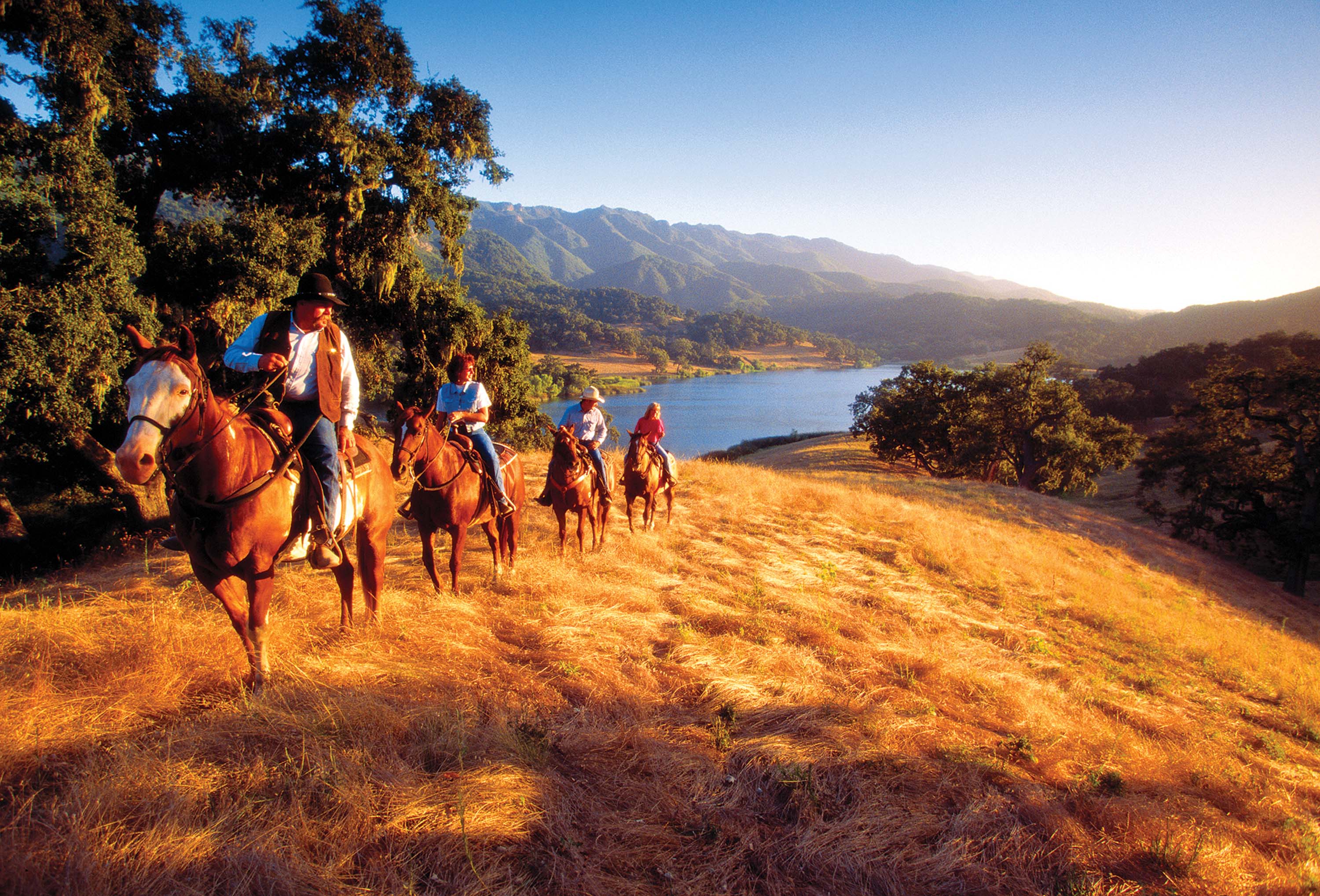 Alisal's 10,000 acres provide the backdrop for 50 miles of horseback riding trails.
19 Oct

Western Landmark: Alisal Guest Ranch
---
Deep sleepers take heed. Your dreamy slumber at the Alisal Guest Ranch and Resort may suddenly be interrupted at dawn by a call-to-prayer-like chant, compliments of a choir of crowing roosters. Then, before your sensory funcations kick in, you might be startled by what sounds like a gun being fired (at the roosters?), but what is actually the ranch wrangler snapping his whip to corral a team of saddle horses.
Well, good morning buckaroos. Time to tune out the urban façade and tune into the sounds and culture of a day in the life on a guest (aka dude) ranch.
At this family-friendly retreat tucked away in California's temperate Santa Ynez Valley, just outside the quaint Dutch town of Solvang and two hours north of Tinseltown, the Alisal (a Chumash Indian word meaning "grove of sycamores") serves an infusion of Western-flavored hospitality year-round to guests with an appetite for an unplugged getaway. That includes a host of A-list celebrities in quest of an under-the-radar escape, the likes of Barbra Streisand, John Travolta and Kevin Costner, or even Clark Gable, who got married in Alisal's old library. Why, even the 40th president, Ronald Reagan — who was starring in movies when the Alisal began accommodating up to 30 guests in 1946 — eventually purchased a ranch in 1974, on land adjacent to the Alisal. When Rancho del Cielo served as the "Western White House," Alisal vacationers straying too close could have found themselves confronted by the presidential posse.
Those are days of yesteryear. This is the New West and Alisal, still a working cattle ranch surrounded by 300-year-old sycamore and oak trees, can now handle up to 200 guests in the 73 California ranch-style studio cottages and suites with high-beamed ceilings, woodburning fireplaces and horseshoe doorknockers. First-time visitors, be forewarned that what you will not find in your quarters are telephones or televisions. Yes, old traditions die hard. But that is exactly what the Jackson family — the compassionate owners of the Alisal since 1943 — has nurtured at the resort. They do so to create memories for couples, families and corporate groups that return year after year. Alisal's only surviving original guest from 1946, at 100 years old, is a living testament to this history.
"We have such strong, deep roots and history," says David Lautensack, the resort's general manager since June 1994. "Staying at Alisal is about the experience and traditions that [have] been going on here for 67 years. In fact, we have one family that has been coming for 35 consecutive years, booking the same room and dates every year, and has also established an Alisal vacation fund to make sure their tradition continues for future family generations."
Once the cock-a-doodle-doo alarm reverberates through the crisp morning air, the property's 10,000 acres — with 50 miles of trails and a 100-acre spring-fed lake — beckon adults and kids to a full slate of activities. These include the opportunity to saddle up a horse or hop on the hay agon for the breakfast ride (select days) to the historic Adobe Camp for some flippin' tasty flapjacks accompanied by cowboy poetry and Western tunes around a blazing campfire. If you miss this adventure, a breakfast buffet (and dinners, both included in the room rate) is served in Alisal's convivial dining room under the guidance of executive chef Pascal Godé, who prepares all menu items in-house, from the smoked pork and brisket to the mouthwatering pastries.
To play on greener pastures, trade in your boots for spikes and challenge one of the two championship 18-hole golf courses: the Ranch Course (reserved for ranch guests) or the public River Course, the backdrop for the golf scene in Sideways, the 2004 comedy-drama that brought notoriety to the Santa Barbara wine region.Whether it's horseback riding, fishing, boating, swimming, tennis, biking, boot camp or body rejuvenation in the 6,000-square-foot fitness center and spa, recreational pursuits at the Alisal can be as heart pumping as is tolerable.
"In a hideaway so close to civilization, I truly believe the Alisal holds the magic that nature gives," says Lily Larraide, director of reservations and front office. As a ranch fixture for 34 years, nobody appreciates this better.