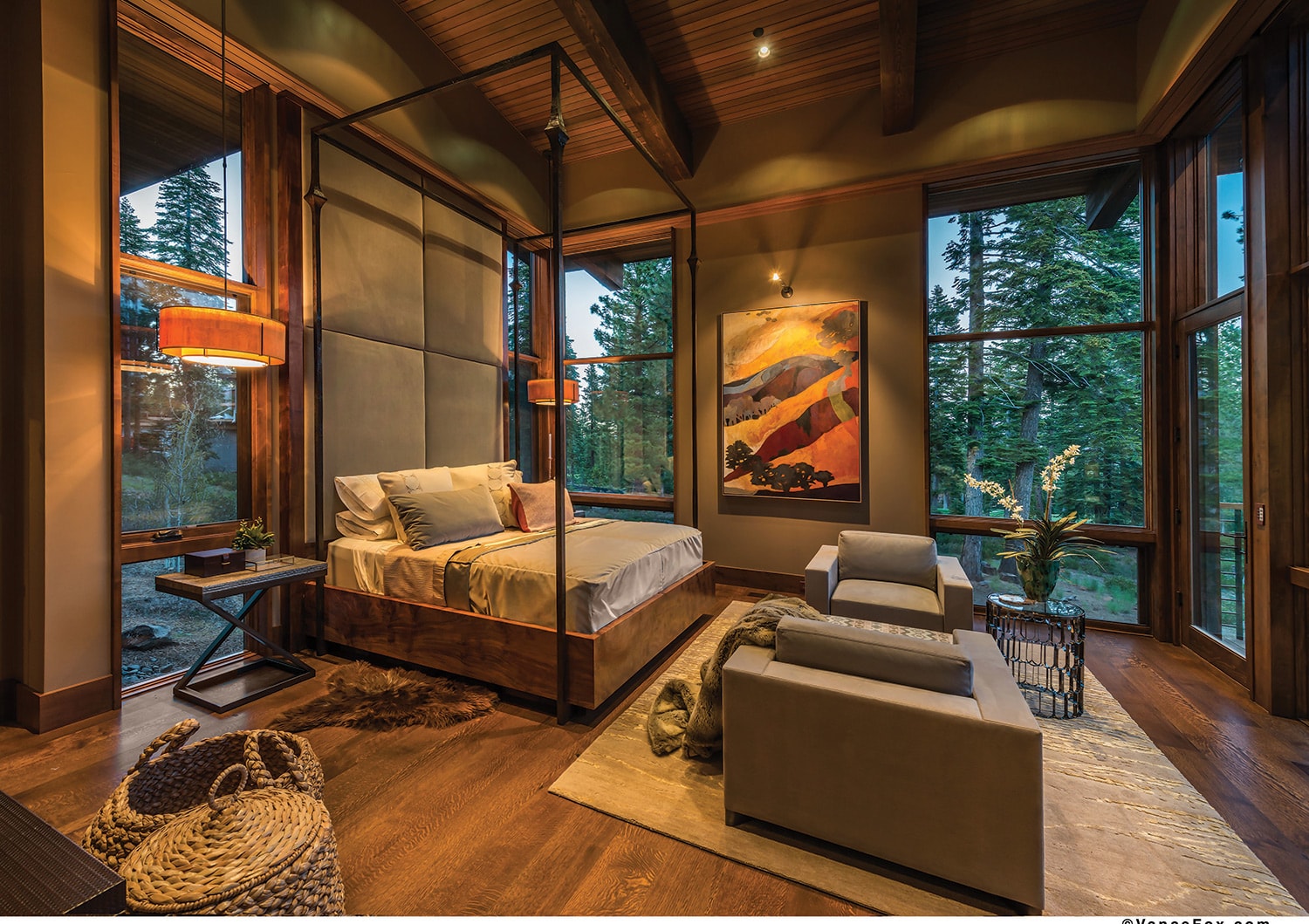 Scott Corridan designed a custom canopy bed to reach to the top of the bedroom's 14-foot ceilings. Hunter Metal hand-forged the bronze frame, and the wood is cured local walnut. The custom headboard is covered in mohair velvet, and the painting is by James Shay.
16 Jul

Designing the West: The Soul of a Space

Casual comfort was the everyday standard at designer Scott Corridan's childhood home in Riverside, California. "I was raised in a house where it was perfectly acceptable to kick off your shoes and put your feet on the sofa," Corridan says. "My mom would say to my friends, 'Go to the fridge and help yourself to whatever you need. Our home is your home.'"

His parents worked in the real estate business, and when Corridan was just 6 years old, he began accompanying his father on hard-hat tours of homes, office buildings, and shopping centers. "Growing up in a real estate family, my eye was always drawn to the problems of a space and how to fix them," Corridan says.

The designer's parents still have his childhood drawings of palatial estates and mansions, and his early interest in home design led him to enroll in a special drafting program in high school, followed by two years of studying architecture at the University of Southern California. He later graduated with a bachelor's degree from the University of California, Santa Barbara, majoring in environmental studies and minoring in urban planning.

"My college studies gave me a different perspective about the practical side of building and executing projects," Corridan says. "That coupled with my real estate background helps me guide my clients to determine what improvements make the most financial sense."

After college, Corridan worked for several interior designers, including Clay Tedeschi of Santa Barbara. "Working with Clay exposed me to great design and extraordinary homes, and we moved fast," he says. "I developed a huge appreciation for craft while working with cabinet makers, mill workers, and stone fabricators at the highest level."

On the side, Corridan began doing volunteer work, planning events for nonprofits. Eventually, he decided to take a long detour from home design. For 28 years, he produced high-end events and received national exposure, including a stint hosting the reality show "Extreme Makeover: Wedding Edition" in 2005.

Seven years ago, Corridan decided it was time to return to his first love of interior and architectural design; his eponymous firm has been busy ever since.

"All my years of working with brides on their weddings made me a good listener," he says. "What's exciting and inspiring for me is to really understand my clients. Things like creating a budget or a furniture plan are relatively easy, but the challenge is really paying attention to what's important in their lives."
Recessed pocket doors disappear, creating a seamless transition from inside to outdoors on an expansive mountain deck. Metal chaises are from Restoration Hardware, and the natural gas fire pit was crafted from local stone. Photos: Vance Fox
Corridan says his clientele is typically both upscale and down to earth. "Many of the people we work with are hands-on parents, raising their kids," he says. "And a number of our clients have pets, especially dogs. We create spaces that are meant to be lived in. You might have a $30,000 sofa in the living room, but we cover it with pillows and throws so you can relax, tuck your legs under the blankets, and get cozy."
Corridan designed a family home for Brady and Dave Hannah in Martis Camp, a private community in Lake Tahoe. The couple's vision was to create an escape where all generations of the family could retreat for skiing, vacations, and holidays. "As I got to know Brady and Dave, I realized that their lives at that time revolved around their first grandchild, Jeffrey," Corridan says. "One day, I stopped at Artefact Design and Salvage in Sonoma, and discovered these wonderful cast-bronze frogs. I immediately thought of the Hannahs, so I purchased a collection and hid them throughout their home."
During the design reveal, the Hannah's grandson found a frog in the corner and was thrilled. "I looked over, and Brady had tears in her eyes watching Jeffrey," Corridan says. "Those are the moments that happen when you're able to really understand where your clients' hearts and souls are resting."
"Not only did Scott connect with us from an aesthetic design point, but we just clicked," says Brady. "He so beautifully interpreted our vision of a modern, rustic, natural, comfortable home. The great room leading out to the deck is one of my favorite spaces. It's a gathering place, but Scott created zones so people can have coffee and talk, or work on a puzzle, or watch movies. He captured a little bit of our playful side with the frogs, and now we always hide them before the kids come over."
Scott Corridan Design recently opened a new 2,000-square-foot showroom in Incline Village that houses a studio, office, living space, and demonstration kitchen. Every other month, the company invites one of its vendors such as Universal Furniture, Holly Hunt, or A. Rudin to take over the showroom and fill it with their latest collection. Gallery walls also showcase works from local artists.
Soft textures and quiet tones create a cozy living room, where the designer paired a traditional tufted wing chair with a contemporary sectional from Scandinavian Modern. The rug is by Safavieh.
Drawing from his event production background, Corridan throws an opening party and salon dinner for each new collection. At a recent event, all of the women decided to kick off their high heels. "I was so glad that our guests felt relaxed about being barefoot in the showroom," Corridan says. "Comfort is key in everything we do."
---
WA&A wants to know…
---
Interior designer Scott Corridan shares some of his favorite things, secret getaways, and entertaining tips.
Q: Describe your own home.
A: We've got three golden retrievers and a 2 year old; need I say more? At both of our homes in Saint Helena and Incline Village, we have gorgeous furniture, the beds are rumpled, and we're happy and comfortable.
Q: What's a design trend that's no longer relevant?
A: I'm done with formal seating. None of my clients use a formal dining table, because it's lost space and a lost opportunity. I'm a huge fan of round tables that seat no more than eight people. A round table creates a casual, inclusive setting that joins people.
Q: What's one of your favorite possessions?
A: Our boat, "Sea Ray." We take it out on the lake and completely disconnect. It has a sleeper cabin and a galley downstairs, and we can camp on it for four or five days at a time.
Q: When you want to unwind, where do you like to travel?
A: My sacred space is the house we stay at in Ha'ena, a small, remote town on the north shore of Kauai in Hawaii. Ha'ena has a lush jungle and white sand beaches, and it's old-school Hawaii, like turning back the clock to the 1970s.
Q: Describe your entertaining style.
A: My husband, Russ, does all the cooking and wine selection, and I create the theme and place settings. I love textiles and like to use beautiful hem-stitched linen napkins on the table. I usually go overboard with unscented candles, because everyone looks great in candlelight.