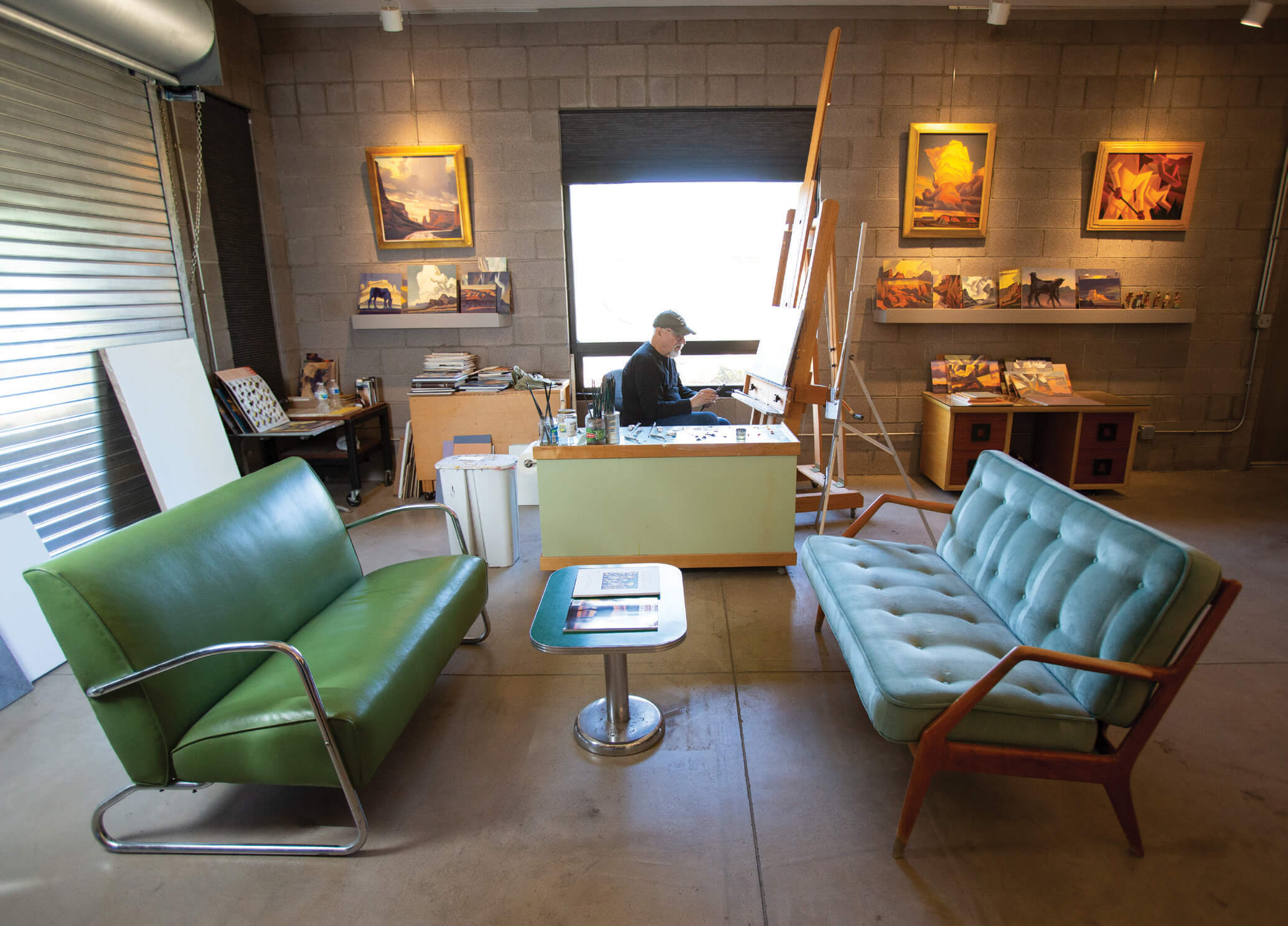 Ed Mell works in his studio next to a north-facing window. The garage door allows for large works to be moved in and out. | This diorama was one Mell created in 1988 for a performance that never happened. It's similar to the diorama he made for the set of Riders of the Purple Sage for the Arizona Opera.
09 Jul

In the Studio: A MODERNIST's Approach to the Desert

An unfortunate event in 1936 turned out to be a boon for a Phoenix, Arizona, artist who wasn't even born yet when it happened. A grocer renting a neighborhood corner store had plumbing issues, and instead of offering assistance, the landlord told him to "fix the problem yourself." So the grocer bought the corner lot across the street, and within three months, had constructed a new brick building. At the time, a loaf of bread cost 9 cents and a gallon of milk was 10 cents; and it's from these beginnings that Ed Mell's studio was born. The artist has worked in the former grocery store for 46 years now, painting "the beauty, vastness, and free spirit of the West."

When one steps into the studio, they are filled with wonder and awe. Looking for a place to rest your eyes amidst this virtual feast is difficult. Paintings of Arizona's Sonoran Desert and the great Colorado Plateau draw your attention from one canvas to the next. At the end of a hall, a painting of a single cactus flower, backlit by the sun, looks alive.

The corner grocery store became Mell's studio in 1975 after the artist returned to his hometown from New York City, where he'd worked as an art director and illustrator. He set up a design and illustration studio, but when commercial work began to fade, Mell started exploring fine art. He settled on oils, which he considers the Cadillac of paints.

When it came time for the building's owner to sell, another buyer was competing for the property, but the artist was given priority. "[The former owner] was such a sweet guy," Mell remembers. "And I still love coming here after 46 years; it's a great studio."

Today, the studio has hidden treasures behind its corner-store façade. An addition to the original building brought the square footage to 3,600. There's a kitchen and two baths as well as plenty of workspace. Outdoors, cloistered seating areas and covered parking for Mell and his two employees, Ken Richardson and John O'Neill, are tucked behind a tall fence and gate.

Every area of production happens under this roof, beginning with the space where O'Neill stretches canvases, to Mell's painting studio with north-facing light, to a separate office where Richardson manages the business. There's an area for framing, another for photography, and yet another for packing and shipping. "The three of us make a good team," Mell says. "Ken has been with me for over 26 years."

A tall cold storage unit sits between sections of the studio, and Mell stores his work there overnight to keep the oil paints wet. "Oil paintings can dry quite rapidly here in the desert. Even a large piece can set up overnight," he says, adding that he paints using a wet-on-wet technique.

He and his wife, Rose Marie Stremel, reside in Paradise Valley, Arizona, and the studio is located near downtown Phoenix. This is where his light-filled and richly-colored canvases of Arizona landscapes — from the Grand Canyon to the red rocks of Sedona — are born; and where his famous sculpture Jack Knife was created. Featuring a cowboy on a bucking horse, art collectors regularly photograph the life-sized edition located in the heart of Scottsdale's art district.

For inspiration, the artist also keeps a few of his favorite collectibles nearby. In the studio, there's a landscape painting by Lon Megargee, a noted Arizona artist of the 1930s; black and white photographs that bring a smile to Mell's face; small toy cars and trucks from the 1930s and 1940s that represent his passion for automobiles; and a number of dioramas by artist R.G. Rodell. "Look at all that detail," Mell says, noting the tiny trees and deer in one. "Isn't it amazing how this artist could make all these tiny objects with such detail? Look how good they've all come together."

Mell had the opportunity to create a similar diorama when the Arizona Opera chose him to design the set for the premiere of Zane Grey's Riders of the Purple Sage. Inside a lighted box, he made models of the scenery to scale — rugged and undulating formations were painted, cut out, and set in rails just like the real stage. His rich color palette fit the bill for the Western-themed opera, and some of the maquettes were turned into sets as high as 28 feet tall.

It was a new experience for Mell, who delighted in working with the lighting director. "We talked about backlighting and projection and how theatre lights wash out colors," Mell says. "For the sky, we had a 30-by-60-foot LED screen on which photos of skies from my paintings were used. It was spectacular; actually it was really amazing! It was as bright as day."

Mell's set design received wide recognition. According to the Arizona Daily Star, "The biggest applause of the evening went to [Ed] Mell's scenery which subtly changed in a blink of an eye and was almost like an additional character in action." And Phoenix Magazine reported, "If Arizona has a visual poet laureate, it's Ed Mell. You wouldn't think a guy like Mell would want to create opera scenery and sets. But he did. Ask Mell why, and he says with a grin what others say in fear: 'This is something I've never done.'"

One might say Mell has a strong sense of loyalty, as evidenced by his long commitment to his studio and also his relationships with his employees and the galleries that represent him. A solo show of his work opens on August 12 at The Owings Gallery in Santa Fe. Mell had his first show there in 1981, then known as The Dewey Galleries, as his career was getting underway. "They gave me one of my first shows, and it's been a good relationship," Mell says, noting that 40 years later, he maintains a personal friendship with Ray and Judy Dewey just as he does with the gallery's current owner, Nat Owings, and his staff. "Mark and Kathleen Sublette at Medicine Man Gallery in Tucson are also longtime gallerists as well as my friends," he says.

If art studios could talk, Mell's former grocery store turned art space would have stories to tell — all befitting a contemporary artist who loves the path of creating art.