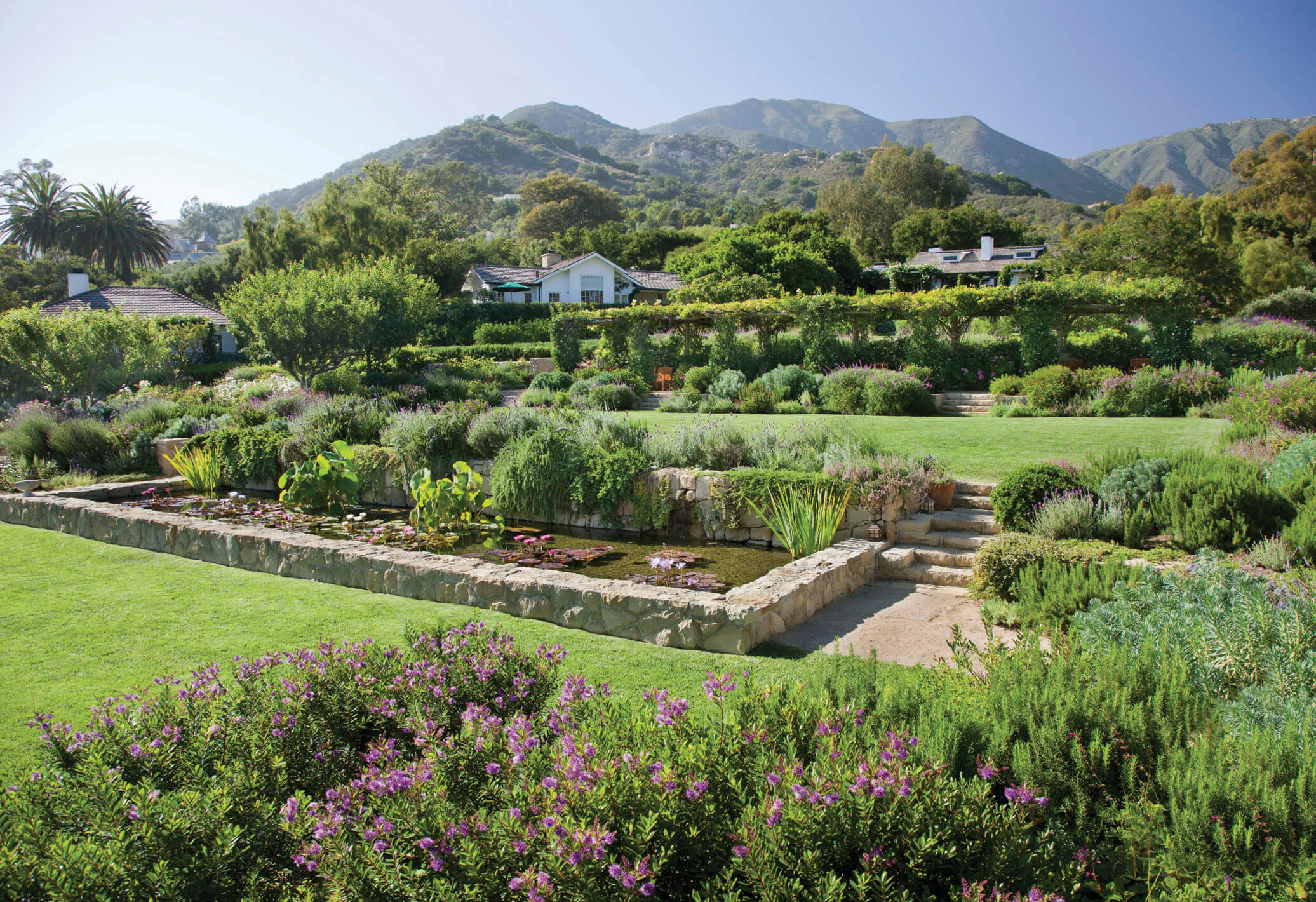 San Ysidro Ranch's landscaped gardens unfold beneath the Santa Ynez Mountains. From a koi pond just behind the Hacienda Guest Reception building, the grounds ascend to a pergola and a chef's garden.
09 Jul

Western Landmark: An Escape Between Mountains and Sea

After Jacqueline Lee Bouvier married Senator John Fitzgerald Kennedy on September 12, 1953, they did not honeymoon in the Caribbean or Europe. And when the 38-year-old First Lord of the Admiralty, Winston Churchill, his wife, Clementine, and their children escaped the English winter of 1912 to 1913, they did not seek the warmer climes of Italy or the Riviera.

Like so many other cognoscenti, these luminaries slipped away to a haven 100 miles up the coast from Los Angeles. After stops in Manhattan, Acapulco, and Beverly Hills, the Kennedys drove to Montecito, where they nestled for a week in a guest cottage at San Ysidro Ranch — also the Churchills' destination four decades earlier.

As a prolific author, Churchill found inspiration there to write poetry. He also penned a lyrical description of his surroundings: "The mountains, scored by deep canyons, rise up behind, for all the world like grand-opera scenery idealized, and far below, across the green plains of Montecito, one sees the white line of the beach and the Pacific stretching westward to blue islands shimmering in the haze."

Today, San Ysidro Ranch shimmers even more gloriously. Thanks to visionary new ownership these past two decades, and despite a January 2018 natural disaster, it stands as an incomparable retreat in the West.

The site is steeped in history. Spain's King Charles III deeded the land in 1769 to Franciscan friars, who named it for San Ysidro, Saint Isidore, the patron saint of farmers. In 1828, they began planting and built an adobe that still stands across from the Hacienda Guest Reception, constructed in 1892. Following California statehood in 1850, the property became municipal land, and was sold in 1883 to Harleigh Johnston and Taylor Goodrich. They established the San Ysidro Citrus Ranch and launched a small hotel, building cottages that opened in 1893.

The setting was perfect. With more than 500 acres nestled in fertile foothills between the San Ynez Mountains and the Pacific Ocean, the site combined blissful isolation and spectacular scenery. One further factor enhanced the idyll: exquisitely landscaped grounds, with salubrious weather and luminous light resembling that of Provence, since this particular stretch of coastline faces south rather than westward.

Following the Great Depression, Hollywood idol Ronald Colman and a hotelier business partner purchased the property. It became an elite escape, and the register was signed by stars including Gloria Swanson, Jean Harlow, Katharine Hepburn, Lucille Ball, Groucho Marx, and Audrey Hepburn. On August 31, 1940, Vivien Leigh and Laurence Olivier married here. Writer, actor, and director John Huston holed up in a cottage to finish his screenplay for "The African Queen." Other writers who found the place equally galvanizing include Somerset Maugham, Sinclair Lewis, and Aldous Huxley.

Over the years, however, San Ysidro Ranch began suffering from benign neglect. Enter Beanie Baby billionaire Ty Warner, who in 2000 added the property to his growing portfolio of elite hotels.

Warner launched a total makeover, hiring respected architect Marc Appleton. "Ty asked me what were the most important things we should do here," recalls Appleton, "and I said, 'Well, you're going to have to wind up rebuilding almost everything.'" Then the architect added a key guiding principle: "'And if a longtime guest comes back and is a little confused as to what is new and what isn't, you will have succeeded.'"

Appleton compiled a to-do list for each cottage (of which 36 are currently available), from structural restorations and improvements to stylistic revisions, optimizing views, and ensuring privacy. Warner, meanwhile, spearheaded a worldwide search for antiques, fabrics, wall-coverings, linens, and other amenities that give each cottage a unique charm. "The desire," says Appleton, "was to be a little eclectic, not have everything match. To me, it's perfectly imperfect."

"Each room has its own narrative," adds general manager Ian Williams, who joined San Ysidro Ranch after holding key positions at Four Seasons properties. "Mr. Warner imagines that by bringing in such unique pieces, people staying in the rooms can project their own history onto them."

This enchanted world, widely praised for the new life Warner breathed into it, was devastated before dawn on January 9, 2018, when torrential rain fell down the mountains and hillsides previously stripped bare by major wildfires and sent a torrent of mud and boulders up to 15 feet tall coursing through Montecito. The toll: 23 deaths, more than 100 homes destroyed, and some 300 more residences damaged. San Ysidro Ranch was not spared: Three cottages were leveled, 18 were badly damaged, and the central gardens were laid to waste. Mud filled not only the historic adobe but also the wine cellar, sending thousands of bottles tumbling downhill.

Warner was undaunted. "Everybody was reeling in shock," says Appleton. "But I don't think 12 hours went by before I got a call from Ty saying, 'Get the plans out for rebuilding.'" Work began almost immediately. Cottages were reconstructed, restored, and refurbished. Crews completely replanted the gardens with fully mature trees to replace those swept away. Food and beverage director Franco de Bartolo created a new state-of-the-art wine cellar, expertly replenishing it to regain the coveted Wine Spectator Grand Award.

About 15 months later, San Ysidro Ranch reopened. It received guests during the COVID-19 pandemic since the cottages naturally facilitate social distancing. "Even though we had to close down some areas," says Williams, "we could survive."

At San Ysidro Ranch, the grounds are glorious, the cottages pristine, the pool and sylvan spa luxurious and inviting. The hotel even offers guests a complimentary round on the Jack Nicklaus-designed golf course at the nearby Montecito Club, a historic facility restored by Appleton and launched by Warner in 2019. Happy groups dine again at the Stonehouse Restaurant and Plow & Angel tavern. For the wine cellar, De Bartolo even recently acquired a rare collection from the exalted Bordeaux estate Chateau Petrus that dates from the 1970s back to its coveted 1945 vintage.

Meanwhile, present-day celebrities, their privacy graciously safeguarded, still flock here. San Ysidro Ranch's greatest heyday ever may have only just begun.