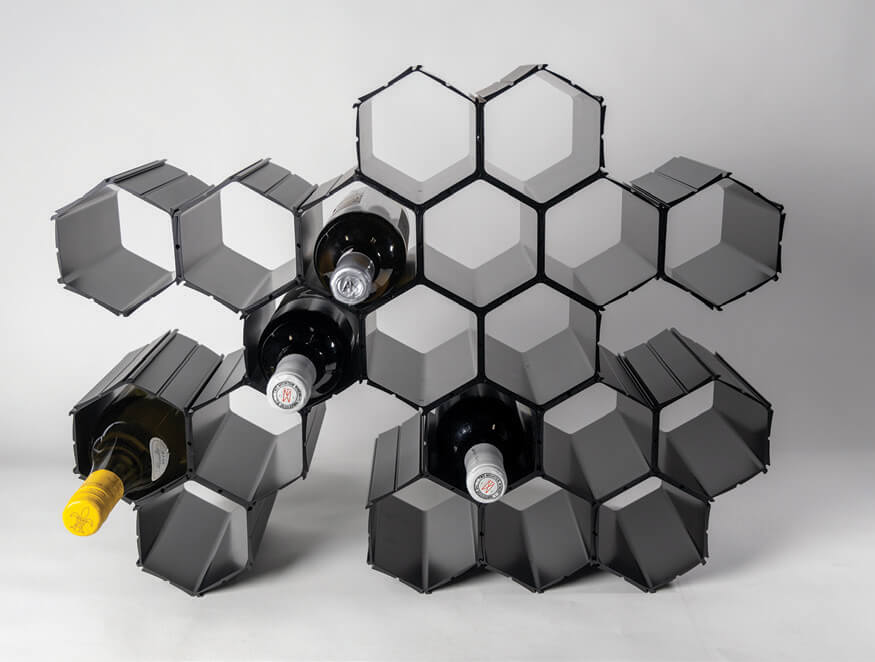 11 Jul

Things We Love
Modern Modular Wine Rack by WineHive
Fascinated by the honeycomb structure built by bees, industrial designer John Paulick used it as the inspiration for WineHive, a modern, modular tabletop or wall-mounted wine display and storage system. Made of anodized recyclable aluminum, the 20-cell rack is customizable: buyers can put the interlocking cells together in a layout that suits their space. Once in place, it securely holds 20 wine bottles, and more cells can be added anytime. We love the crisp, contemporary look, but also the fact that the company donates 1 percent of every order to Washington State University's Pollinator Program.
$499.95
Sizes vary
winehive.com
Jessica Poundstone's Rugs by Work in progress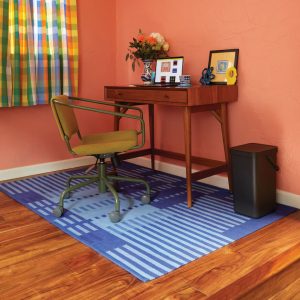 Portland, Oregon-based artist Jessica Poundstone teamed up with the Work in progress (WIP) to create hand-woven rugs featuring her unique designs. While Poundstone is known for her colorful fine art prints, WIP is a brand that partners with others to produce unique, sustainable home goods. The rugs, which come in various sizes and patterns, are hand-woven in India by a third-generation family-owned business and made with a mid-weight, flat-weave cotton that has been hand-dyed with azo-free dyes. We love the bold colors and patterns, and also the fact that each rug looks slightly different than the next due to its handmade nature.
Medium: $1,330
6 x 9 feet
Large: $1,830
8 x 10 feet
w-i-p.la
Clark Little: The Art of Waves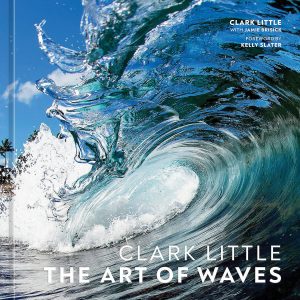 In a stunning newly released coffee table book, surfer and award-winning photographer Clark Little shares a rare perspective of waves in more than 150 photographs. Little creates the deceptively peaceful images by placing himself under the deadly lip as it curls before the break. Along with crystalline waves are photos of Hawaiian marine life and breathtaking aerials, among other visual delights. The Art of Waves also includes a forward by world surfing champion Kelly Slater and essays by journalist Jamie Brisick on how Clark gets the shot, how waves are created, and more.
 $40
Hardcover, 240 pages
10.24 x .98 x 10.3 inches
penguinrandomhouseretail.com
Rive Gauche Mirror by Luna Bella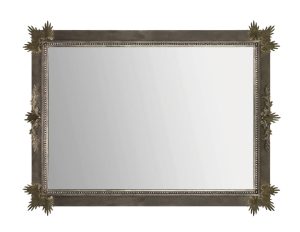 This hand-crafted mirror features an iron frame with decorative accent leaves that add a touch of bling, luxury, and sophistication to both contemporary and traditional interiors. Designed by Teresa Costa exclusively for Luna Bella, and made in the U.S., we love how each one is hand-painted and embellished with an unexpected rhinestone trim that accentuates the slender iron bars framing the mirror. Available in custom sizes with a pewter or bronze finish, it can be hung horizontally or vertically.
Pewter: $4,398
Bronze: $4,473
66 x 3.5 x 49 inches
lunabella.com
Hand-Crafted Keepsake Box by Mad Tree Woodcrafts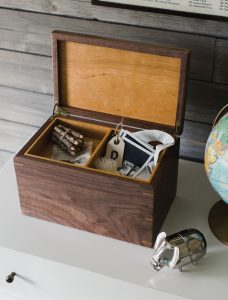 After their beloved dog passed away, Christy and Tyler Hall combined their skills — her business savvy and his master craftsmanship — to create pet urns. It wasn't long before they realized they were onto something. After starting Mad Tree Woodcrafts, the duo expanded into hand-crafted memory boxes, building the perfect vessel to hold treasured mementos. We love the quality that's put into each wooden box, along with the fact that buyers can personalize them by choosing the size, woods, locks, and engravings, making the perfect gift for weddings, anniversaries, graduations, baby showers, and more.
 Large: Starting at $250
13 x 8 x 7.75 inches
Extra-large: Starting at $340
16 x 12 x 10 inches
madtreewoodcrafts.com
Bayroc Dining Table by Robert James Collection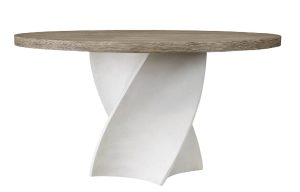 There's something more intimate about a round dining table, which allows everyone to see each other and converse in a personal way. And while the San Diego, California-based Robert James Collection offers a number of circular selections in different sizes, materials, and styles, the Bayroc is one of our faves. We love the way the natural look of the wooden top — in white oak or walnut — contrasts with the sculptural and elegant cast-stone base, adding an artistic touch to the dining area. We also love how the team at Robert James designs and crafts each piece of furniture by hand.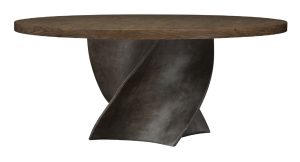 Prices depend on material and finish choices
Small: 30 inches tall; 54- or 60-inch diameter
Large: 30 inches tall; 72-inch diameter
robertjamescollection.com
 Modern Massage Chair & Ottoman by Nouhaus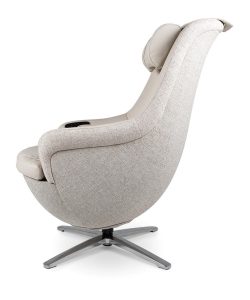 Massage chairs may feel great, but they're notoriously unstylish. That is until the thoughtful team at Nouhaus — which includes creative designers, architects, posturologists, and engineers — created this sleek, modern version to fit right into contemporary interiors. The company's mission is to design high-quality "wisdom-infused seating" for sophisticated consumers, and this is no exception. Available in a choice of muted tones, the chair features a 45-degree swivel and chic genuine leather upholstery, and the massage rollers move from the neck to the lower back with multiple settings, triple airbags for hips and glutes, and heat options. The only drawback is having to share the chair with others.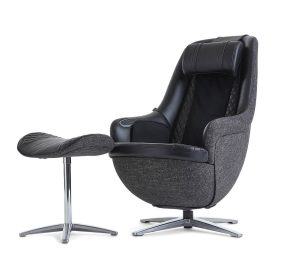 $1,300
18.5 x 19.2 x 15.6 inches
nouhaus.com