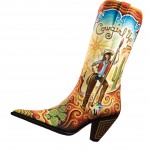 22 Mar

Cowgirl Up! at the Desert Caballeros Western Museum, March 24 – 26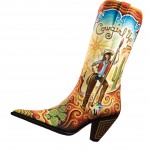 This year marks the 12th annual Cowgirl Up! Art from the Other Half of the West Invitational Sale and Exhibition at the Desert Caballeros Western Museum in Wickenburg, Arizona. For more than a decade, Cowgirl Up! has attracted emerging and established women artists from all over the West who work in painting, drawing and sculpture. After reviewing hundreds of applicants, 58 have been selected as representative of the West's top female fine art voices today.
The kick-off weekend of this spring exhibition begins on Friday, March 24 with the opening Exhibition Preview and Miniatures Sale, followed by the evening Artists and Patrons Party. On Saturday, March 25, the gallery is open from 10 am – 3 pm, featuring a lively Artists and Collectors Forum at 11 am. Saturday evening festivities continue with the "Bash and Bid Sale," Artists Awards Dinner and Live Auction where attendees don their dressy Western attire.
Finally, Sunday, March 26 begins with a Chuck Wagon Breakfast, followed by the Artists' Quick Draw and commences with the very spirited Live Auction.
The town of Wickenburg will be bustling with artists and art lovers. Cowgirl Up! is a gathering place, providing an opportunity for female artists to become familiar with and inspired by each other in person, and has also become a western portal for art enthusiasts. From a collector's perspective, it is a place to do serious business and be on the cutting edge of creativity interacting with the artists by making real life connections.
The Desert Caballeros Western Museum is known as Arizona's Most Western Museum, and serves nearly 75,000 visitors a year. The museum preserves and exhibits the art and history of the Southwest and the desert frontier, and is well-known for its innovative exhibitions and programming.