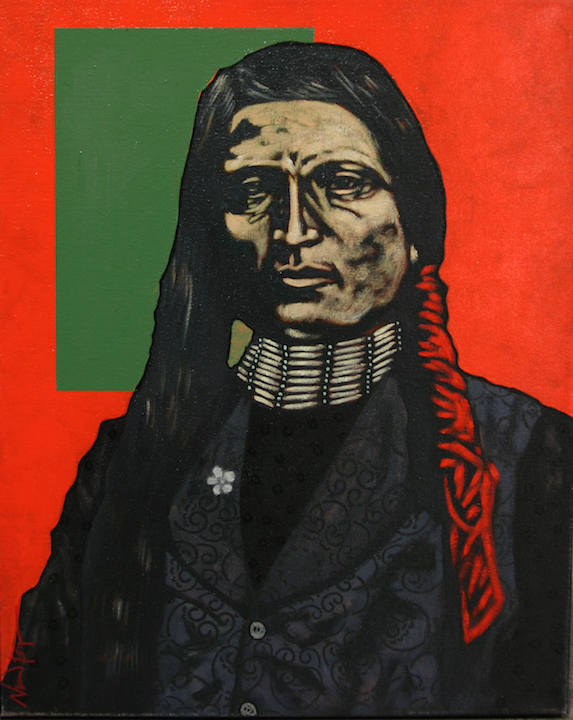 16 Jan

Nocona Burgess at Modern West Fine Art, Jan. 20 – Feb. 11
The exhibit features the artist's new body of work, The Legendary Plains
Modern West Fine Art will display a solo exhibition from newly represented artist, Nocona Burgess, for their January show. Nocona Burgess's creative, intricate, and unforgettable paintings embody the spirit of his Native ancestry. His new body of work "The Legendary Plains" integrates a combination of painting techniques with a vibrant pallet. The opening reception will be during the January Gallery Stroll on Friday, January 20 from 6:30 -8 p.m. and will be on display through February 11, 2017.
About Nocona Burgess
Nocona Burgess is from Lawton, Oklahoma, and is the great-great grandson of Chief Quanah Parker. Taking after his father's love for the arts, he graduated with an Associate in Fine Arts from Institute of American Indian Arts, his Bachelor of Fine Arts, from the University of Science and Arts of Oklahoma and his Masters in Education from the University of New Mexico. Nocona is now internationally represented and continues to produce highly collectable works.
About Modern West Fine Art
Modern West Fine Art is a gallery created by Diane Stewart to support contemporary artists whose works offer imaginative interpretations of the west. The artists represented offer a variety of points of view and representations of western lifestyle. The gallery aspires to support the local community through informative events, and to provide a space to come experience western art with a contemporary influence.