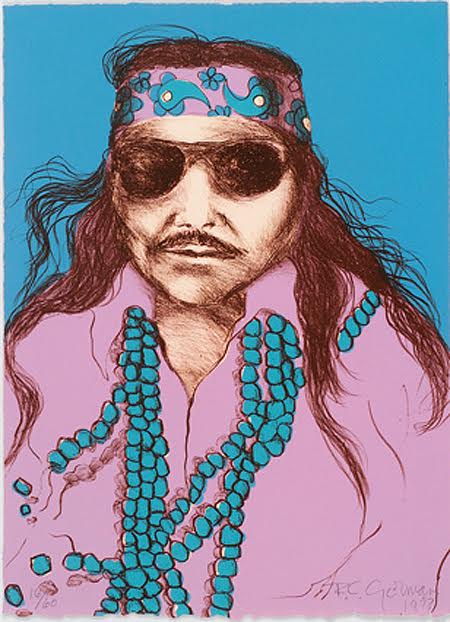 R.C. Gorman, "Self-Portrait", 1973, Lithograph print on paper
22 Jul

R.C. Gorman Days Celebrates Contemporary Native American Artists by Honoring Legacy
"Picasso of American Indian Art" honored with a weekend of events
The Taos Arts Council has announced the 2nd annual R.C. Gorman Days this year, Friday, July 26 – Sunday, July 28. The event, organized by the Taos Arts Council, Michael Gorman Gallery, and FaraHNHeight Fine Art will honor the legacy of Gorman and his impact as an artist, with gallery walks and guided tours, pop-ups, exhibitions and a benefit at Gorman's original home, studio and gallery.
The Blumenschein Home and Museum will host the opening ceremonies on Saturday, July 27, where the Town of Taos proclamation that established R.C. Gorman Days will be read, followed by a contemporary art fair featuring contemporary and traditional Native American fine arts and crafts. The fair will continue on Sunday, where eight contemporary Native American artists will be present, including Dawning Pollen, J.J. Otero, the Nez Family, and Jany Smiley.
"For the second year, our community planning committee had a goal to offer Navajo art and expand the celebration to include contemporary Native American artists many from northern New Mexico pueblos," said Paul Figueroa, President of the Taos Arts Council. "R. C. Gorman opened the first Native American-owned art gallery on Ledoux Street over 50 years ago and his impact upon the art of Taos, New Mexico and the United States is significant."
On Saturday evening, a benefit event will take place at R.C. Gorman's original home at 5 p.m. Tickets are $50 per person and include a chance for an original drawing by Gorman, donated by the Taos Chamber of Commerce. Tickets can be purchased at the Michael Gorman Gallery.
Other events throughout the weekend include exhibitions at the Harwood Museum of Art and the Millicent Rogers Museum, as well as a guided tour of historic Ledoux Street, with stops at galleries and private residences.
Partners and presenters for the 2019 R. C. Gorman Days include Blumenschein Home and Museum, FaraHNHeight Fine Art, Harwood Museum of Art, Inger Jirby Gallery, Linda Rauch Gallery, Les Estrellas Gallery, Michael Gorman Gallery, and Millicent Rogers Museum. Also, the Taos County Lodger's Tax Fund Grant, Taos Chamber of Commerce, Taos Mainstreet, Town of Taos and Vicky and Don Zilloux. The Taos Arts Council a non-profit 501(c)(3) is pleased to include support from NM Arts a division of the Department of Cultural Affairs and the National Endowment for the Arts for this project.
For more information on R.C. Gorman Days and the Taos Arts Council please visit www.taosartscouncil.org.
About R.C. Gorman
C. Gorman was born on July 26, 2913, in Chinle, Arizona to Carl N. Gorman and Adele Brown. He was raised in Canyon De Chelly and his humble origins remained an integral part of his artwork throughout his career. In 1958, R. C. received the first international scholarship from the Navajo Tribal Council to study art in Mexico City, where he was influenced by Diego Rivera and learned lithography from master printer Jose Sanchez. In 1968, Gorman opened his gallery on historic Ledoux Street, and in 1973 he was the only living artist to be included in "Masterworks of the American Indian" show at the Metropolitan Museum of Art. His women, strong, beautiful and proud became the universal women, mother, the grandmother and the daughter, The New York Times declared R. C. "The Picasso of American Indian Art". He opened the doors for many emerging artists and paved the way for a new generation of contemporary Native American artists to explore art beyond the boundaries previously associated in "Indian Art". In 2018 the Town of Taos issued a proclamation honoring R. C. Gorman and the Gorman legacy continues, embodied in the Michael Gorman Gallery which opened on Taos Plaza in 2018.