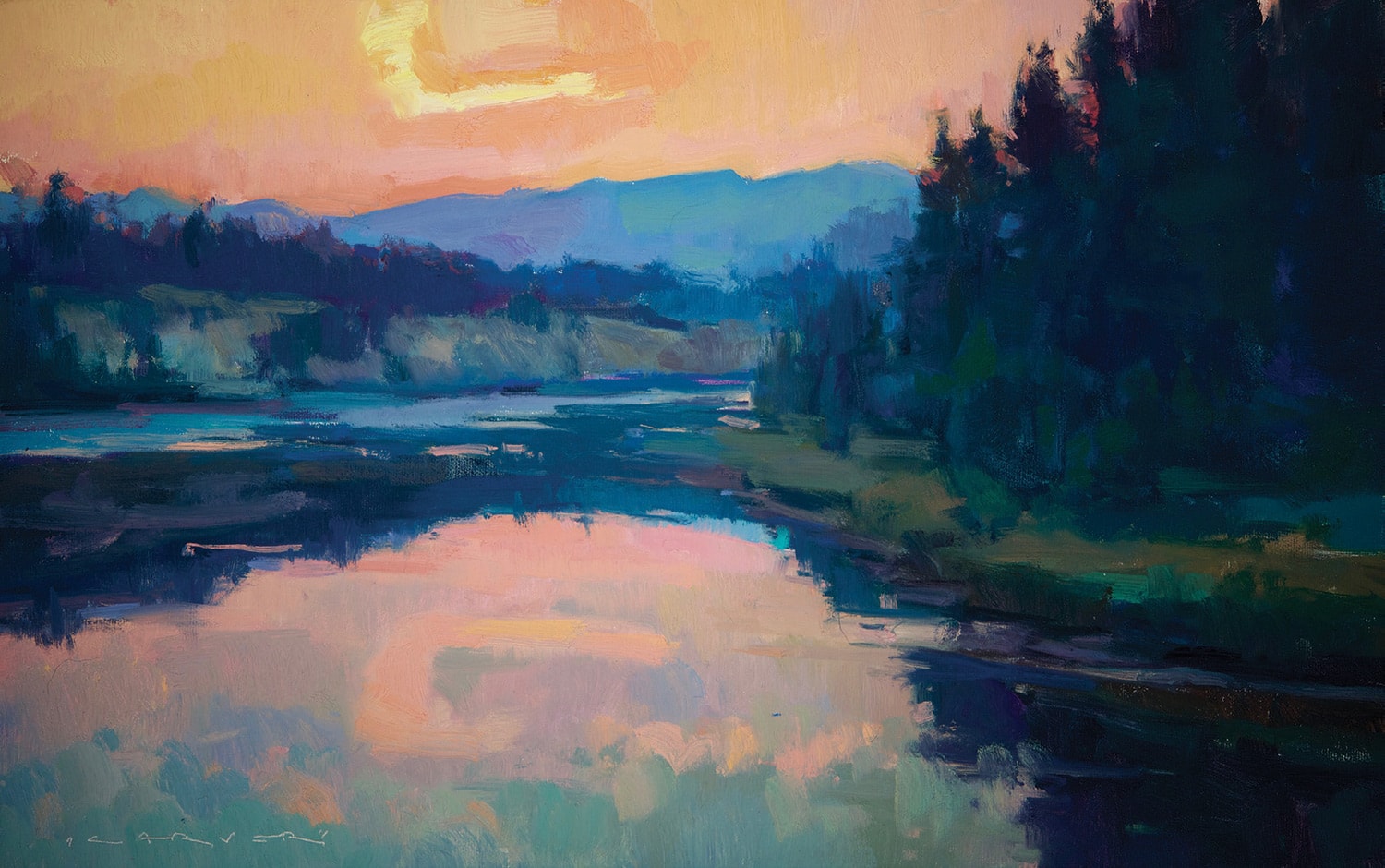 "September Skies" | Oil on Canvas | 12 x 19 inches
08 Nov

Illuminations: Artist spotlights

Jill Carver translates the landscape into line and color. Her ongoing dialogue with place brings us into an intimate setting and allows us to eavesdrop on her surroundings. The exchanges, although quiet with studied pauses, are rendered with an understated palette and minimal brushwork to reveal an understanding of the natural world.

"First and foremost, painting is a side product of an ongoing conversation with the landscape," Carver says. "When I did a lot of plein air painting, I felt under pressure to visit a place and produce a certain number of works. Now, I find a healthier relationship is to be in the land and let the ideas come to me. I'm on the receiving end of ideas, as opposed to going out there and imposing my will on the canvas."

As an artist, Carver considers it her job to know her subjects. She deconstructs the elements and then reconstructs them with an emotional depth, which can be abstract.

"I don't think of abstraction as something left out or unfinished," she says. "It is much more of a complex relationship than simply the contrast between the literal and the imagined. It creates the space for the artist to convey a very personal interpretation."

When Carver feels a place resonating for her, she tries to understand what she's responding to specifically, what is pulling at her artistic instincts. "I think that's hard as an artist," she says. "We tend to realize that something made our heart skip a beat, but what was it? A shape? A color? Trying to hang onto that, rather than just painting the scene, is one of the hardest things to do. I try to be analytical and write a lot of things down, but getting to that one thing might mean leaving something out or amplifying a certain aspect. My sketchbook is as full of words and thoughts as it is drawings and doodles."
"The Old Gateway to Glacier (Belton Bridge)" | Oil on Canvas | 24 x 24 inches
She'll often revisit a place without trying to think too much, creating different studies on different days; learning about the place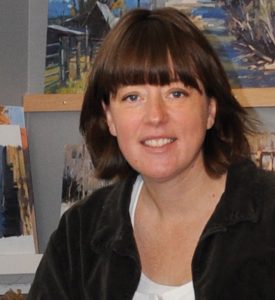 helps her zero in on that initial attraction. The studio is where it becomes more resolved. At that point, she may leave out some elements and reduce others to simple lines and shapes, revealing less information.
"The purpose of the piece is where the personal element comes in," she says. "The purpose is what the artist wishes to express in that singular moment: a color, a shape, an atmosphere, or an object. The artist should make a statement about a place. For me, it feels very personal. It's about one human being in a very specific place and my reaction to it."
Carver is participating in A Timeless Legacy at the Hockaday Museum in Kalispell, Montana, through December 1. This spring, March 8 through April 15, she'll be part of a group show, Along the Distant Mesa: An Homage to Maynard Dixon, at Medicine Man Gallery in Tucson, Arizona. And in May, she'll be back at the Hockaday Museum for the Plein Air Painters of America show. She is represented by Insight Gallery in Fredericksburg, Texas; Wood River Fine Art in Ketchum, Idaho; and the Bingham Gallery in Mount Carmel, Utah.