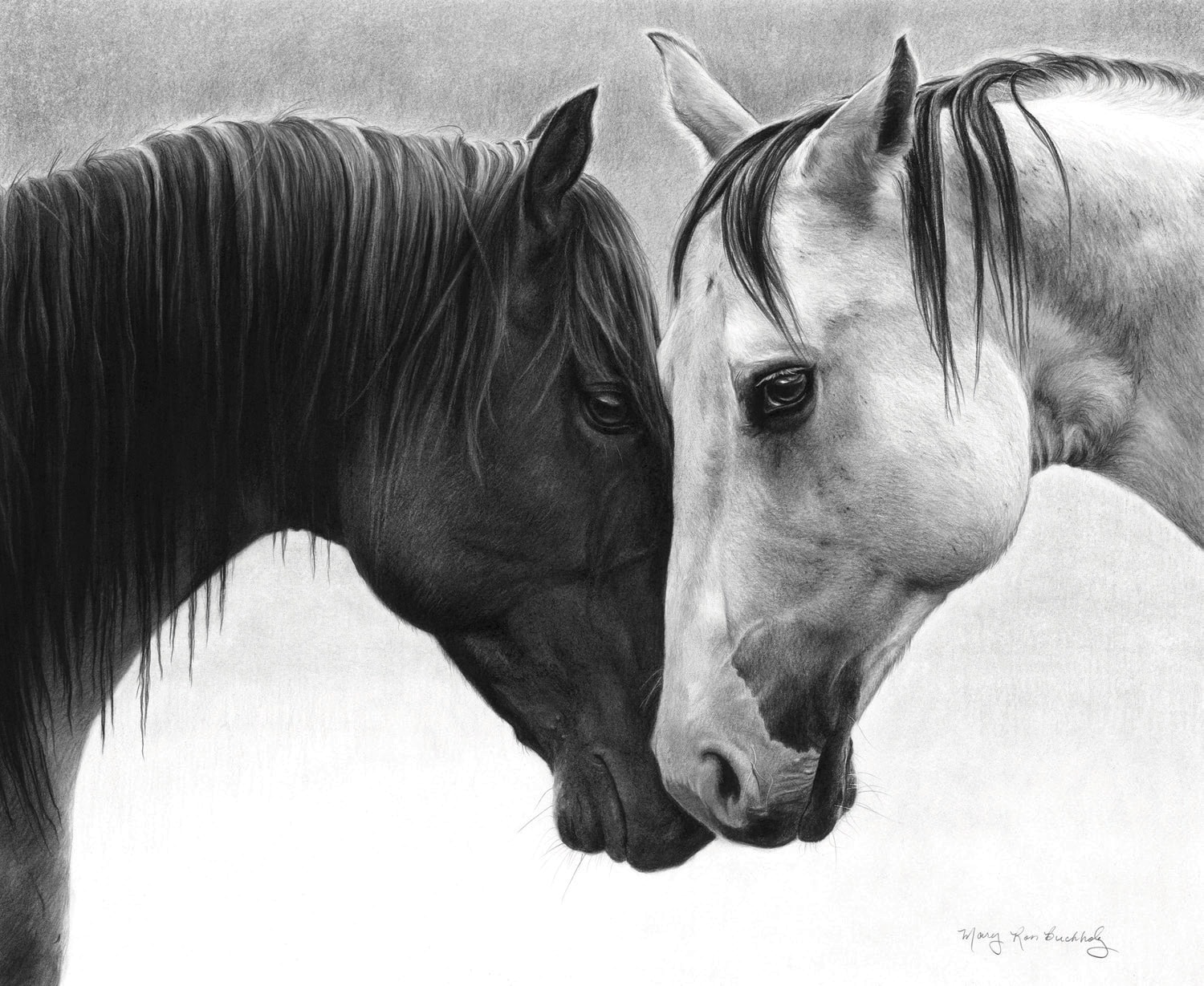 "Ranch Romance" | Charcoal Graphite | 16 x 196 inches
08 Nov

Illuminations: Artist spotlights

Like many little girls, Mary Ross Buchholz loved to draw and she loved horses. As a professional artist, she incorporates her childhood passions into her work. Using primarily charcoal and graphite, Buchholz's drawings bring out the textures and characters of her subjects. Her fine attention to detail comes across in each piece, allowing the viewer to connect to her images in an intimate and personal way.
"Range Cow" | Charcoal Graphite | 18 x 26 inches
"Sometimes I feel like I never grew up," she says. "I never get tired of it. I can be methodical or spontaneous, depending on my mood. When doing a portrait, I just go with it, and before I know it, time has passed and my drawing is done."
Buchholz works with at least five photographs of one subject for reference, because not every photo captures all the aspects and angles. In a portrait, she tends to focus on the details centering around certain areas, such as the hands or an eye. Both she and her husband grew up ranching, so many of her subjects are friends and family, sketched once the day's work is done.
"Seems like the up-close shots are what I'm interested in lately, the zooming in that shows dynamics; it's so captivating," Buchholz says. "I can take a whole range of reference photos, and I seem to always go back to those up-close ones. … I like the way the light lets me tell a story or lets the viewer figure out the story."
Although the colored pencils and paints come out occasionally, she says that a black-and-white image feels more straightforward, with fewer distractions. "I enjoy more dramatic lighting, how the shadows come up or how the light bounces off the head," she says. "It draws you in, and reminds me of the magazines and books filled with black-and-white photographs. It's timeless. It can be a new photo but the mind still thinks it could be 100 years old."
When she wants a break from her charcoals, she takes out her oil paints. In her early career, the majority of her work was oil painting. But once she had children, it was easier to put down her pencils than have to clean up the paints.
"When my kids were young, I did a lot of portraits," she says. "I always portrayed my ranch-life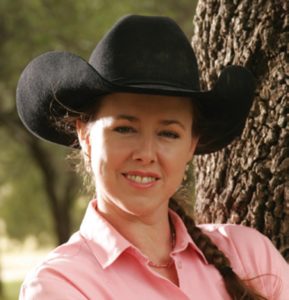 drawings, and that's really where I got started and my artwork took off. It seems to go quicker when I do paintings. I think maybe because I pick up a bigger brush when I need to, I seem to get farther. But it really depends on the size — a large drawing will take up to six weeks."
Buchholz wants her work to look real, but she also wants it to feel like art. She doesn't consider herself a hyper-realist. "I'm not recreating every thread in a blanket or every hair in a horse's coat. Instead, I want to move the viewer's eye around. I don't want it to be overworked. By using cast shadows, I can create areas of rest through negative space."
Through December 22, Buchholz will participate in a Small Works group show at Insight Gallery in Fredericksburg, Texas, and a small works show at Legacy Gallery through December 14 in Scottsdale, Arizona. Through December 15, she will be in a Small Works group show at Montana Trails Gallery in Bozeman, Montana. Her work is represented by Insight Gallery in Fredericksburg, Texas, and Montana Trails in Bozeman, Montana.