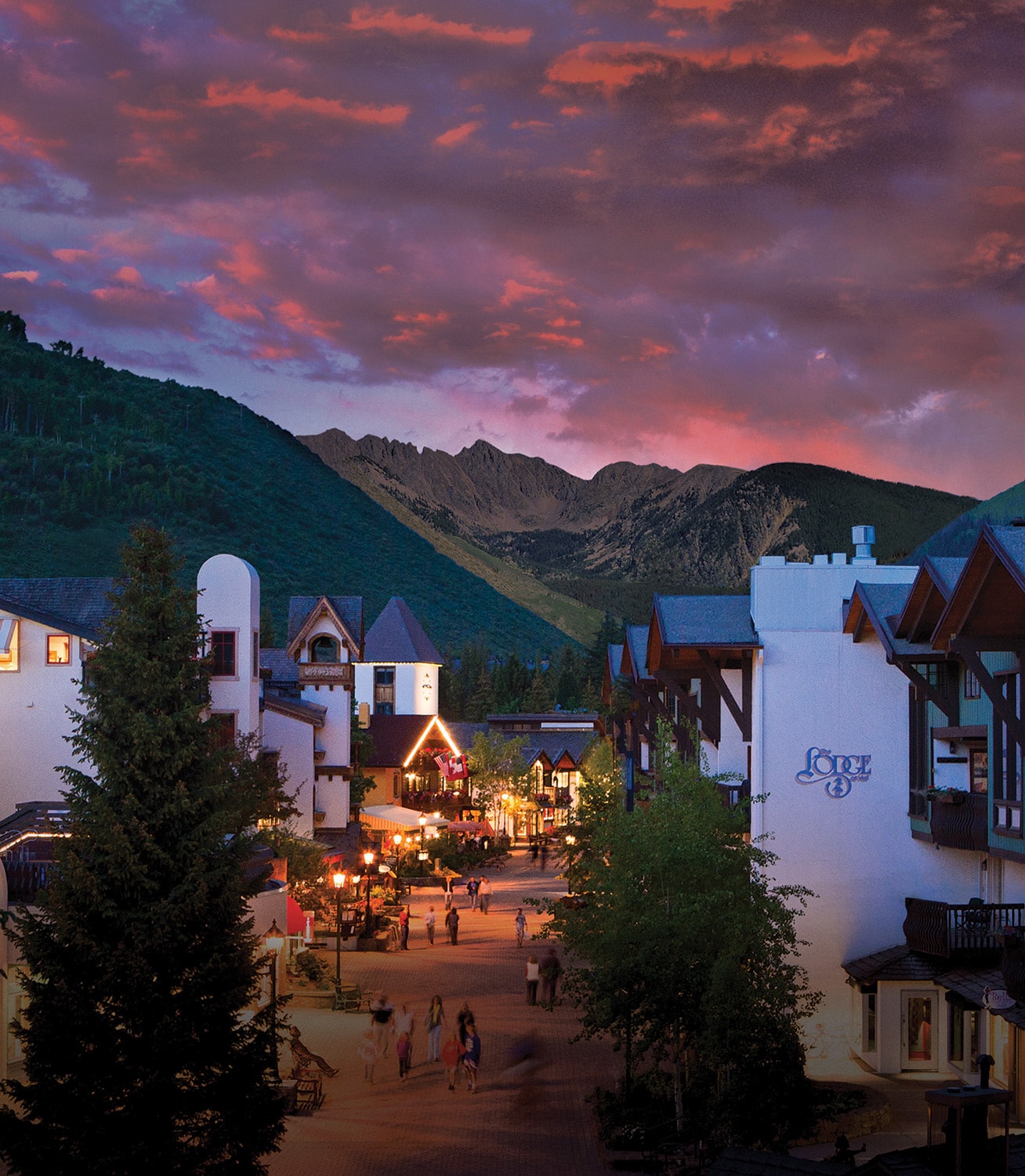 Year-round holiday lights enhance Vail's charm at dusk.
08 Nov

Illuminations: Vail, Colorado

His name was Gus. Throughout our afternoon hike, he never judged me or complained. I could unburden my innermost secrets, and he would be as calm as a sailboat on a windless day. Gus works for Paragon Guides, and he is a llama.
Global visitors come to Vail for epic skiing each winter. | Four Seasons Hotels and Resorts
If you thought of Vail, Colorado, as purely a winter destination for adrenaline junkies, Gus has good news. The Rocky Mountain resort town is a year-round playground serving up a variety of adventures for the rest of us: llama trekking (where you can meet Gus and his furry friends), bicycle food touring, and moonlight hiking. There's pampering inside lavish hotels with over-the-top spas and memorable dining. And art galleries and public sculptures will have you admiring the creative spark everywhere you look.
The history of Vail, approximately 120 miles west of Denver International Airport, begins with the Ute Native Americans of the Gore Creek Valley. By the 1800s, American settlers harnessed the land for ranching and grazing. During World War II, the U.S. Army trained soldiers nearby at Camp Hale for alpine combat. One of those veterans was Pete Seibert, who, with buddy Earl Eaton, believed the area could be reinvented as a tourist town. And so, in 1962, Vail was born.
To step into Vail is to enter a spotless Bavarian village festooned with flower boxes, cobblestone streets, grassy knolls, and covered bridges. Its four interconnected pedestrian areas include Vail Village, Lionshead, Golden Peak, and Cascade Village. (Note that the 8,000-plus-foot elevation will challenge your lung capacity, so go easy the first day and drink plenty of water to prevent dehydration.)
For lodging, a plethora of boutique and luxury hotels abound. Fresh following a $60 million renovation is the 285-room-and-suite Hotel Talisa. Its contemporary alpine décor pays homage to the Ute tribe: Hallway lights resemble night torches; a lobby chandelier with glass rocks is inspired by dream catchers; custom fabric on the booths in the hotel's Gessner Restaurant echo ancient tapestries. The daily champagne sabering, champagne tasting, and macaron service is offered free to guests. Patrons can also participate in complimentary yoga classes, fly-fishing lessons, and shuttle services. The spa draws from local assets, with its Colorado wildflower scrub, and attends to dry skin with an Alpine Rescue Facial. Venture Sports Vail resides on the premises for quick ski and bike rentals.
Make a furry friend while llama trekking with Paragon Guides.  | Jack Affleck
Curl up with a book at The Arrabelle at Vail Square, for each of the 81 rooms in this European-style hotel is equipped with a fireplace. Resort amenities include the palatial 10,000-square-foot spa, rooftop hot tub and lap pool, and GoPro video cameras loaned free to guests.
Another lavish European inn, Sonnenalp, has been stewarded under four generations of family ownership. It proudly offers 112 suites, 15 rooms, three restaurants, a spa sporting caviar facial treatments and a fleet of whirlpools. Melt into the custom Bavarian furnishings, switch on the gas fireplace, and pad around the bathroom with heated floors.
Not far, the 121-room Four Seasons Resort and Residences is ready for both rest and zest. Four Seasons' ski and nature concierge staff lead excursions as extreme or as easy as you like. Staying put? Linger by the meditation garden or saline swimming pool. The spa also offers an altitude adjustment massage for those struggling with elevation.
Meanwhile, Vail dining with assorted ambiance runs the gamut. At Bol, you can enjoy the hip, fusion cuisine at the front of the house, or dine with the same menu in the back, where bowlers knock down pins and nosh on poke and lollipop lamb chops.
Those hankering for sushi should zip to Matsuhisa, the brainchild of Chef Nobu Matsuhisa, who trained in Japan and Argentina. Come for premium sake as well as the yellowtail sashimi with jalapeno — a signature dish.
In the mood for comfort foods, such as German bratwurst and apple strudel? Locals point to authentic Almresi. The family-owned restaurant delivers on full alpine eye candy from the lederhosen-clad waitstaff to the woodsy interiors.
The Sonnenalp Hotel features Bavarian touches. | Sonnealp Hotel
For those who prefer al fresco dining, nab a patio table at White Bison, overlooking Gore Creek. Feast on bison tartare and order a frosé (aka frozen rosé). Other outdoor venues include La Bottega for flat crust pizza.
For an intimate night at Sweet Basil, share a Colorado lamb shank entrée and the saffron linguini, laden with succulent and generous portions of seafood. Be sure to post pictures of the Palisades peach soup and the lobster potstickers served in a tiny iron pan.
Before leaving Vail, plan on torching calories before that waistline expands. You are steps from the ski slopes at any of the villages. Join Mountain Tours by Vail Resort, which offers free tours for intermediate and advanced skiers and riders, and tours for women and seniors.
Epic Discovery handles mountaintop programming, and unique is their Ski Younger Now workshop that helps older skiers acquire low-impact techniques. On another day, skip the village scene and head to the wilderness on a cross-country ski or snowshoe tour with Paragon Guides.
During non-ski months, Vail Mountain morphs into a green wonderland with a bungee trampoline, climbing wall, and zip lines also booked through Epic Discovery. Go fly fishing with experts from Gore Creek Fly Fisherman. Book a tee time at one of many golf courses. At Vail Valley Food Tours, sample tastes at select restaurants and breweries on foot. And to enjoy summer weather, bring the kids on the four-hour Bites and Bikes jaunt through village eateries.
A scouting safari for artwork is also a gaming thrill. Hunt down treasures at Ford Park, where you'll find artist Patrick Dougherty's newest Stickworks installation, in which the environmental artist bends willow branches into large habitats with archways and windows.
Next, visit the Vail Village Welcome Center for a free, one-hour art tour covering a collection of more than 55 works, spanning murals, sculptures, and site-integrated art. Most amazing is Lawrence Argent's Water Tree, a 24-foot-high fiberglass tree with branches connected by large bubbles that light up and change color at night.
The Sonnenalp Hotel's spa features pools inside and out.
Not to be missed are Vail's nine galleries that enchant visitors from around the globe. The Gib Singleton Gallery features sculptures by the late Gib Singleton and contemporary Western paintings from Denver native Carrie Fell. The long-eared bronze rabbits by Jim Budish are found front and center at Vail Village Arts. At the Vail International Gallery, discover bulls and horses shaped from antique chairs by Marc Sparfel.
If you itch to create, make your own masterpiece at the Alpine Arts Center and bring it home in a single day. In the summer, paint outdoors with a class at the Ford Park amphitheater.
Vail bursts with crowds and energy in winter and summer. But the quiet seasons of spring and fall also allow travelers down time where they can engage in Vail's bounty without lines and higher-priced lodging. Whatever season you choose, rest assured that all the art, food, and outdoor adventures are waiting here for you.
The "Cowroom" is the main dining room at Almresi. | Photo: courtesty of Almresi restaurant
---
IF YOU GO…
---
GALLERIES
Gib Singleton Gallery
1 Willow Bridge Road, Suite CS-5 970.476.4851; gibsingletongallery.com
Piece Art Gallery
122 East Meadow Drive, Unit E-1 970.476.7994; pieceartgallery.com
Raitman Art Galleries
223 Gore Creek Drive; 970.476.4883; raitmanart.com
Vail International Gallery
100 East Meadow Drive, #17 970.476.2525; vailgallery.com
ACTIVITIES
Alpine Arts Center
280 Main Street, C-101, Edwards, CO 970.926.2732; alpineartscenter.org
Art Walks
Vail Village Welcome Center 970.479.2344; artinvail.com
Epic Discovery at Vail Ski Resort
520 East Lionshead Circle; 888.500.5155; vail.com
Gore Creek Fly Fisherman
492 East Lionshead Circle; (Vail Sports location); 970.476.3296; gorecreekflyfisherman.com
Paragon Guides
210 Edwards Village Boulevard, B107; Edwards, CO; 970.926.5299; paragonguides.com
Vail Valley Food Tours
352 East Meadow Drive; 970.390.3157; vailvalleyfoodtours.com
Venture Sports
298 Hanson Ranch Road; 970.477.8095; avonventuresports.com
LODGING
Arrabelle at Vail Square
675 Lionshead Place; 888.688.8055; arrabelle.rockresorts.com
Four Seasons Resort
and Residences: One Vail Road 970.477.8600; fourseasons.com/vail
Hotel Talisa
1300 Westhaven Drive; 970.476.7111; hoteltalisa.com
Sonnenalp Hotel
20 Vail Road; 866.284.4411; sonnenalp.com
DINING
Almresi
298 Hanson Ranch Road (upstairs) 970.470.4174; almresi-vail.com
Bol Vail
141 East Meadow Drive, Suite 113 970.476.5300; bolvail.com
Gessner
1300 Westhaven Drive; 970.476.7111; hoteltalisa.com
La Bottega
100 East Meadow Drive, Suite 37 970.476.0280; labottegavail.com
Sweet Basil
193 East Gore Creek Drive 970.476.0125; sweetbasilvail.com
White Bison
223 Gore Creek Drive; 970.763.5470; whitebisonvail.com
FESTIVALS
March: Vail Film Festival
970.306.6843; vailfilmfestival.com
April: Taste of Vail Food Festival
970.401.3320; tasteofvail.com
Sundays, June to October: Vail Farmers Market and Art Show
970.401.3320; vailfarmersmarket.com
June through July: Bravo! Vail
970.827.5700; bravovail.org
July: Vail Arts on the Rockies
festivalnet.com
September: Fall Wine and Food Classic
970.401.3320; tasteofvail.com
September: Oktoberfest
vailoktoberfest.com
December: Winterfest at Vail Resort
vail.com