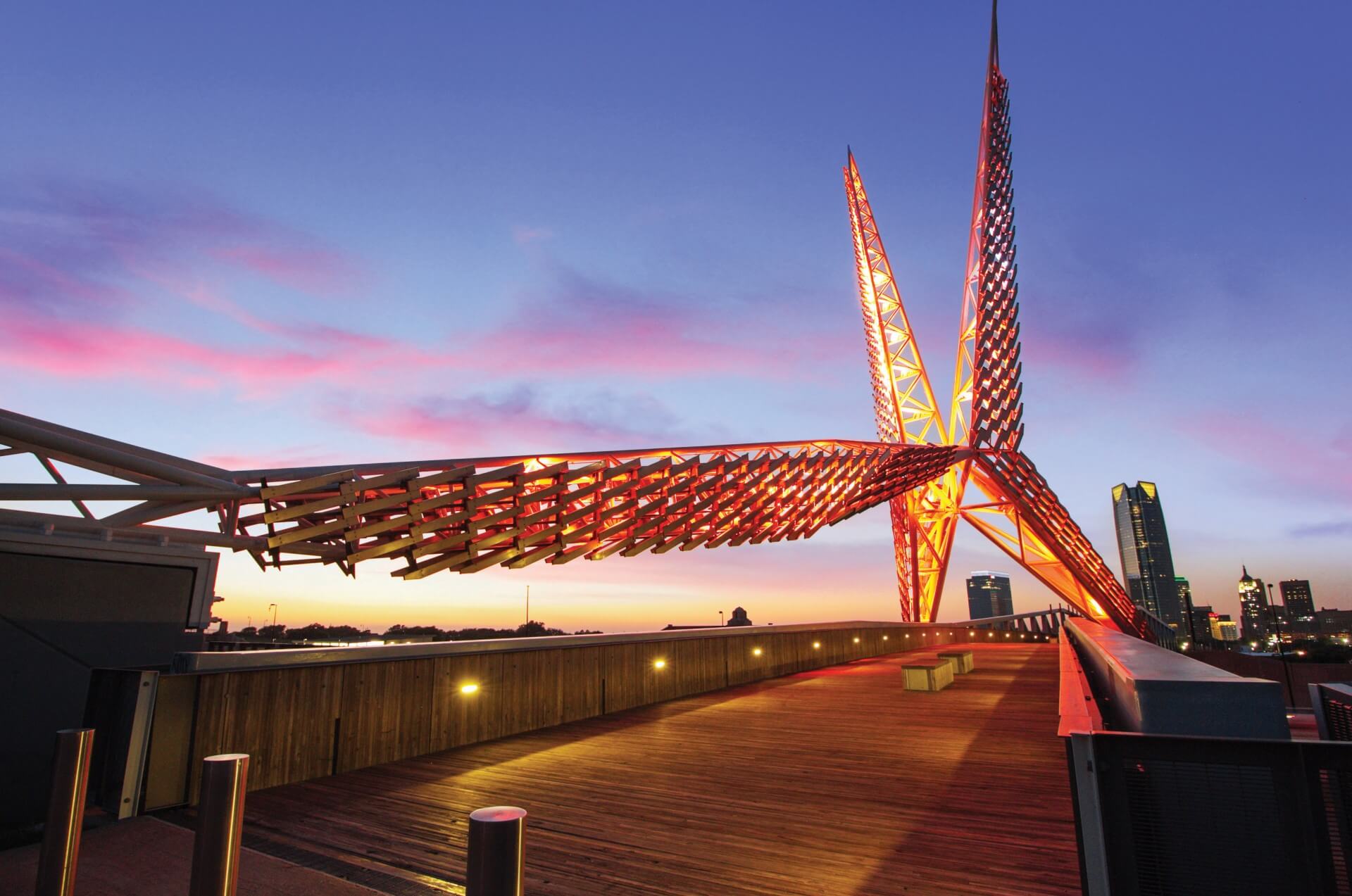 Inspired by Oklahoma's state bird, the scissor-tailed flycatcher, Skydance Bridge is a 380-foot-long pedestrian walkway near Downtown Oklahoma City, designed by SkyBridge, LLC. Photo courtesy of VisitOKC
08 Nov

Wanderings: Sunny City on the Southern Plains

Susan Kates, my favorite English professor at the University of Oklahoma, had just moved to the state from the Midwest when I was her student in the 1990s. I admired the way she embraced her new home. Often, she wore cowboy boots to class and talked of driving the backroads in her pickup truck on her days off, looking for antique stores and interviewing some of the people she'd eventually write about in her book, Red Dirt Women. One day I asked her what she liked best about Oklahoma and the Southern Great Plains. "I like how sunny it is here," she said without hesitation.

Kates wasn't kidding. Oklahoma is one of the country's sunniest places. And, according to the Environmental Protection Agency, it's one of only four states with more than 10 ecoregions, from high plains to hardwood forests. Oklahoma's capital city is situated in the middle of this bright, beguiling landscape and offers a diverse character all its own — one that reflects the region's geography, people, and history through its art and architecture.

Start your exploration of Oklahoma City at the First Americans Museum, which opened in September 2021 and shares the culture and history of the region's 39 unique tribal nations. Next, spend some time at the National Cowboy & Western Heritage Museum to view works by Frederic Remington, Charles M. Russell, and James Earle Fraser. A traveling exhibition ongoing through January 2, 2022, New Beginnings: An American Story of Romantics and Modernists in the West, features more than 100 pieces from Santa Fe's Tia Collection, including works by Oscar Berninghaus, Andrew Dasburg, Leon Gaspard, Victor Higgins, Will Shuster, and other artists who lived and worked in Northern New Mexico during the 1920s and 1930s when Santa Fe and Taos were important arts colonies.

Round out your exploration of artistic legacies at the Oklahoma City Museum of Art, which features American paintings and sculptures from the colonial period through the mid-20th century and a large collection of glass sculpture by Dale Chihuly. Not far away at Oklahoma Contemporary, visitors can enjoy an interdisciplinary experience that integrates visual and performing arts with educational programs.

For art in the open air, the Paseo Arts District, a historic community of more than 20 galleries, restaurants, unique shops, and Spanish Revival architecture, hosts First Friday art walks each month. And in 2021, USA Today recognized Oklahoma City for its public art program, a distinction evidenced in such projects as Plaza Walls, a curated, rotating mural series in the city's Plaza District.

When it comes to architecture, Oklahoma City's building styles range from elegant Victorian to Mid-century Modern. Find sharp angles and contemporary lines on display at the Boathouse District, a training site for Olympic rowing and kayaking, designed by Rand Elliott Architects. Families can join in on the watersport activities by paddling a kayak or stand-up paddleboard, or explore the nearby walking and biking trails.

Other architectural points of interest include Heritage Hills, a historic neighborhood just north of Midtown, which features some of the state's most distinguished homes, ranging from Italian Renaissance and Greek Revival to Neoclassical and American Craftsman. Similarly, the historic Lincoln Terrace neighborhood, just south of the State Capitol complex, includes examples of Colonial and Tudor styles.

There's also the iconic Citizens State Bank, a 1958 geodesic dome built on Route 66 in the heart of Oklahoma City; the Citizens Bank Tower, a Frank Lloyd Wright-inspired 1966 residential high-rise; and the futuristic State Capitol Bank on Lincoln Boulevard. When this stunning structure was completed in 1962, it created such a stir among Oklahoma City residents that the organization felt compelled to place a sign on the front lawn which read, "This is a bank." Not long thereafter, a prankster, echoing what everyone was thinking, added a question mark to the end of the statement.

Some of Oklahoma City's most endearing artistic creations are its culinary ones. No visit to Oklahoma City is complete without a stop at Cattlemen's Steakhouse, the city's oldest continually operating restaurant, which still serves some of the state's best steaks. And come to see why the chicken-fried steak is an Oklahoma specialty at Cheever's in the Uptown 23rd District. For dinner, book a table at the elegant Grey Sweater with celebrated Chef Andrew Black. Or reserve a spot at Nonesuch, which Bon Appétit named America's Best New Restaurant for 2018.

When the Skirvin Hotel in Downtown Oklahoma City opened in 1911, it was billed as the "newest, finest hotel in the Southwest." Today, the newly renovated property continues to attract celebrities, politicians, and others who value the facility's contemporary ambiance and distinguished service. Or stay the night at the Colcord Hotel, a charming luxury boutique property across the street from Oklahoma City's favorite urban park, the Myriad Botanical Gardens. Nearby is the brand new Omni Oklahoma City Hotel with 605 luxurious guest rooms and commanding views of the 70-acre Scissortail Park just across the street.
Visitors to Oklahoma City's Bricktown Entertainment District can cruise the city via canal and water taxi. Photos courtesy of Oklahoma Tourism & Recreation
Lake Hefner is a prime location for birdwatching, windsurfing, and sunset viewing. Photo courtesy of Oklahoma Tourism & Recreation
No matter where you're visiting from, you'll find Oklahoma City's greatest asset is its friendly and welcoming residents. They are always happy to recommend a restaurant, museum, or the best place to view one of the state's awe-inspiring sunsets.
Museums & Public Art
First Americans Museum
famok.org; 405.594.2100
Heritage Hills neighborhood
heritagehills.org
Lincoln Terrace neighborhood
lincolnterrace.org
National Cowboy & Western
Heritage Museum
nationalcowboymuseum.org; 405.478.2250
Oklahoma City Boathouse District
riversportokc.org; 405.552.4040
Oklahoma City Museum of Art
okcmoa.com 405.236.3100
Paseo Arts District
thepaseo.org; 405.525.2688
Plaza District
plazadistrict.org; 405.578.5718
Dining
Barrios
barriosmexicanokc.com; 405.702.6922
Big Truck Tacos
bigtrucktacos.com; 405.525.TACO
Cafe Antigua
cafeantiguaok.com; 405.602.8984
Cafe Kacao
cafekacao.com 405.602.2883
Cattlemen's Steakhouse
cattlemensrestaurant.com; 405.236.0416
Cheever's Cafe
cheeverscafe.com; 405.525.7007
Grand House
grandhouseokc.com; 405.524.7333
Grey Sweater
greysweaterokc.com; 405.445.6274
Nonesuch
nonesuchokc.com; 405.601.9131
Pho Cuong
facebook.com/pho-cuong-restaurant; 405.524.5045
Revolución
revolucionokc.com; 405.606.6184
Lodging
Colcord Hotel
colcordhotel.com; 405.601.4300
Omni Oklahoma City Hotel
omnihotels.com/hotels/oklahoma-city; 405.438.6500
Skirvin Hilton Hotel
skirvinhilton.com; 405.272.3040