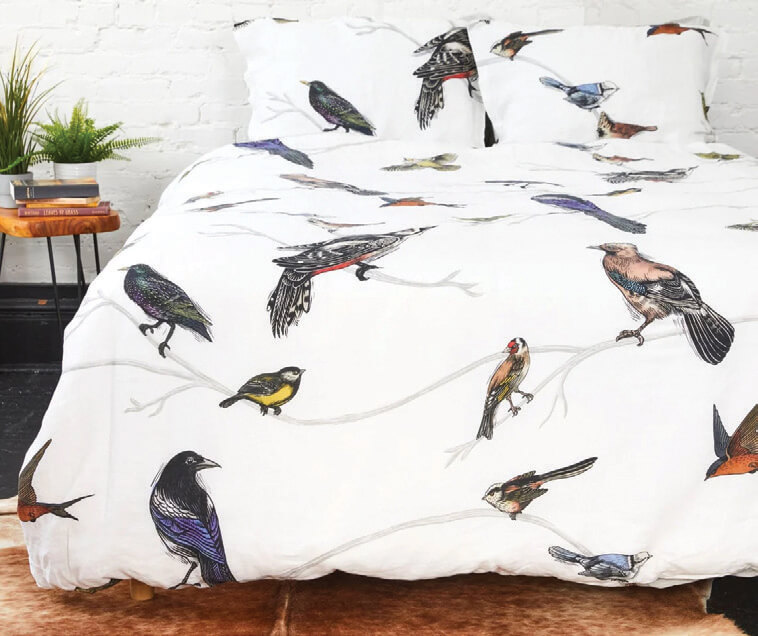 Organic Linen Duvet Cover Sets by The Modern Dane
06 Sep

Things We Love
Organic Linen Duvet Cover Sets by The Modern Dane
Born and raised in Denmark, Jacob Andsager developed an appreciation for thoughtful designs that enrich our everyday lives. Years later, based in Seattle, he infused that sensibility into The Modern Dane, creating eco-friendly bed linens rooted in the Scandinavian tradition of quality craftsmanship, sustainability, respect for raw materials, and, of course, beautiful designs. Flax sourced from "flax belt" regions in Belgium, France, and The Netherlands is used to produce high-quality linen that's comfortable, durable, and Global Organic Textile Standard certified. We love how the clean, white linens are paired with colorful Nordic-inspired nature designs, adding a whimsical touch to the bedroom.
Twin: $299
Full/Queen: $338
King/California King: $373
moderndane.com
Spritz Armchairs from Vondom

Vondom's carefully curated furniture collections include modern pieces from some of the world's most trendy, innovative, and dynamic designers, and these Spritz Armchairs are a perfect example. Created by Archirivolto Design, an Italy-based industrial planning, design, and architecture studio that was founded in 1983 by Claudio Dondoli and Marco Pocci, the chairs are styled after the white wooden fences running along many European beaches with perfectly aligned strips. These are made from injected polypropylene with fiberglass for indoor or outdoor use and are also stackable and available in several colors. We love the chair's contemporary yet classic design, and the selection of bold colors or minimalist tones to complement any architectural and interior style.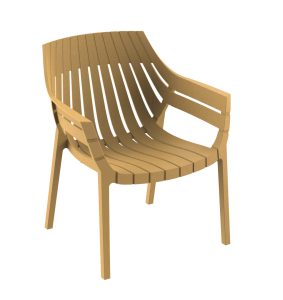 $210
81 x 58 inches
vondom.com
Carryall Leather Duffle by Silver & Riley
Over the years, Lola Banjo has traveled to more than 100 countries for work and pleasure, and in each city — from Rio de Janeiro to San Francisco — she keenly observed street fashion and culture. She also recognized a shortfall in the luxury brand bags, finding that the beautiful ones tended to lack usability. In 2019, she poured her engineering background and fashion sense into Silver & Riley to create timeless, luxurious, functional, and attainably priced bags for work, travel, and daily use. While Banjo designs each bag, they're made by carefully curated artisans in Tuscany and Naples, Italy, where "quality is always a core value." We love the colorful hues, style, and functionality that each one offers.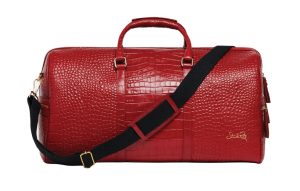 21 x 12 x 11 inches
From $995
silverandriley.com
Bud Vase Sculpture (No. 174) by Douglas Molinas Lawrence
While managing agroforestry and reforestation projects in the U.S., Costa Rica, Mexico, and Guatemala, Douglas Molinas Lawrence became fascinated by the diversity of natural wood species that are native to the U.S., along with other exotic species that can be sustainably sourced. Coupling that with training in architectural design, he started making furniture and wood sculptures before conceptualizing smaller pieces. He describes his bud vase series as "iterative model making, creatively engaging at a small scale." Today, Lawrence makes one piece per day using power and hand tools and a mix of traditional and contemporary techniques. We love the contrasting dark and light wood tones of No. 174, along with the geometric pattern that pops from the wood.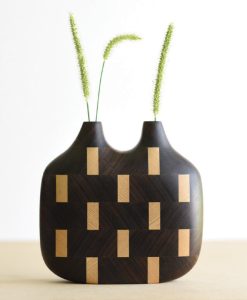 $265
6 x 6 x 2 inches
douglasmolinaslawrence.com
Westward Ho Rodeo China from True West
The classic 1940s Westward Ho line of dinnerware by the Wallace China Company, featuring designs by cowboy artist Till Goodan on high-quality vitrified china, served as the inspiration behind True West. After original pieces became hard to come by, Mark Clay, the former creative director for Polo Ralph Lauren Home Collection, and marketing specialist Pat Turner — both native Texans — set out to reproduce the popular sets. After securing the license to use Goodan's designs, they started True West in 1990, creating high-quality U.S.-made dinnerware that commemorates the American West. We love the authentic style and cowboy artistry of the Westward Ho collection, which is used on the TV series "Yellowstone."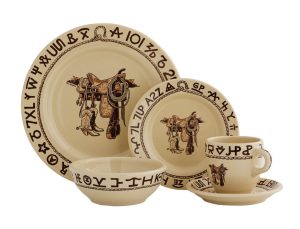 $175/place setting
truewesthome.com
Heavenly Horse Cuff Bracelets by Ben Nighthorse
Born in 1933 to a Cheyenne father and Portuguese mother, Ben Nighthorse made his first pieces from silver dollars flattened on the train tracks near his Sacramento, California, home. After serving in the U.S. Air Force, Nighthorse learned metal laminate techniques from a samurai sword maker in Japan, eventually creating jewelry inspired by his Northern Cheyenne heritage. His meticulous craftsmanship and commitment to using the finest precious and semi-precious gemstones, 18-karat gold, and sterling silver led to his fame among collectors and celebrities alike. In 1982, Nighthorse launched an 18-year tenure elected by Coloradans first to the U.S. House of Representatives and then the Senate, while helping to open the Smithsonian Institution's National Museum of the American Indian before retiring in 2005. Now 90 years old, Nighthorse is passing down his skills so his 24-year-old grandson Luke Longfellow can carry on his legacy. A stunning example of Nighthorse's artistry, the Heavenly Horses Bracelets, made of sterling silver with sugilite, turquoise, or lapis, feature inlaid horses running across a starry night sky.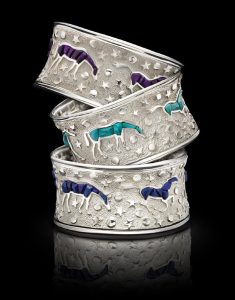 1.25 inches wide in a variety of sizes
Starting at $1,800
sorrelsky.com
Wild Ones Bench by Christina Chapman & Tony Panarisi
A collaboration between leatherworker Christina Chapman and woodworker Tony Panarisi, this bench is a tribute to Adirondack furniture and wild mustangs of the West. As an award-winning custom seamstress, tailor, and leatherworker for more than 50 years, Chapman has developed her own technique for creating high-relief architectural leatherwork, a process that has evolved over the past 32 years. Panarisi, who got his start by building sets and props for Warner Brothers Studios at 19, creates furniture inspired by the Arts and Crafts style and national park designs. Together, the artisans brainstormed and experimented, resulting in a standout piece with Panarisi's smooth lines complementing Chapman's high-relief leather work.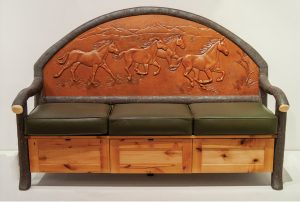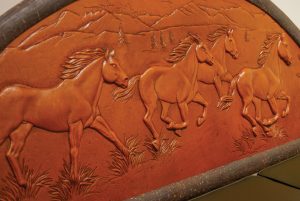 $29,250
72 x 30 x 50 inches
bywesternhands.org