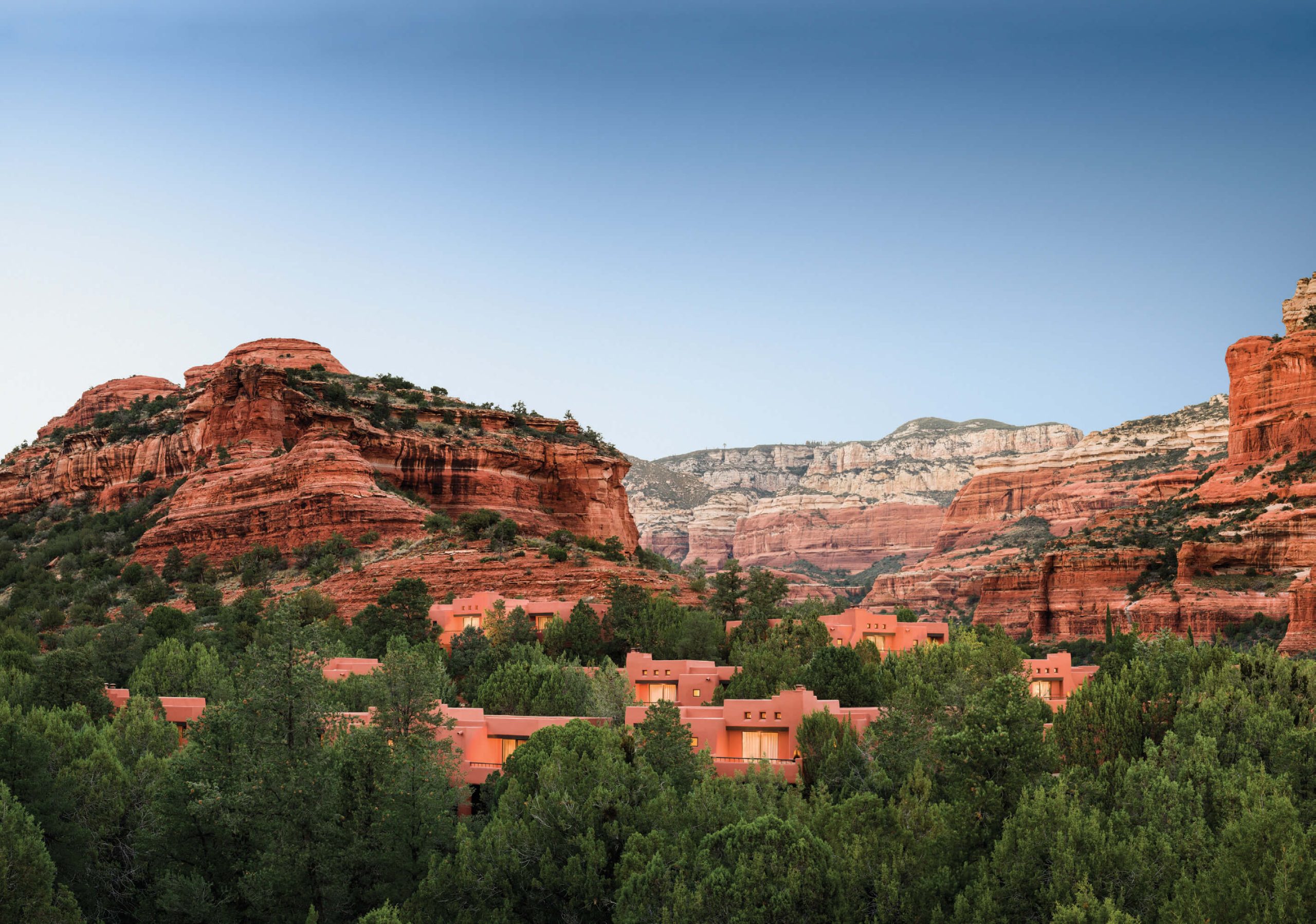 At the 70-acre Enchantment Resort, distinct rock formations above Boynton Canyon provide a striking view. Geologists say the iron oxide in the sandstone creates the reddish hue.Photo courtesy of Enchantment Resort
05 May

Wanderings: An Artistic Oasis in the Desert

In 1932, sculptor Marguerite Brunswig Staude was deep in thought as she walked by the Empire State Building during construction. Two steel beams in the fledgling structure appeared to form a holy cross in her mind's eye. The image so impacted her that she decided she would one day create a modern church embellished by a giant cross. After moving to Sedona, Arizona, she found the ideal spot to implement her vision. By 1956, the architectural feat was realized as the Chapel of the Holy Cross, a cement and steel Catholic sanctuary with a 90-foot cross rising from its red rock foundation. Listed on the National Register of Historic Places, the landmark is a chief attraction and one reason why millions flock to this iconic town.

Tiny Sedona, measuring only 18.3 square miles, is located in the northern interior of Arizona. While you can tap into its natural beauty and artistic flair instantly, getting there is another matter. One must be patient. To access this art colony, fly into Phoenix International Airport. From there, board a shuttle or rent a car and drive two hours north on Interstate-17. Or fly into Flagstaff Pulliam Airport, a 40-minute drive from Sedona.

Originally inhabited by the Navajo, Yavapai, Hopi, and Tonto Apaches, among other Native peoples, Sedona eventually became an agricultural community and was named in 1902 after Sedona Schnebly, the wife of the community's first postmaster. By the mid-1900s, news of the surreal red rocks with shapes resembling angels, battleships, and coffee pots lured both tourists and artists alike.

Since then, international and domestic travelers have paid homage to Sedona's monoliths and mountains. In Sedona, the key to a good time is not watching the sun go down but watching the rocks light up with flaming red and orange hues right before dusk. Famous sandstone formations include Snoopy Rock, Bell Rock, and Cathedral Rock.

Aficionados also converge for world-class art. The Southwest destination pulsates with festivals, workshops, and meet-the-artist receptions. The city features a public art program that stays fresh with new commissions. Take a personal art tour by downloading a map of the more than 30 public sculptures and murals on the Sedona Visitor Information Center's website, visitsedona.com.

Meanwhile, the Gallery District in this small community tantalizes with window displays from every art genre. On the first Friday of the month, galleries are open at night, and everyone is welcome to engage with artists and gallery owners. Be mesmerized inside Exposures International Gallery, Sedona's largest gallery at 20,000 square feet, featuring contemporary, traditional, and Southwestern art.

The vibe of Sedona is quite "New Age," where many place faith in the power of crystals, Native American healing practices, and alleged energy-emitting vortex sites. At Red Rock State Park or Slide Rock State Park, you may see pilgrims performing a drumming ritual in addition to sightseeing hikers. If you want to experience the red rocks from a different perspective, fly the skies with Red Rock Balloon Adventures, explore off-road with Pink Jeep Tours, or take a comfortable bus ride with Scenic Sedona Tours.

The curious come from all walks of life. And in Sedona, you'll encounter every flavor of lodging from modest Airbnb rentals to bust-the-budget resorts. For the ultimate marriage of luxury and nature, book the Ambiente, A Landscape Hotel. Opened in May 2022, the architecturally fascinating project consists of 40 freestanding atrium glass cubes nestled amidst the scarlet desert.

Meanwhile, Enchantment Resort, overlooking gorgeous Boynton Canyon, boasts refreshed casitas and suites in modern Southwest motifs. Spa and exercise buffs can visit the tennis and pickleball courts, full-service spa, and pool. Over at L'Auberge Sedona, the creek-loving resort touts its own art curator and extensive art programs. And the Amara Resort and Spa, within walking distance to Uptown, serves up bliss with an infinity pool, fire pits, and a spa highlighting deep tissue massage.

Once you get your bearings, wander Uptown to explore trinket shops, eateries, and galleries. In this neighborhood, you'll find the historic Sedona Arts Center, where you can discover distinctive wares from some 100 local artists.

For more creative inspiration, take a drive out to Tlaquepaque Arts and Shopping Village, which is really not a village but a boutique enclave filled with handmade goods. You'll discover Mountain Trails Galleries, which focuses on Western art. And nearby is Hillside Sedona, a plaza complete with galleries and shops.

While in town, sample regional cuisine and splurge on special occasion hotspots. Head to Oaxaca Restaurant for lively Mexican specialties. Step inside the Cowboy Club for cactus fries, rattlesnake meatballs, bison brochettes, and classic steakhouse fare. For a romantic dinner, reserve a table by the water at the Cress on Oak Creek restaurant in L'Auberge resort. Or dine outdoors at Rascal for local organic fare and Arizona artisanal cheeses.

Art, architecture, shopping, food adventures: From vortexes to vespers, it's all here, in tiny Sedona.
LODGING
Ambiente, a Landscape Hotel
info@ambientesedona.com; ambientesedona.com
L'Auberge de Sedona
855.905.5745; lauberge.com
Enchantment Resort
844.366.2968; enchantmentresort.com
Amara Resort and Spa
844.489.9662; amararesort.com
Restaurants
Cowboy Club
928.282.4200; cowboyclub.com
Cress on Oak Creek
855.905.5745; lauberge.com
El Rincon Restaurante Mexicano
928.282.4648; elrinconrestaurant.com
Oaxaca Restaurant
928.282.4179; oaxacarestaurant.com
Rascal at The Wilde Resort and Spa
928.264.7246; thewilderesort.com
Touring companies
Pink Jeep Tours
800.873.3662; pinkadventuretours.com
Red Rock Balloon Adventures
800.258.3754; redrockballoons.com
Scenic Sedona Tours
800.408.0613; scenicsedonatours.com
Art galleries and shops
Exposures International Gallery
928.282.1125; exposuresfineart.com
Hillside Sedona
928.298.5100; hillsidesedona.com
Mountain Trails Galleries
928.282.3225; mountaintrailssedona.com
Sedona Arts Center
928.282.3809; sedonaartscenter.org
Tlaquepaque Arts & Shopping Village
928.282.4838; tlaq.com
Annual Events
Red Rocks Music Festival: Sept. 3–Dec. 17
602.402.4551; redrocksmusicfestival.com
Sedona Arts Festival: Oct. 8–9
928.204.9456; sedonaartsfestival.org
Sedona Gem and Mineral Show: Oct. 15–16
928.274.4450; sedonagemandmineral.org
Sedona Plein Air Festival: Oct. 22–29
928.282.3809; sedonapleinairfestival.org

Kathy Chin Leong is an award-winning travel writer whose work has been published in the New York Times, Los Angeles Times, and many other publications. Her recent book, San Francisco's Chinatown (Heyday Books), has garnered rave reviews.