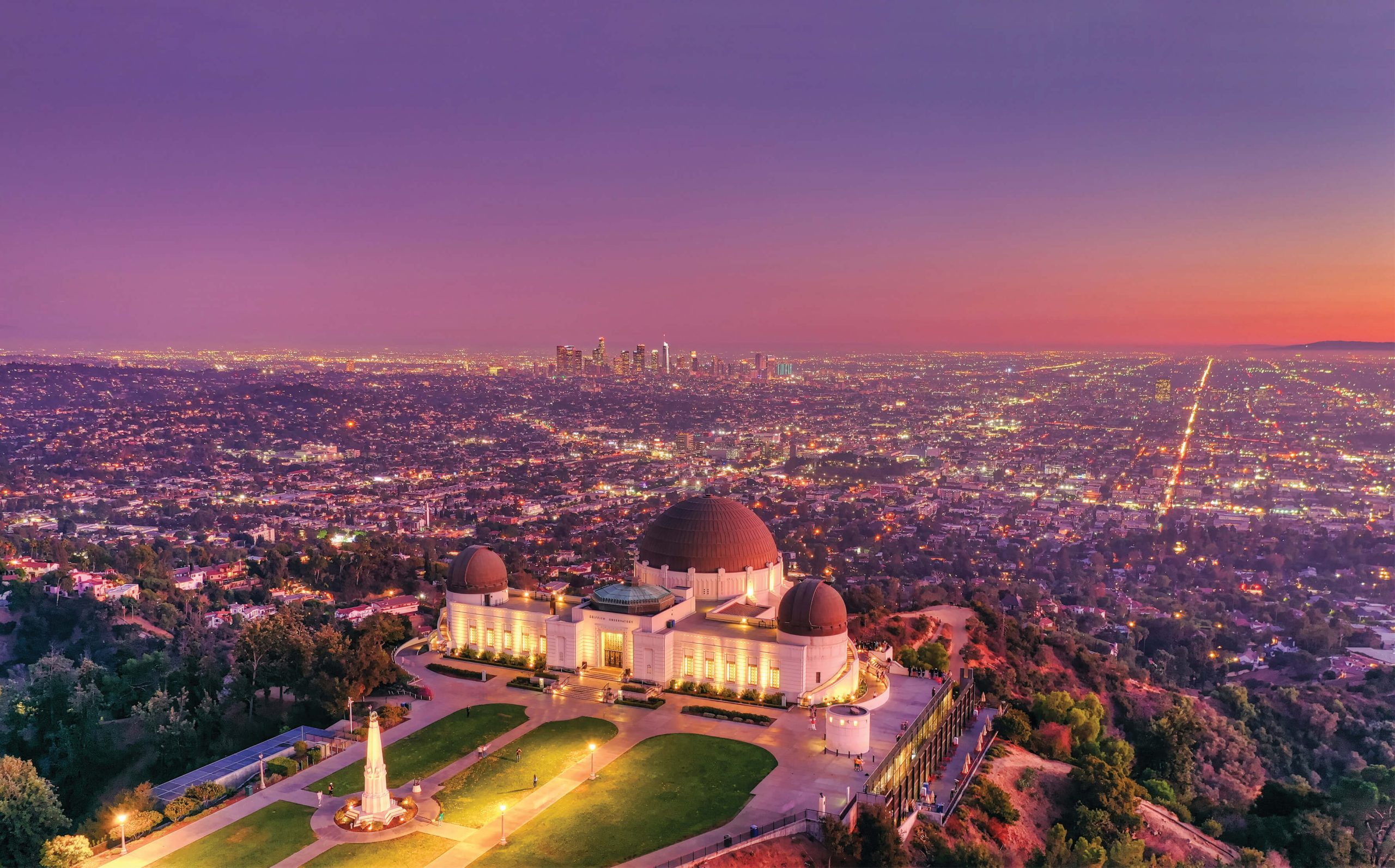 A Los Angeles landmark since 1935, Griffith Observatory offers visitors some of the city's best views, including Downtown's cluster of high-rises and the Pacific Coast to the southwest. Photo courtesy of Griffith Observatory, City of Los Angeles
11 Jul

Wanderings: Angels in the Architecture

Los Angeles boasts among the richest troves of public Art Deco architecture in the nation. With its well-crafted bold geometries and bright colors, the style emerged at the 1925 International Exhibition of Modern Decorative and Industrial Arts in Paris, France, and made its way around the world. Art Deco suited brashly booming L.A., whose architects often added their own embellishments.

Two historic preservation organizations — the Los Angeles Conservancy and the Art Deco Society of Los Angeles — offer Deco-themed tours and events. In addition, we've compiled this self-guided three-day architectural tour of historical buildings. Focusing on three areas of the city, it offers an opportunity to indulge in this distinct style and gain a better understanding of L.A.

Day One: Downtown

The historical hub of Downtown makes an ideal first destination. Begin at the grand palace that has welcomed people by the trainload for 83 years: Union Station Los Angeles (1939, Parkinson & Parkinson). This eloquent amalgam of Moorish, Spanish Colonial, Mission Revival, and Art Deco architecture has appeared in many movies, including "The Way We Were," "Bugsy," and "Catch Me If You Can."

A short stroll leads to Los Angeles City Hall, completed in 1928 by a consortium of local architects. Its iconic 28-story pyramid-topped tower will be familiar to anyone who recalls the opening credits of the TV series "Dragnet." Must-see features include a 135-foot-wide rotunda with 46 types of marble; the stately City Council Chamber; the 26th-floor mayoral portrait gallery; and the 27th-floor observation deck's panoramic views.

Next, head to Los Angeles Central Library (1926, Bertram Goodhue). The square-block structure evokes an ancient temple of learning, its history chronicled in Susan Orlean's recent bestseller The Library Book. Expanded in 1993 with an eight-story atrium, the 540,000-square-foot library features a soaring rotunda — with 9,000 square feet of murals depicting California history by Dean Cornwell — and a peaceful 1.5-acre public garden.

While you could happily spend all day at the Central Library, allow time for a 20-minute walk to the nearby Eastern Columbia Building (1930, Claude Beelman). Wonder at its 13 stories of steel-reinforced concrete clad in terracotta tiles glazed in shades of turquoise and trimmed in gold.

While Downtown, take a break for lunch. Sample Mexican food along Olvera Street, a block-long pedestrian passageway dating from the early 19th century, or enjoy dim sum in Chinatown or sushi or ramen in Little Tokyo. There's also the option of grabbing a bite at the Grand Central Market, a cavernous 1897 hall now filled with hip international food stalls. Afterward, pop across Broadway to peek inside the historic Bradbury Building (1897, George H. Wyman), immortalized in the movie "Blade Runner." Marvel at the fantastical five-story atrium of red oak, wrought iron, pink Belgian marble, and glazed yellow brick.

Once you've refueled, continue your creative journey with a stop at The Broad, a contemporary art museum that opened in 2015 and features works by Jean-Michel Basquiat, Roy Lichtenstein, Kara Walker, Andy Warhol, and Christopher Wool, among many others. Then seek serenity in the postmodern Cathedral of Our Lady of the Angels (2002, José Rafael Moneo). Designed by the Spanish architect, this contemporary cathedral has virtually no right angles, which imparts a sense of mystery.

End your day Downtown with a Los Angeles Philharmonic performance inside the swooping, gleaming stainless-steel forms of Disney Concert Hall (2003, Frank Gehry) or a show across the street at the Music Center (1964, Welton Becket & Associates).

Day Two: Wilshire Boulevard

Your second day focuses on a historic street: Wilshire Boulevard, the 16-mile-long thoroughfare stretching westward from Downtown to Santa Monica. Resume your architectural tour at Bullocks Wilshire (1929, Parkinson & Parkinson). Originally a luxury department store with large display windows to attract passing motorists, the block-long structure includes lavish ornamentation in green-tarnished copper. Though now occupied by Southwestern Law School, its deluxe interiors can be seen through tours organized by Friends of Bullocks Wilshire.

One mile further west stand two of L.A.'s finest buildings. Wilshire Boulevard Temple (1929, Abram Edelman and S. Tilden Norton) is home to the city's oldest Jewish congregation, whose members and donors a century ago included MGM co-founders Irving Thalberg and Louis B. Mayer, Universal Studios founder Carl Laemmle, and all three Warner Brothers. Inside, the mammoth octagonal main sanctuary blends Byzantine-revival and Art Deco styles; the Warner Murals depict Jewish history on seven walls, and the eighth features a rose window. Tours are offered by appointment.

Three blocks further west, at Wilshire and Western avenues, is the ornate, turquoise-hued Zig-Zag Moderne Wiltern Theater (1931, Morgan, Walls, and Clements). Attend a concert here to admire elaborate interiors that designer Anthony Heinsbergen described as a "steaming jungle" of colors.

Appealing dining options abound to fuel your mid-Wilshire explorations. Myriad restaurants in surrounding Koreatown offer fragrant barbecued meats, noodles, and the vegetable side dishes called banchan. And southeast of Bullocks, near MacArthur Park, Langer's Delicatessen-Restaurant makes fabled pastrami sandwiches that even New York critics consider America's best.

Two miles further west along Wilshire is the "Miracle Mile," a stretch between La Brea and Fairfax avenues, developed in the late '20s and '30s. You'll spy several Art Deco buildings here, though many have disappeared or are in disrepair. But your main destination, just past the La Brea Tar Pits & Museum (the world's largest deposits and displays of Ice Age fossils) and the now-under-expansion Los Angeles County Museum of Art, is the latest repurposing of an L.A. Art Deco landmark: the May Company Building (1939, Albert C. Martin and Samuel A. Marx). Originally a Streamline Moderne department store, it was recently refurbished to its original glamor and was renamed the Saban Building as the permanent home of the Academy Museum of Motion Pictures. Inside, find state-of-the-art exhibits on cinematic arts and memorabilia. A gigantic spherical, glass-domed extension by project architect Renzo Piano houses a 1,000-seat theater and a city-view terrace. After a film screening, enjoy dinner at the museum's restaurant, Fanny's, which serves contemporary cuisine with a touch of Hollywood glamor.

Day Three: Hollywood Boulevard

Plan your third day for a Friday, Saturday, or Sunday, to ensure access to the grand finale. Begin on Hollywood Boulevard — with its well-known Hollywood Walk of Fame honoring entertainment legends — near the Chinese Theatre (1926, Meyer & Holler), an extravagant Asian fantasia inside and out. The best way to appreciate the interior is to see a movie, but allow time to study the forecourt's footprints, handprints, and signatures of stars past and present preserved in cement.

For more Art Deco exuberance, travel a mile east to the Pantages Theatre (1930, B. Marcus Priteca), the nation's first movie palace designed in that style, now home to touring productions of Broadway musicals. Its glorious 2,812-seat interior — designed by Heinsbergen, who also brought the Wiltern to life — hosted the Oscars from 1949 to 1959. Before or after a show, dine at Hollywood's oldest restaurant, the nearby Musso & Frank Grill, which opened in 1919. It's a casually clubby spot for celebrity sightings and old-school cuisine, not to mention L.A.'s best martinis.

There's no better way to end an Art Deco tour of L.A. than to head northeast into Griffith Park. At 4,103 acres, it's one of the nation's largest urban parks. Poised on a promontory partway up the south slope of 1,625-foot Mount Hollywood stands Griffith Observatory (1935, John C. Austin, Frederick M. Ashley), open and free to the public from noon to 10 p.m. on Fridays, 10 a.m. to 10 p.m. Saturdays and Sundays. With three domes, the central one 84 feet in diameter and clad in copper, the retro-futuristic building has appeared in such films as "La La Land," "The Terminator," and "Rebel Without a Cause." After watching a planetarium show, studying science exhibits, and gazing through a telescope trained on the heavens, conclude your visit on the parapets for unrivaled nighttime vistas stretching to the Pacific Ocean. You may well feel, at last, that you understand the City of Angels.
ART DECO LANDMARKS
Academy Museum of Motion Pictures
6067 Wilshire Blvd.; academymuseum.org
Bullocks Wilshire (Southwestern Law School)
3050 Wilshire Blvd.; swlaw.edu/bullocks-wilshire-campus
Eastern Columbia Building
849 S. Broadway
Griffith Observatory
Griffith Observatory; griffithobservatory.org
Los Angeles City Hall
200 N. Spring St.; lacity.org
Los Angeles Central Library
630 W. 5th St.; lapl.org/branches/central-library
Los Angeles Conservancy
523 W. Sixth St., Suite 826; laconservancy.org
Pantages Theatre
6233 Hollywood Blvd.
hollywoodpantages.com
Union Station Los Angeles
800 N. Alameda St.; unionstationla.com
Wilshire Boulevard Temple
3663 Wilshire Blvd.; wbtla.org
Wiltern Theater
3790 Wilshire Blvd.; thewiltern.net
OTHER ATTRACTIONS
Bradbury Building
304 S. Broadway
The Broad
221 S. Grand Ave.; thebroad.org
Cathedral of Our Lady of the Angels
555 W. Temple St.; olacathedral.org
Chinese Theatre
6925 Hollywood Blvd.; tclchinesetheatres.com
Hollywood Walk of Fame
Hollywood Blvd. between Gower St. and La Brea Ave.; and Vine St. between Yucca St. and Sunset Blvd.;walkoffame.com
La Brea Tar Pits & Museum
5801 Wilshire Blvd.; tarpits.org
Los Angeles County Museum of Art
5905 Wilshire Blvd.; lacma.org
Music Center of Los Angeles County
135 N. Grand Ave.; musiccenter.org
Walt Disney Concert Hall
111 S. Grand Ave.; laphil.com
DINING
Chinatown
Downtown, bordered by the 101, 110, 5, and 10 freeways.; chinatownla.com
Fanny's
6067 Wilshire Blvd.; fannysla.com
Grand Central Market
317 S. Broadway; grandcentralmarket.com
Koreatown
Mid-Wilshire, bordered by Vermont Ave., Western Ave., W. 3rd St. and San Marino St.; koreatownlosangeles.com
Langer's Delicatessen-Restaurant
704 S. Alvarado St.; langersdeli.com
Little Tokyo
Downtown, bordered by E. 3rd St., E. Temple St., S. Los Angeles St., and the Los Angeles River; visitlittletokyo.com
Musso & Frank Grill
6667 Hollywood Blvd.; mussoandfrank.com
Olvera Street
Near Union Station, bordered by N. Main St., N. Alameda St., E. Cesar E. Chavez Ave., and El Pueblo de Los Angeles Historical Monument; olvera-street.com