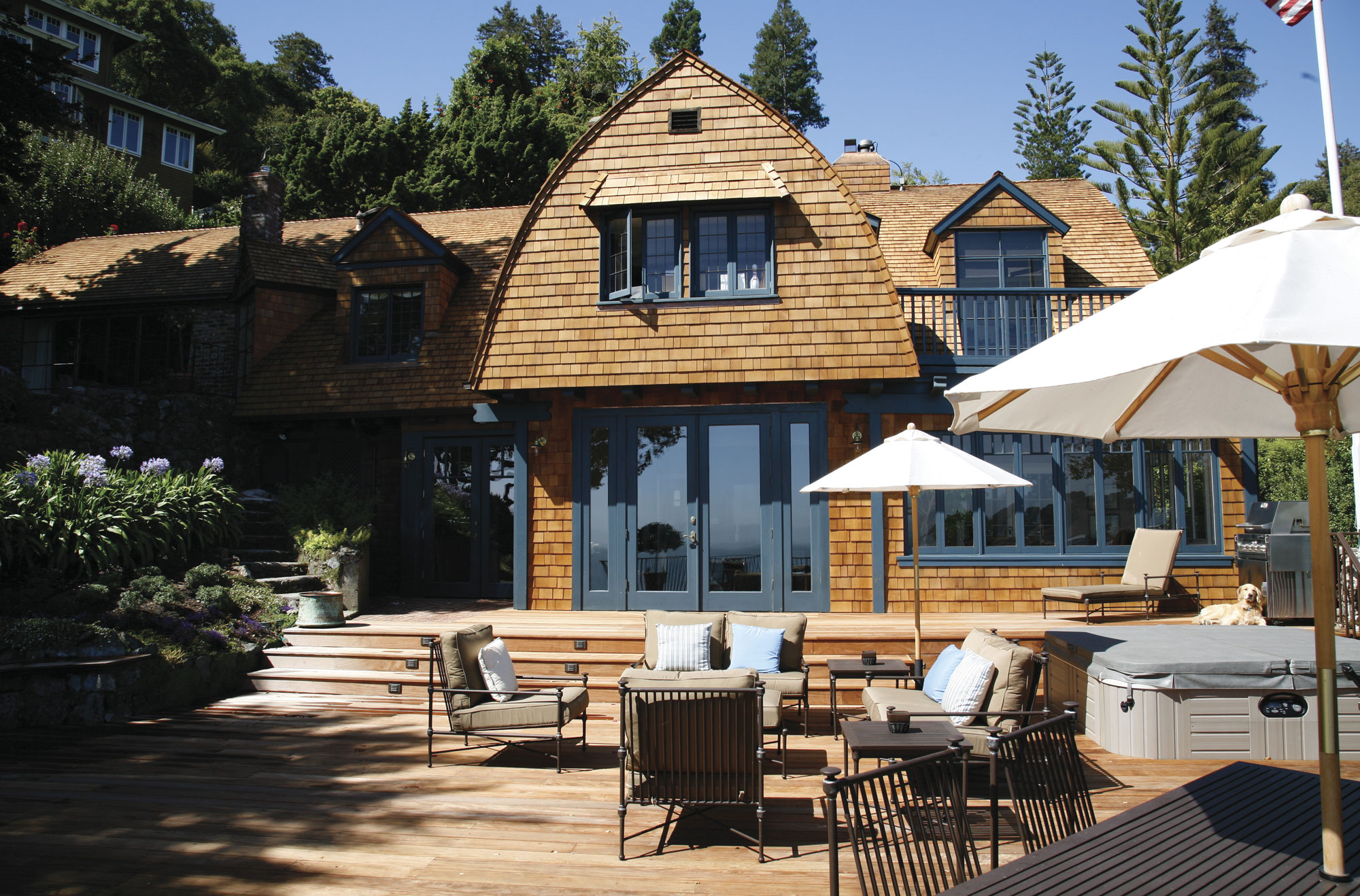 The unique, shingled, barnlike structure is perched on a steeply terraced hillside 100 feet above the rocky shore.
01 Aug

Down by the Bay

FOR PHOTOGRAPHER ROBIN HAUSER REYNOLDS, the most intriguing challenge lies in taking oft-attempted (and often clichéd) images and presenting them in a new light. Inspired by the ever-changing views outside her windows, Reynolds' Water Series forgoes the typical horizontal presentation of ocean as seascape in favor of freeze-framed slices of surf. Suspended in air, white against blue, it's water as we've never seen it. In this artist's eye, waves-against-rocks dynamism is transformed into three-dimensional sculpture.

"I've always loved water, especially the clarity of it," says Reynolds, a lifelong resident of the San Francisco Bay Area. "For these images I had to go where I could get the cleanest water possible. I went to Carmel, out on the point near the Mission; I had to get there early when the light was just right. It was February, so these were winter waves, great big storm waves."

Using her 70-200 mm Canon lens, she waded out into the chilling surf ("I got pretty wet," she recalls), and waited for each telling moment. The results, particularly in their presentation — blown up life-sized with deckled edges and a crisp, white frame — are striking, a fresh take on the timeless theme of beauty in nature.

"I've always been inspired by the perpetual motion of waves," explains the artist.

"The idea of taking that perpetual motion and freezing it into sculpture was intriguing to me. The froth of each wave is like a fingerprint; no two are ever alike. I also wanted to capture that incredible blue and white and bring it home."

Home for the artist has always been in relation to water. Reynolds grew up in San Francisco within view of the Bay, attended school just moments from the Golden Gate Bridge, hung out at Ocean Beach on the weekends during high school. Now she lives in a house whose very name is defined by its proximity to water: "Landfall" is a seafaring term indicating the land first sighted at the end of a voyage.

The unique, shingled barnlike, structure, perched on a terraced hillside 100 steep feet above the rocky shore, was built as a summer cottage on Belvedere Island in 1891. It was one of the first buildings on the island, which served as a retreat from the chilling summer fog for San Francisco's elite a half century before the construction of the Golden Gate Bridge. Until the bridge to Marin County was finished in 1937, the island was accessible mainly by ferry and private yacht. From the Victorian era right through the Depression, Belvedere residents were on "island time," the days marked by the arrival of the ferry (which at that time shared a dock with the house), and the sight of the vegetable man making his rounds with his heavy basket.

Although originally conceived as a "honeymoon cottage," Landfall boasted a pedigree from its start. Designed by Albert Farr, a prominent turn-of-the-century San Francisco architect, its gardens were landscaped by John McClaren, designer of Golden Gate Park. Owned by only seven families for more than a century, both house and garden have been well loved and little disturbed, says its current caretaker.

"It was 90 percent knob-and-tube wiring when we came into the house," says Reynolds, who has lived in Landfall with her family since 2001. "A lot of the construction was lathe and plaster, very old. All three original coal-burning fireplaces are intact, and they all work. The dining room and living room have their original leaded windows, and true old divided-light windows; they're really old and beautiful."

The Reynolds have worked hard to respect the integrity of the home, in some cases correcting previous mistakes, such as replacing metal windows, installed during a "modernization" effected during the 1960s or '70s with custom-made wooden divided-light windows. When it has been necessary to make changes — replacing a compromised wood-burning stove in the master bedroom, which was added on in the 1930s, or upgrading the kitchen so that it's livable and efficient for a contemporary family — they've made every effort to respect the home's character.

The house may be all about its dramatic site — it overlooks Belvedere Cove and the distinctive white clubhouse of the Corinthian Yacht Club (founded in 1886), and both front doors yield views straight through the house and across Raccoon Straits to Angel Island — but its period details convey a unique charm, as well as history at every turn. Heavy beams, graceful windows, wide plank floors reclaimed from ships, period molding and dining room wainscoting speak to a bygone era. A whimsical guestroom with a floor-to-ceiling bay window evokes the home's cottage history. A cozy den still retains its original earthenware corner sink and handcarved trim.

The bathrooms alone act as time capsules: original white honeycomb tile and clawfoot tub in one; antique crystal doorknobs in another; and a "Jack-and-Jill" shared bath with blue and cream tiles, a built-in vanity nook with mirrors and lighting fixtures in the form of leaping fish. A bedroom fitted out in the 1930s by Marion Huntington, of the renowned railroad family (Huntington owned the house for 25 years), replicates a stateroom on her beloved yacht, which often lay at anchor in Belvedere Harbor. The storybook space still has its coal-burning fireplace, narrow floorboards, leaded windows, low, curved beam ceilings, a bunklike built-in bed and a door complete with a porthole.

"All the original owners did an excellent job respecting the integrity of the house," says Reynolds. And most of them admirably resisted the siren call of modernization, which takes some discipline, she adds. "When you live in an old house, you just have to get used to things not working."

Accordingly, Reynolds has made her own mark but lightly in the house. "I felt my obligation to the house was to restore it to its original beauty and its feeling." She decorated with little help using her grandmother's English antiques and Ralph Lauren upholstered furniture, some carefully chosen paint colors (deep red in the living room; a green that's "exactly the color of the water" in the kitchen) and certain artworks of special significance, such as the oil painting that hangs over the fireplace in the dining room. Artist Susan Gantner, from whom Reynolds took art lessons when she was a schoolgirl, perfectly captured the scene that replays just beyond the deck every Friday evening in the summertime: sailboats at the start of a race on San Francisco Bay.

Reynolds' latest series was inspired at least partly by Landfall's remarkable garden. Planted with roses around the deck and trellised brick patio, its heritage plants include azaleas, 85-year-old camellias (now grown big as trees), rhododendron bushes, a massive trumpet vine that is slowly but surely taking over a bay tree, a century-old Japanese maple with branches that twist and turn, a ginkgo, various fruit trees and a "nearly unheard of" deciduous redwood.

Living in such a setting inspired her to look closely at the blossoms surrounding her. In her Orchid Series, Reynolds starts with a familiar flower and captures its abstract form to create a contemporary watercolorlike image. She calls it "a macro view of nature's authentic colors and forms," and explains, "I love taking something ordinary, making it abstract and giving the audience a different perspective."

For this artist, living in an antique — a work of art in its own right — has given her a different perspective, and it has certainly influenced her art. Despite the growth on Belvedere Island — the preponderance of spectacular homes and dramatic roads, with their hanging gardens and hairpin turns — life at Landfall is a study in timelessness, and the perfect environment for the photographer who chooses to turn her camera to nature.