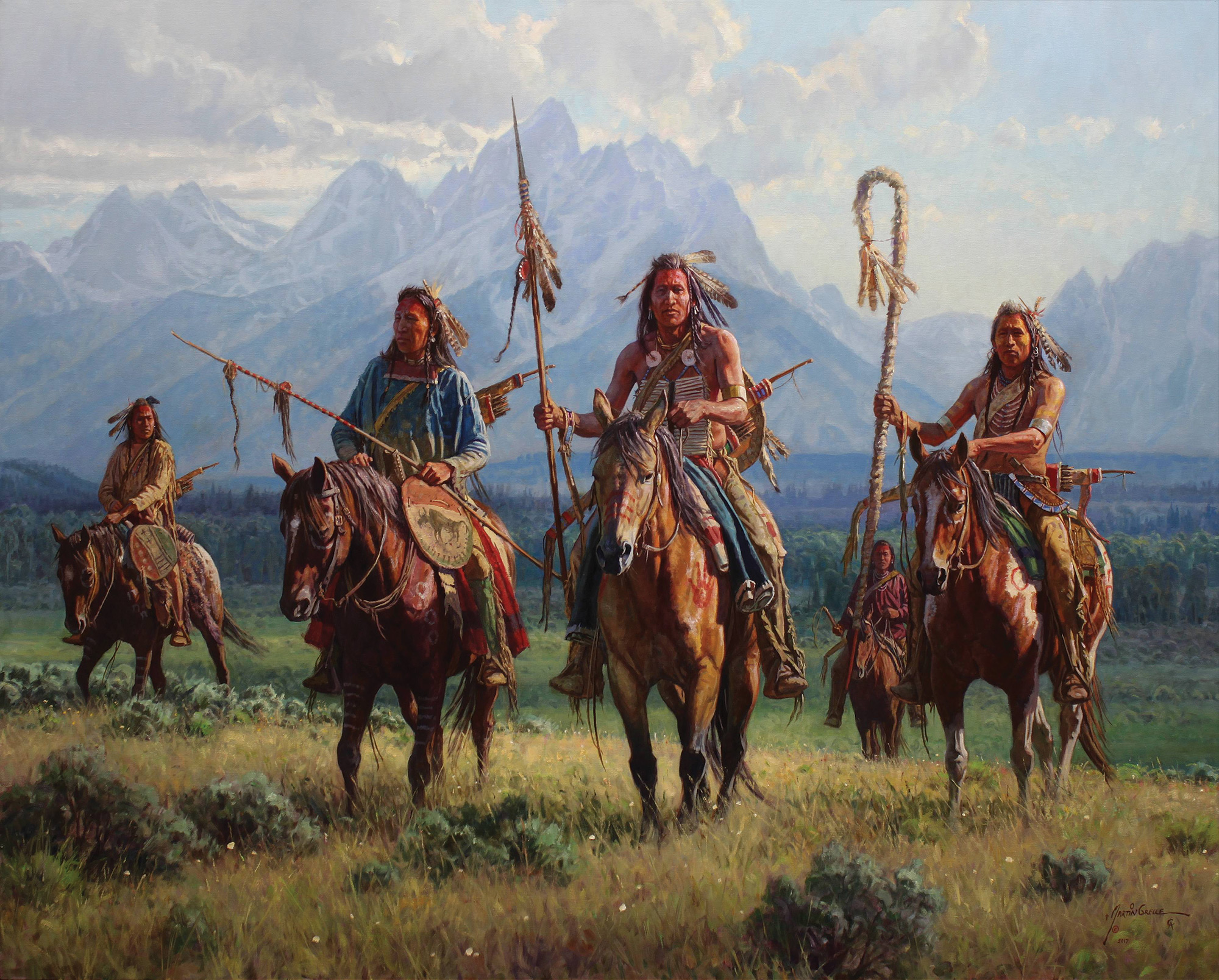 "Children of the Large-Beaked Bird" | Oil on Linen | 48 x 60 inches
14 Sep

One Man's West

DESPITE BEING ONE OF THE MOST SOUGHT AFTER ARTISTS IN THE COUNTRY, success has never diminished Martin Grelle's sense of gratitude to those who "brung him." Proof of this was his dedication to a friendship with Ray Johnson, owner of the Overland Gallery of Fine Art in Scottsdale, Arizona, his exclusive gallery for nearly three decades.

"I truly enjoyed working with Ray, his director, Trudy Hays, and the entire gallery staff," Grelle says. "Ray and I collaborated on 26 annual one-man shows in a row at Overland, until he decided to retire in 2014."

Feeling strongly about such quality relationships, Grelle explains that a personal offer by Legacy Gallery owner, Brad Richardson, became the impetus for reinstating this one-man-show tradition. Following a three-year hiatus, on November 1 Grelle will showcase 20 new works at the gallery's Scottsdale location.

"Brad called and said he was interested in doing a solo exhibition of my work and commented that he wanted to make it very special. After that, he traveled all the way from Arizona to my hometown of Clifton, Texas, to present the details, and I really respected that," Grelle says.

Richardson is equally excited about offering collectors the renewed opportunity to see a large selection of Grelle's work at a single location. "My wife, Jinger, and I are especially pleased to be representing such a diverse selection of imagery created especially for this exhibition," Richardson says. "Over time, Martin's name has risen to the top of the list for many collectors. His paintings are always sold out at venues such as the Cowboy Artists of America (CAA) exhibitions and the Prix de West Invitational, and his performance in the secondary market is even more exceptional. In recent auctions, at least four prices have set personal highs for Martin, commanding prices from $350,000 to the half-million-dollar range. It is clear that the collectors have spoken."

Grelle does a great deal of research before putting brush to canvas, and immediately following the 45th Prix de West Invitational in Oklahoma City in June, he and his wife, Joyce, headed to Montana with the intent of acquiring additional inspiration for his upcoming show. The long drive not only allowed Grelle the opportunity to view the monumental Crazy Horse Memorial in progress in South Dakota, but also provided the artist with views of the rolling plains and mountains inhabited by the subjects he paints. "Landscapes strongly influence my paintings, so I am always imagining incidents that might have occurred in the beautiful regions that I visit and photograph," he says. "I have literally thousands of landscape photos. And once I choose a location, I can insert the details of the story I want to tell into a specific background."

After participating in the annual CAA Trail Ride on a local Montana ranch, the next item on Grelle's agenda was a photo shoot using local Native American models. Grelle generally shoots specific references for paintings, and in 2009, he began working with Michael "Bad Hand" Terry, a professional author, speaker, movie advisor and historian. "Although I'm not so much a historical painter as I am a period painter, the weapons, clothing and trade goods in my compositions still need to be accurate for the specific era I am depicting," Grelle says. "In addition to his other talents, Terry makes fabulous reproductions of artifacts such as war shirts, beaded cases, leggings, shields and headdresses. Knowing his abilities, I can simply give him instructions ahead of time and rely on him to equip his models with appropriate costumes and accoutrements."

Terry lives near Crow Agency and the pair generally sets up shoots near there in eastern Montana; many of Grelle's works depict members of the Crow tribe. "This year we were close to the Little Bighorn River — Native Americans refer to it as the Greasy Grass — so I was able to use the river as background in many of my reference shots," Grelle says. "In fact, I have used members of the Bird in Ground and Enemy Hunter families so frequently that a working relationship has matured into friendships."

An exciting storyteller by nature, Grelle manages to infuse each new composition with strong narratives inspired by museum visits, books, old photographs, diaries or other historical records. Although he loves retelling traditional stories using a different slant, he confides, "I am always looking for ideas that might not have been done before. Personal feelings and relationships are very important to me." A piece entitled Bound by Heart and Paint exemplifies this concept. "Based on rituals, often typical of the Crow tribe, I have chosen a setting inside a tipi which portrays a Native American woman seated before her kneeling husband as he applies paint to her face. As a show of unity, the designs painted on the woman's face would mimic those on the face of her husband."

Espousing the belief that his painting ability is a gift from God that must be shared, he is generous with his time and talent, especially as it relates to events in and around Clifton. Longtime friends and staunch supporters of the town's Bosque Museum and the Bosque Arts Center, Wally and Saranne Penberthy have observed Grelle's dedication to supporting the local arts community on a first-hand basis.

As coordinator of the center's workshops, Saranne marvels that Grelle and fellow CAA member Bruce Greene have taught plein air workshops there for the past 25 years. "In keeping with who they are, they keep the tuition reasonable so the workshops sell out the day they are announced. Each year, Grelle also donates an original painting to the fundraiser for the Bosque Arts Center," Saranne says. And to honor their hometown boy, the Bosque Museum showcases one of his earliest canvases: a painting titled Night Camp on the Bosque. It depicts a group of Texas Rangers camped near the Whipple Truss bridge over Clifton's Bosque River, a Texas historical landmark.

Decades ago, Grelle also participated in local theater productions, singing a lead role in their 1996 production of "Godspell." "Due to my schedule, I haven't been able to be in a play for a long time, but I still sing in church choir," he says.

In spite of an unbelievably demanding schedule, Grelle remains a devotee of the cowboy code of ethics, honoring friendship and commitment. The artist proudly relates, "I haven't missed entering work in the annual Prix de West exhibition since 1995, and I've also participated in the fall CAA exhibition every year since my first show as a member in 1996." He served as president of both the CAA and the Joe Beeler Foundation in 2014. Continuing at the helm in a supportive role, he chaired plans for the CAA's 50th anniversary celebration in 2015, joining Bruce Greene as co-editor of The Sons of Charlie Russell, a volume that documents the group's history over the past 50 years.

Having attained the goals he once only dreamed about, Grelle emphasizes that his first priority, both in his own career and as he begins his second term as CAA president in October, is to further Western representational art as an important American art form. There is little doubt that the high quality of Grelle's work, combined with his dedication to his beliefs, will be a major factor in making that goal a reality.