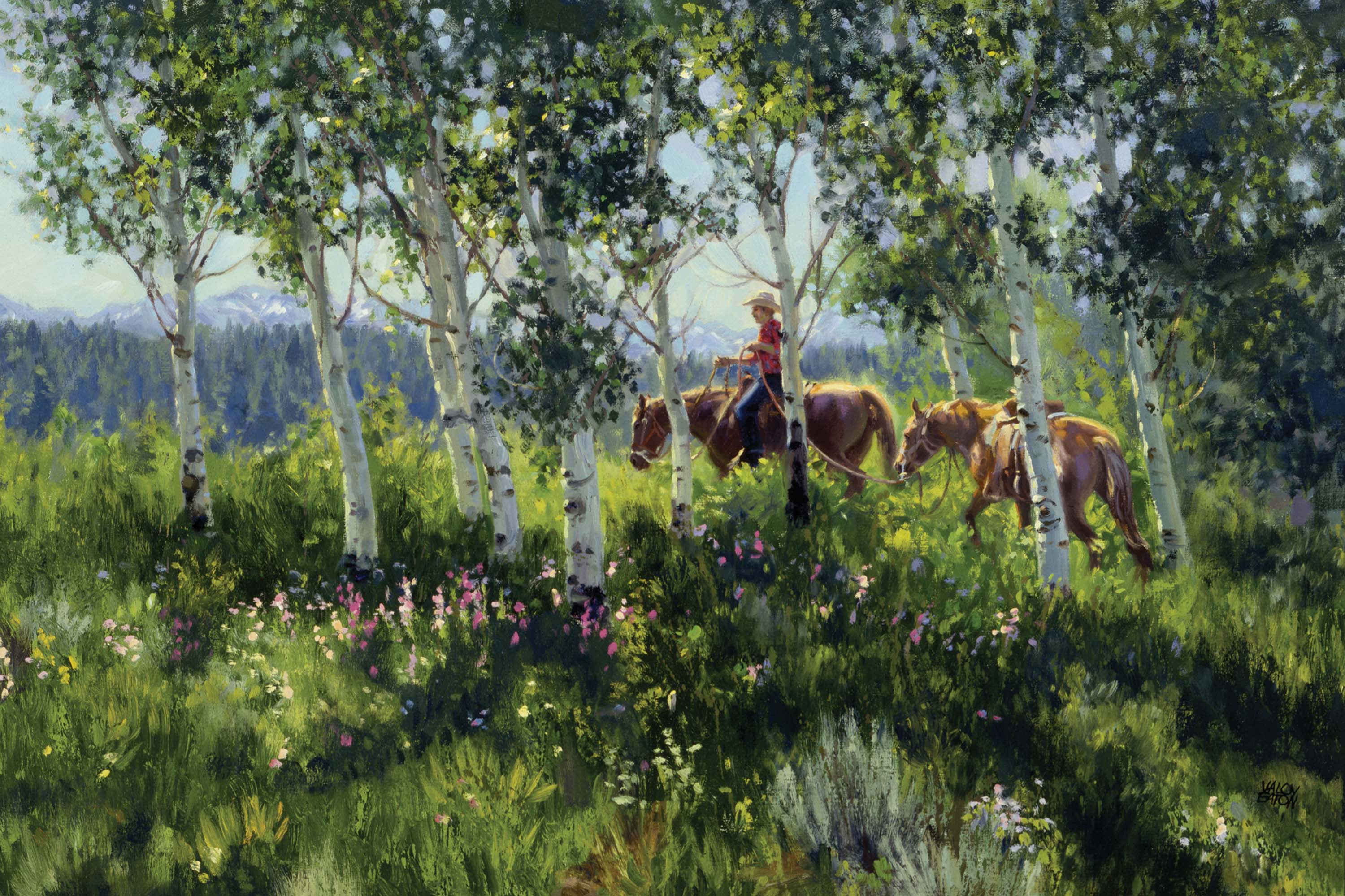 "Through the Aspens" | Oil | 28 x 42 inches | 1999 
04 Aug

See Everything

IN 1962, VALOY EATON WAS IN TROUBLE. The BYU graduate had earned a bachelor of arts and was happily married to his small-town sweetheart, Ellie. He had the steady paycheck of a teaching job. To unwind, he would play golf and basketball, as befitting someone of his naturally athletic, 6-foot-3-inch frame. His family was growing. To the average person, life was good.

But Ellie, a feisty woman who had been the first female student body president at the same rural Utah high school she and Valoy attended, saw things differently. The steady artist's wife finally put her foot down: "Start painting again," she told him. "It's your God-given talent. Be an artist."

Valoy Eaton had a decision to make. Approaching 30 with a growing family, it was time for him to seriously pursue painting as a career or leave it behind completely and stick to life as a teacher and recreational weekend warrior. He chose to paint. It was then that one of the West's most talented landscape artists emerged. Thousands of pieces later — many sold to support the family that inspired him — Valoy Eaton stands as one of the great landscape painters alive today.

Eaton's subjects eschew the grand, dramatic themes of sweeping panoramas in favor of more intimate narratives of high-desert life. This more soft-spoken view of the granite peaks and sparkling streams is far from quaint; many of his works capture scenes that, to the average arts appreciator, might seem plain. But it's upon further study and gazing that Valoy Eaton's vision and insight emerges. "I consider myself more of an appreciator than a creator of things," Eaton says. "So what I'm saying through my work is 'look how the sun shines on this landscape and how much I love to look at it and really it's better if you see it in person for yourself.'"

The quiet, almost unassuming qualities of his paintings give way to a depth and richness characterized by a mastery of light and brushwork. Vern G. Swanson, Emeritus Director, Springville Museum of Art, is a friend of the artist and a huge fan of his work. "He speaks in what I like to call 'Eatonisms,'" he says. "He once told me, 'I don't want to make a molehill out of a mountain,' meaning he doesn't really paint grandeur for grandeur's sake. The nobility is innate."

That is especially true in the 2002 piece, Below Zion, a 60-by-60-inch oil that captures an early spring light hovering over scant patches of snow and quiet hues of brown. The pre-green is a far cry from the red grandiose set-ups typically employed by other artists. The penetrating part of the piece — indeed in all of Eaton's work — is how the artist can truly see. Acute observation is a trademark in his pieces when accounting for the detail of every square inch of life in his landscapes. Even painting, he prefers to be outside and "sniff the bugs."

Light, too, is important to Eaton and his work. "It's a spiritual feeling for me," he says. "Light makes everything, but in and of itself it's beautiful. The sunlight is always a motivating factor for me."

Eaton has been working steadily and quietly in his studio, from sun up to sun down, studying and recreating the elegance of light. Even when there was a young household thriving around him, Eaton's focus was remarkable. Family life didn't distract him from work. It more or less inspired it, as witnessed in That Summer. Such works chronicle family homes in Vernal and now Midway, Utah.

Though considered one of Utah's most famous artistic sons, he lives quietly and modestly in a small town, reminiscent in scale to his native Vernal. He grew up in a family where music was the favored artistry — country guitar and hymns. His faith was Mormon and it was always a part of his life. The Church of Jesus Christ of Latter-Day Saints commissioned him to paint several works, most notably, Joseph Smith Leaving Nauvoo on the Way to Carthage.

Whether a commissioned scene or something personal, Eaton's brushwork is always an interesting trait. Splattering the paint over sketched canvases is something more modern artists employ for flair and raw, evocative effect. For Eaton, it's one of many layers to add depth and richness to a scene in nature. The flecks and the thicker spots add interest without drawing too much attention to the detail, as evidenced in the piece Sundown – Looking East.

"He has a remarkable balance between control and serendipity," Swanson says. "And he does this in such thick, nourishing pigmentation with his brushwork. I consider that to be his hallmark." Artists tend to fade in their richness and pigmentation as they reach the age of Valoy Eaton. However, Swanson hints that this is not the case for the artist.

"To me, great art is about what the artist is trying to say," Eaton reflects. "It's harder as you get older to keep up that enthusiasm, but I try really hard to not be self-satisfied and taking things for granted. I don't want to give up that pursuit or painting."

Another hallmark Swanson calls out is the influence of Ellie on Eaton's career. She oversaw the PR and business side of things and took care of the family. Though he now helps his wife more and more, Eaton still paints every morning in his studio while Ellie quietly reads in the sunlight, careful not to disturb her husband. She still wants him to paint.

Valoy Eaton, in his quiet, noble style, has made a career of painting in his own grand way. And he became the painter his wife, Ellie, knew he was destined to be.