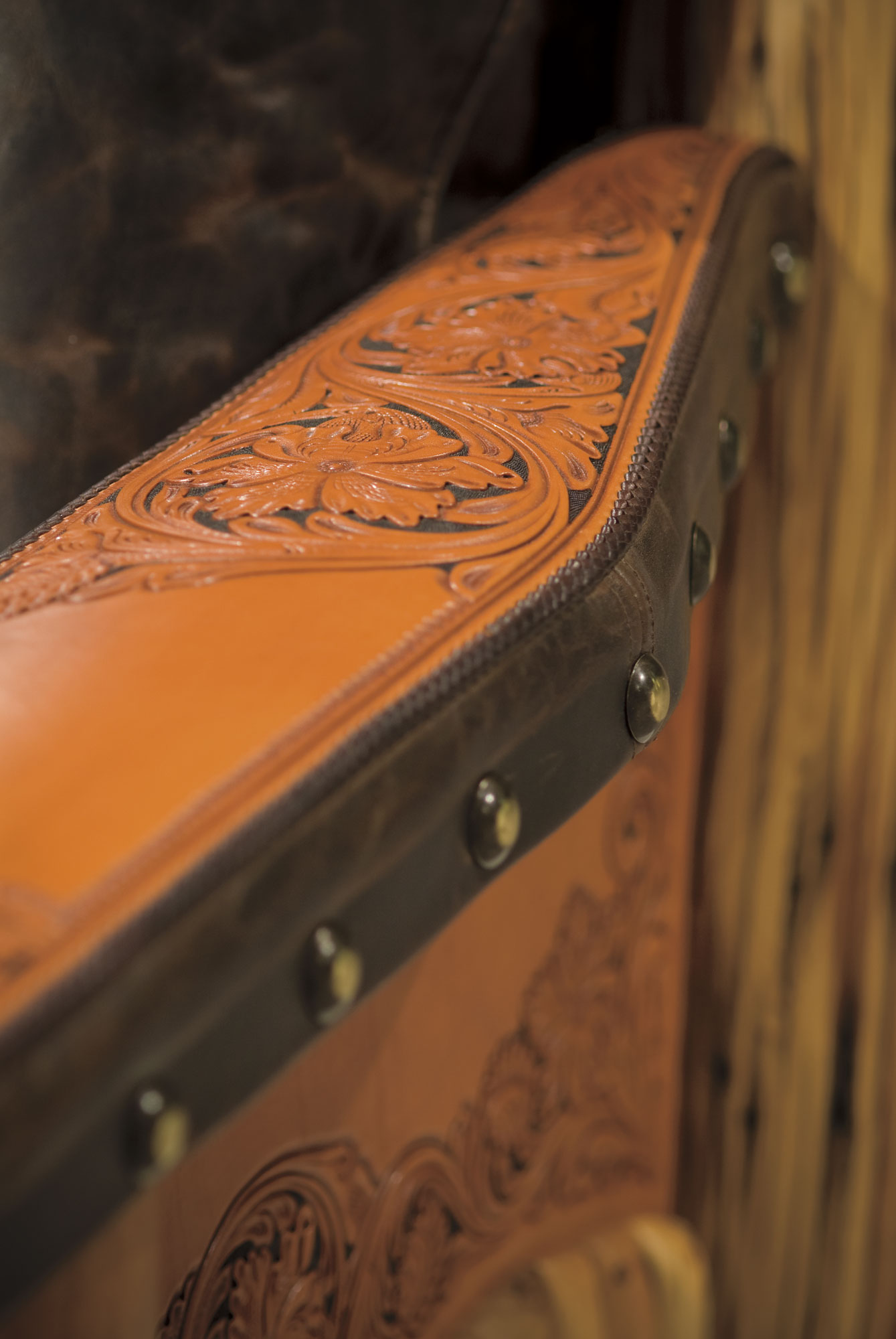 24 Jul

The Artisan Tradition

WHEN JIM COVERT CAME TO CODY TO APPRENTICE AS A FURNITURE MAKER, he was married, had two kids and had been a woodworker for many years. Yet he moved from Kentucky to Wyoming on the strength of a handshake and set up house on the North Fork of the Shoshone River. Then, leaving his young family each Monday morning, he would commute to a shack 30 miles up the South Fork Valley.

"I lived in a lean-to, with a small corral on the river," he recalls with some surprise. Every morning he would saddle his mule and ride upriver, through willows and cottonwoods, dodging moose and grizzlies, spooking elk and deer, until he arrived at Ken Siggins' ranch. There he would set to work, often 12 hours a day and usually alone, while his mentor and business partner was in town attempting to keep it all going by selling real estate.

In the early 1980s, Western furniture making was not a viable career option. As an industry it didn't exist. There was certainly an established furniture-making history in the area, but the last person to make a real living at it in Cody had been Thomas Molesworth [see page 140].

Ken Siggins, whose family owned the Triangle X dude ranch nearby, had made furniture most of his life, first for ranch guests, then for the clientele he built up over the years. Although he had a market of sorts, he found the going rough. By the 1980s he was the last link to the Molesworth era.

Despite the long hours, the lonely days, and the figure-it-out-as-you-go approach, Jim Covert loved the work, and was deeply moved by the power of the Western experience. "It was a real romantic time for me," he recalls.

The romance of the West and the romance of the work quietly drew other gifted artisans to Cody within the same decade. Lester Santos is now an award-winning furniture maker whose clients collect his work as though it were fine art. But when he first arrived in Cody he was playing in a band at night while remodeling houses during the day to support his family, despite having attended a top woodworking school in Boston and having worked as a luthier. John Gallis, oft-awarded for his elegant, unique pieces, also sacrificed to make it in Cody, even though he had already amassed 20 years of experience building high-end furniture on the East Coast. Metalworker John Cash spent 10 years welding in the oilfields before yielding to his calling; even then it took him several years straddling two occupations to get to the point where he could pursue his art full time.

These are just a few of the 25 highly successful artisans in the Cody Artisans Guild; most have similar stories of sacrifice and hardship in pursuing their calling. All have reached a level of success and stability previously unimaginable. Their efforts created the foundation for an established industry while paving the way for the next generation of artisans. And they now find themselves grateful members of a thriving band of artisans centered in Cody, but spread through the Mountain West.

The springboard for today's Western artisans was indisputably the Molesworth legacy, although there were always other influences, ranging from Adirondack to Arts and Crafts to Native American ledger painting. The catalyst that turned this disparate group of individual furniture makers into a movement was a 1989 museum exhibition of Molesworth's work, mounted by the Buffalo Bill Historical Center in Cody, then exhibited in Los Angeles. Almost overnight, collectors, designers, ranch owners and locals were clamoring for Molesworth-style furnishings. For a time, the few artisans working the style were scrambling to keep up. As the work matured and the public became more educated, Mike Patrick and a handful of other Cody artisans mounted a local show in 1991, followed by the first Western Design Conference in 1993. As Anne Beard, an Oregon fashion designer who went on to make award-winning furniture, recalls, "We'd been in Cody with just this handful of people, and all of a sudden we were surrounded by our peers."

From the beginning, the event was a success. Artisans tended to bring their best work, if not for the clients then because they cared what their colleagues thought. It was certainly prestigious to win the Switchback Ranch Purchase Award (the chosen piece enters the permanent collection of the Buffalo Bill Historical Center), but even more so to win the Exhibitor's Choice Award, an honor bestowed by one's peers. The energy and excitement of the event was palpable from the beginning, and the accessibility of the top artisans made it the go-to event for aspiring Western woodworkers and fashion designers. For interior designers and architects building significant ranch homes, Cody represented one-stop shopping, while for aficionados interested in building their collection one piece at a time, it was a dream.

For the artisans, the synergistic buzz was infectious. "I love Cody," says Mike Roths, winner of the 2006 Switchback Ranch Purchase Award. "You get so much energy from the people here and the ideas start flowing. There are so many special people here, and they're so friendly. It's a true Western town that still has a hometown atmosphere."

Although most of the original "new Western" artisans (including the late Mike Patrick, who played a major role in bringing artisans together to launch the first design conference in Cody) looked to Molesworth as their original inspiration, all went on to develop their own styles. John Cash says a major source of his ideas today are the volcanic formations found along the North Fork Valley outside of Cody. Jim Covert started out making Molesworth reproductions, moved on to driftwood pieces and is now known for his organic juniper furniture. Woodworker Ron Shanor (called "the Furniture God" by his peers, due to his propensity for cleaning up with the biggest honors), who is known for his masterful use of burls, explains, "At first I was trying to build for the market. But then I decided to build for myself. I got a much better reception, and I sold every piece."

The recent sale and relocation of the Western Design Conference to Jackson gave the Cody artisans and their partner, the Buffalo Bill Historical Center, an opportunity to re-examine the roots of Western design, Cody style. The result was Cody High Style 2007, for which they curtailed the size of the show, mounted a retrospective exhibit of past award winners' work and assembled a remarkable display of antique ranch furniture.

Jim Covert who curated the historical exhibit, says, "There had been a lot of emphasis on Molesworth and we didn't want to do that; we wanted to do something fresh. So we went out and borrowed a lot of pretty old rustic ranch furniture to show all of us who work in that tradition what the roots were." Wally Reber, Curator of Western Decorative Arts at the Buffalo Bill Historical Center, says, "It was incredibly fun to do, finding all the dusty, gnarly things from all over the region. And it's absolutely the right thing for this institution to do."

The retrospective featured work spanning 20 years in five artists' careers, while the main exhibit and sale resulted in awards being bestowed on Scott Armstrong for his contemporary fir, walnut and ebony "Hooch Cabinet"; to Doug Norberg for his elk antler and spalted maple sofa table; and Best of Show to Eric Shell, of Spear Woodworks, for his writing desk, with its curved juniper legs, applied twig apron and tooled leather writing surface.

Cody High Style, like Molesworth style, takes its design vocabulary from nature — the wind-twisted, sun-beaten juniper that grows on precipitous ridges; the unique rock formations and mountainscapes; the bountiful wildlife; the greens, reds and blues — and from the region's cowboys-and-Indians history (there's plenty of swaying fringe and meticulous beadwork in the fashion show — and even on the furniture). But the work has evolved from its roots, become far more sophisticated and has, through its meticulous craftsmanship, redefined the notion of quality.

Hilary Heminway is a much-lauded, nationally known interior designer; she's also the "Most Western Easterner", according to a plaque she was awarded at the Cody High Style show last year. "There's a strength in knowing where you come from," Heminway says. "Western furniture is our first and most authentic expression. We can claim it as our own. We can't claim Chippendale as our own; we can't claim Regency Style as our own. But we can claim log furniture as Western. It's indigenous and it's ours — and Cody sets the standard for that."
A new generation: Cody High Style
The cowboy town of Cody, Wyoming, was founded by Buffalo Bill, the world-renowned showman who was one of the first, and certainly the most famous, to parlay the romance of the West into a successful business. As such, it has always attracted artists and artisans who take their inspiration from the scenery, the wildlife and the cowboy culture so predominant in this region. Buffalo Bill would have admired the showmanship inherent in the work of furniture maker and designer Thomas Molesworth, who established Cody as a center for Western style. And he would have recognized his own bold style in today's group of studio artisans who, in the wake of a resurgence of interest in the Western vernacular in the 1980s, banded together to create a Western furniture exhibition and sale that flourishes today.
Spearheaded by J. Mike Patrick, a fifth-generation Cody rancher-turned-furniture maker whose father had been a good friend of Molesworth, the "starter" shows, in 1991 and 1992, were somewhat homespun affairs held in a reception room in the Victorian-era Irma Hotel. The following year a committee of artisans, business people and interested volunteers mounted a full-on effort to launch the first official Western Design Conference.
Over the next 14 years, the Western Design Conference evolved from a small, nonprofit organization run from the offices of New West Furniture to a private entity owned by Western Interiors & Design Magazine. By the time it was purchased and relocated to Jackson Hole under the auspices of Teton Home and Living Magazine, a year and a half ago, it had become an internationally recognized event that conferred prestigious awards, was nationally promoted and reviewed and attracted thousands of participants to its exhibitions, fashion shows, lectures and studio tours.
During those heady years of growth, Cody solidified its importance as the center for Western design in furniture and the decorative arts as more and more well-known artisans relocated to the area, and as award-winning designers mentored newer artisans who found their own artistic voice then went on to set up new workshops.
The relocation of the larger, more commercially oriented Western Design Conference to Jackson offered the show's original founders a chance to carry on the tradition in their own backyard. Cody High Style: Designing the West is now in its second year. Coordinated by the Buffalo Bill Historical Society, with guidance by a group of prominent furniture makers and artisans, and enthusiastic support from the community, the five-day event presents a wide range of stunning, one-of-a-kind furniture, metalwork, jewelry, leatherwork and haute couture in a world-class museum environment. Unlike past conferences the event gives an historical perspective with its professionally curated exhibition of antique ranch furniture and retrospective of early works by today's top artists.
Held annually the fourth week in September (this year, September 23 – 27), Cody High Style: Designing the West coincides with two other top-drawer arts events, the Buffalo Bill Art Show, a major art auction of contemporary Western art, and the Buffalo Bill Historical Center's Patrons' Ball. For more information, go to www.codyhighstyle.org, or www.rendezvousroyale.org.
Defining Western Style: Thomas Molesworth
There were many furniture makers whose work defined what we think of today as "Western style." But in the words of Wally Reber, Curator of Western Decorative Arts and past Interim Director for the Buffalo Bill Historical Center, Thomas Canada Molesworth was indisputably "the juice behind the movement." Molesworth's Shoshone Furniture Company, which produced furniture in Cody, Wyoming, from 1931 to 1958, did much more than define a style; his work continues to inspire today.
Born in Kansas and raised in Montana, Molesworth studied art at the Art Institute of Chicago during the height of the Arts and Crafts Movement, then settled back in Montana where he married and started a family. After stints in the Marine Corps, banking and the management of a furniture company in Billings, where he learned crucial aspects of the furniture business, Molesworth relocated to Cody, Wyoming. He launched Shoshone Furniture Company in 1931.
Molesworth did not set out to define cowboy style; early on, his company was just another store selling standard manufactured items. As the Mountain West opened up to tourism over the next decades, though, and the enduring American fascination with the mythical cowboy was developed in countless Hollywood productions, a timely confluence of wealthy ranch-owning patrons, upscale hoteliers and one well-positioned businessman with a strong streak of design genius came together. The result was the development of a style known as "Cody", "Molesworth" or simply, "Western."
Molesworth's work had its roots in the Stickley-type furniture of the Arts and Crafts Movement, featuring clean lines and simple, sturdy construction. But he brilliantly adapted straightforward construction techniques and furniture styles to their mountain settings by using regional materials — leather, lodgepole, antlers, hair-on cowhides, Chimayo weavings, even burls and hooves — and imagery from wildlife to mountain scenery and flora.
In contrast to the quiet hues of the decorative arts of the Arts and Crafts Movement, however, Molesworth's furnishings were not afraid of fun. They might be sheathed in shocking yellow or lime green leather; they were embellished with fringe, brass tacks, rope, Indian beadwork and humorous or whimsical shapes (a Giacometti-like standing ashtray in the form of a jackrabbit, for instance, or a cut-out silhouette of a bow-legged cowboy as a chair back). Sometimes they were simply absurd; he used deer legs for drawer pulls, and once made sconces out of coyotes' heads.
Over the course of three decades, Molesworth fulfilled major commissions, including hotels, dude ranches and vast cattle ranches with spectacular rustic lodges, which took their cues from the Great Camps of the Adirondacks. He designed not just the furniture but wall hangings and curtains, and he chose the Navajo rugs, too. In his hands, a room became a living Western experience.
Throughout the 1960s and '70s, Molesworth's work fell out of favor, though it still stood up sturdily to heavy use in countless dude ranches, homes and offices in and around Cody. While it still created a unique Western atmosphere wherever it resided, for some it leaned dangerously toward kitsch. As the late Mike Patrick once explained, after founding a successful furniture company largely inspired by Molesworth, "We were cowboy when cowboy wasn't cool."
Adds Reber, "He was the best. He challenged everyone in terms of his design. He never signed things. He thought people wouldn't catch up, and he was probably right."
---
Editor's Note: For more details on the Western Design Conference held in Jackson, Wyoming, see our Events of Note column, page 157.
Senior Contributing Editor Chase Reynolds Ewald lives and writes in northern California. Her most recent book (with chef Amy Jo Sheppard and photographer Audrey Hall), is New West Cuisine, released this spring from Gibbs Smith, Publisher.
Senior Contributing Editor Audrey Hall's portraits and essays about architecture, style and travel are featured in numerous publications, including Western Interiors and Design, Big Sky Journal and Mountain Living. She recently completed her seventh book, New West Cuisine, Gibbs Smith, Publisher.