11 Jan

Things We Love
Bubble Lighting from Lindsey Adelman Studios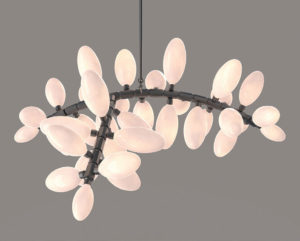 We love fresh inspiration, especially when it comes to interior components that we live with day to day. Take, for example, this bubble chandelier designed by Karl Zahn for Lindsey Adelman Studio; its inspiration comes from a succulent known as the burro's tail. Each component of the spine is machined from solid aluminum and articulates, so that just like the plant, a natural curvature occurs and each light branch is reminiscent of how the succulent grows. The glass shades are created by hand and illuminated by LEDs. Because this is a rendered edition, you can customize your chandelier to fit any space, as Lindsey Adelman Studio is adept at satisfying customers' wishes.
$18,000 
Approx. 22 x 53 x 39 inches
212.473.2501
On Interior Design
 

by Penny Drue Baird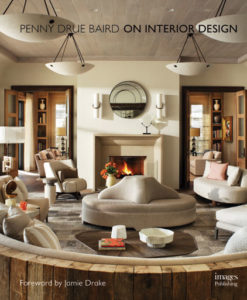 Interior designer Penny Drue Baird has created "comfortable rooms with a personal touch" for more than 30 years. Whether it's an apartment in New York City, a beach house in the Hamptons, or a pied-à-terre in Paris, Baird designs with architectural details in mind, adding layer upon layer of expertise in her choices of furniture, fabrics, and other dimensions, including flooring, lighting, and accessories. In her fourth book, On Interior Design, Baird enlightens readers on the lessons and principles gleaned from her years of practice, with topics illustrated in vibrant color.
$50 
254 pages 
Pony Sofa by Spirit Warrior Designs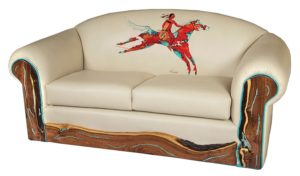 Peter Traynor is driven to help spread Native American culture, and he believes that art is the medium in which to do so. His company, Spirit Warrior Designs, was born when Traynor fell in love with buffalo hide for its grain, richness, and flowing lines. Traynor teamed up with Bernie Granados, a celebrated Apache artist, and Ernie Apodaca, of the Blackfeet Nation, to create a company that specializes in artistic buffalo hide furnishings. Granados' paintings, Apodaca's 40 years of furniture-making, and Traynor's crafted technique of applying imagery on hides to withstand the test of time, result in this beautiful Pony Sofa. "It's a three-dimensional artwork to enjoy," says Traynor.
$6,000
86 x 34 x 38 inches
310.455.3830 
spiritwarriordesigns.com 
Handmade Sombreros
 

by RJ Preston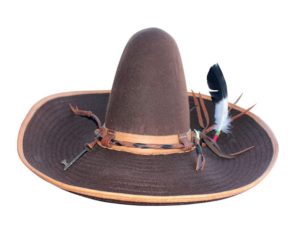 RJ Preston's interest in historic headwear was first captured when he held an antique sugarloaf sombrero in Paris, France, which was part of Disney World's Buffalo Bill Wild West Show. Fast forward to 1999, when he met an elderly, third-generation, Hispanic sombrero maker. Preston went home and made his first sombrero, which, four years later, a German tourist bought off his head on the Plaza in Santa Fe, New Mexico. Preston is now a premier maker of authentic sombreros, having shipped them to every country on the continent, save Antarctica. This chocolate brown, wool-felt sombrero has a leather-bound brim and braided trim. Each component is created by hand by Preston, complete with his trademark feather and skeleton key.
Starting at $300
Custom sizes
580.887.3313 
Porcelain and Gold Vessels by Carolyn Barlock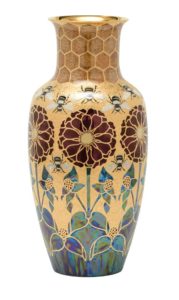 For more than 25 years, Carolyn Barlock has shown her porcelain and 24-karat gold vessels alongside paintings in galleries and at the Loveland Sculpture Show in Colorado. The light-capturing surfaces stand out in a room, seizing one's attention. The Denver, Colorado, artist utilizes centuries-old applications and ancient Persian lusters to create her unique pieces. Studying art history and antiques led her to discover historic techniques of porcelain painting as well as the secrets of enameled art dating to the Ming Dynasty in China. Barlock first gained worldwide attention for her once-fired process for porcelain that requires exactitude of line and density. Combined with a chiseling technique, her one-of-a-kind pieces blend innovation and classicism. Today, her trademark is resplendent pieces of timeless beauty finished with 24-karat Florentine gold that's applied alongside bejeweled colors. No centerpiece is needed when a dining table is set with this collection of wine and port glasses, for they are pièces de résistance! Her work is in collections worldwide. So lauded are her vessels that a chalice was presented to Pope Francis in 2017. 
Twisted Tawny Port Glass | $7,200 | 4.125 x 1.125 inches 
The Royal Hive Vase | $150,000 | 22 inches 
303.523.0425
Cherry Blossom Barn Owl Scarf by Shovava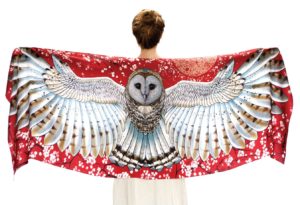 Roza Khamitova, from Melbourne, Australia, is the designer behind the Shovava label, which was her childhood nickname, meaning "playful." As a fashion designer and a visual artist, Khamitova paints imagery and then carefully prints her creations on fabric. Soft meets fierce in this dynamic fusion of delicate cherry blossoms and the piercing gaze of a white barn owl, perfect in every detail, down to the texture of its feathers. We love this painting printed on silk cashmere (a blend of 30-percent silk and 70-percent cashmere), but it's equally as beautiful printed on 100-percent silk with a bit of sheen and flowing movement. For evening wear, pair this with basic black, and it's sure to be a hit. Or wrap yourself in it with a pair of jeans and boots — we think you'll feel divine.
$56 to $170
78 x 27 inches
Celeste Mirror by Piero Lissoni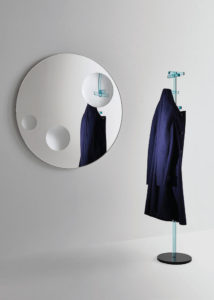 We love this "oh so Italian mirror" created by Piero Lissoni, an architect and designer from Milan's artsy Brera district. The concave mirror has three magnifying portholes, each with a different diameter and degree of magnification to create surreal effects. Its varying reflections of light in a room are refreshing to the senses. Available in an oval or round shape, the mirror's delicate beveled edge refines and enhances the beauty of the silvered surface. Lissoni was recently honored in New York City with a 2018 Interior Design's Best of Year award. 
$3,110 to $3,438
212.421.3300
Sterling Silver Salad Set
 

by Francis Tabaha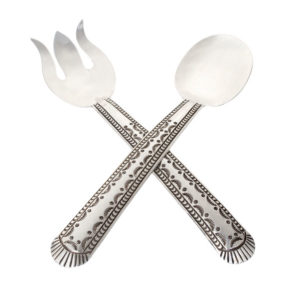 The Heard Museum Shop in Pheonix, Arizona, has always been a favorite for its top-quality, guaranteed authentic, Native American-designed items. We love this chic contemporary salad set by Francis Tabaha (Diné of the Kiyaani Clan), born in Hunters Point, Arizona. The designs that Tabaha etches into sterling silver are traditional symbols presented with modern-day styling. He began learning the silver trade at age 16 when his great-grandfather grew tired of filing, so he employed his grandson's help. Since then, he has gained loyal followers for his clean and simple designs that fit any occasion. We also love that any purchase made through the Heard gift shop supports the careers of American Indian artists. 
$1,350
9 x 2.125 inches
602.346.8190